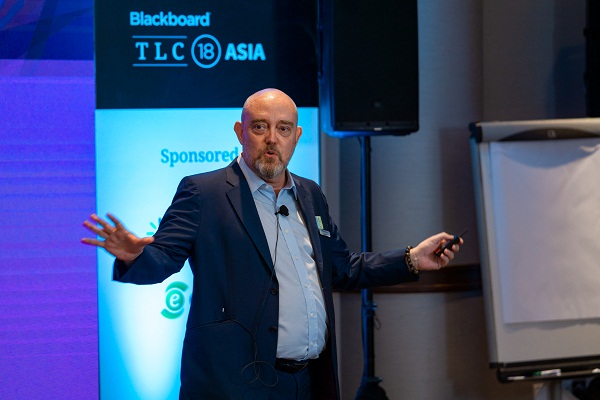 India must aspire and continue to dream about achieving higher levels of literacy, quality education and integration of technology into the sector, says Philip Murray, Regional Vice President, ASIA – Blackboard in an interview with Elets News Network (ENN).
How can the edtech industry transform education in the 21st Century?

2020 saw an accelerated adoption of technology across the globe with education institutions forced to rapidly move their teaching and learning online. Educators had to learn new skills like mastering video tools, adopting online teaching platforms and more.
We also saw institutions struggling to not just create online teaching models but also conduct online examinations and assessments and bring the entire student admissions process online. In 2020, the education industry has seen an unprecedented growth in digital transformation, and this is just the beginning.

Now in 2021, educational institutions are likely to face many more challenges including student retention, student engagement, collaborative learning requirements as well as competitive models from other international institutions. This is where edtech has a major role to play.
As an edtech company I believe the onus lies on us to connect a deep understanding of education with power of technology to continuously push the boundaries of learning. At Blackboard we partner with education clients around the globe to drive student and educator success through an integrated technology stack, robust data and analytics capabilities and best in class service.
In a country like India, where internet is not accessible to every student, how will edtech firms grow?
While e-commerce took seven years to pick momentum in India and billions of dollars to change consumer behaviour, this occurred almost overnight for the edtech sector.
A developing economy such as India must aspire and continue to dream about achieving higher levels of literacy, quality education and integration of technology into the sector. Periodic assessments, redressal mechanisms, stakeholder consultation, and timely policy changes can prepare us in facing the challenges posed by the education sector in the future.
However all these welcome policy changes and enhancements still have one major caveat – "How do I get to my critical course information if I don't have a regular internet connection?". When it comes to course content, this combines two foundational changes:
Make the content engaging but don't rely on video to replace a well-designed and accessible course
Ensure that students have an option to store or save their courses into their devices offline (laptop, tablet, mobile phone) to be consumed and synchronised the next time a reliable internet connection is available.
There is a technological gap in knowledge; how can edtech firms bridge that?
Edtech firms have opened many avenues for knowledge seekers whether students, faculty or working professionals. Access to skills training and courses designed by industry experts is made available online through portals like Udemy and Coursera which otherwise would not be accessible to student at his own university. Edtech firms help break barriers of acquiring knowledge irrespective of where the student is physically present.
We are helping to drive technical fluency and skills development through our Blackboard Digital Teaching and Learning Series (DTLS), a global, solution-agnostic professional development offering. By addressing pedagogical and instructional design, best practices for digital course development, the professional development series ensures instructors can continue to drive student success and maintain the same high-quality instruction as in-class courses.
DTLS provides a robust training portfolio of skills transfers to help faculty design world-class content without having to rely on substantial technological resources, a great course that is well-designed, easy to consume and has measurable outcomes – technology does not replace that.
How can we bridge learning barriers in using online platforms for education?
Barriers to learning generally fall into one of four categories:
Access to the baseline technology (internet, LMS or other content distribution solutions).
Relevancy of content (based on what is currently needed and not just a repeat of something that is no longer valid such as old video lectures).
Accessibility of course content to all students (e.g: alternative formats)
Support for online platforms from institutions (changing the impression of those that have a negative notion of online teaching and learning solutions).
Each of these challenges has local and regional / global components, and requires involvement from many groups to improve their parts of the puzzle.
Here at Blackboard, we have developed Ally, an LMS-agnostic solution that helps institutions build a more inclusive learning environment. Ally helps to improve the student experience by helping them take clear control of course content with usability, accessibility and quality in mind. It automatically checks for accessibility issues and generates alternative formats including Semantic HTML, audio, ePub, electronic Braille, and a translated version that are engineered to work better with assistive technologies, mobile devices, and study tools. Ally also provides feedback to guide instructors on how to improve the accessibility of their course content and institution-wide reporting on course content accessibility to drive further improvements at the institution.
What will be the future of edtech in India post-COVID?
Fueled by the pandemic, India's edtech segment has seen a massive uptick in demand in 2020. According to an analysis, the market size of edtech in India is estimated to grow 3.7x in the next five years, from $2.8 B (2020) to $10.4 B (2025). India has the world's largest population of about 500 million in the age bracket of 5-24 years, which provides a great opportunity for the edtech sector going forward. Global investors are betting on India's large base of school-going kids and fuelling the valuation of Indian edtech companies. Also India's higher education segment is expected to increase to Rs. 2,44,824 crore (US$ 35.03 billion) by 2025.
The future of edtech therefore looks promising but it depends on the sector's ability to quickly adapt to the changing times and offer personalized solutions in diverse categories. With the current education setup, online learning is here to stay. Therefore, to keep the momentum going it is important for the sector to constantly keep innovating to capitalize on the opportunities of blended learning which will be high in demand going forward. This innovation will spark critical thinking, collaboration, and creativity in the classroom.
Engage, collaborate, flip, assess, and communicate are the components that embrace blended learning. At Blackboard, we help institutions with solutions that encompass all these components thus providing a holistic and robust offering to the learners.
Blackboard Learn
Designed with an intuitive, personalized interface, Blackboard Learn engages learners and eases the burden on instructors. With time saving tools and a streamlined design, it's never been easier to teach and learn.
Blackboard Collaborate
A fully redesigned, high definition, browser-based web conferencing solution that makes distance teaching and learning simple, crystal clear and worry-free. Now with mobile-friendly recording and playback.