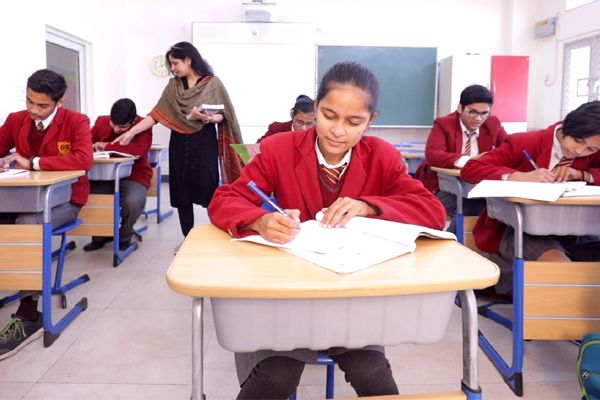 Seth Anandram Jaipuria School, Lucknow, began its illustrious journey in April 2016, carrying forward the 76-year-old legacy of Jaipuria Group of Educational Institutions, which has a combined strength of 20,000 students and 15,000 alumni.
The school has a state-of-the-art infrastructure with worldclass amenities. It emphasizes on experiential learning through activity-based interactive sessions and a unique curriculum. Highly experienced faculty offers customized learning with a right blend of academic rigour and co-curricular activities for the holistic development of children.
Several noteworthy achievements mark the school's success story till now. It has been the only Microsoft Showcase School in the city. It was also named Microsoft Aspire School (2019-2020), Most Technically Advanced School by National School Awards 2019, Top School of Lucknow by Digital Learning (2019) and won the International Schools Award For Best Use of Technology, Dubai (2018). Evidently, the biggest highlight of the school has been the tech integration in the curriculum.
Also read: Seth Anandram Jaipuria School: Upholding academic excellence & tech-immersion
Technology Immersion
The Microsoft Showcase School certification has connected the school staff and students globally through Skype sessions, virtual field trips and numerous international events and contests. The use of digital tools of O365 like Sway, Forms, OneNote Gamification (Minecraft education edition, Kodu, Hour of Code etc.) and many more has led to the development of several skills.
Online Classes For Uninterrupted Learning
The school's prior immersion in technology-aided learning proved to be a strength during the pandemic. As education shifted to the online mode, teachers upped their game and made a revolutionary change in pedagogy and the use of multiple online tools for uninterrupted delivery of education.
World-Class Infrastructure
The school campus has state-of-the-art infrastructure with high end facilities such as shooting and archery range, swimming pool, volleyball court, taekwondo arena, radio-jockey room, film-making and editing studio and robotics lab.
Extracurricular Activities
Music, dance, art, and sports continued to happen on the online platform. Hobby club activities, Stem activities, Robotics, literary events, celebration of special days, talks by eminent people, visits and excursions, continued to be woven into the curriculum.
Building Life Skills
The school focusses on life skills and character education. Morally strong, responsible, compassionate and concerned human beings is what we aim for our students to become. We nurture creativity, groom talents and create environmental sensitivity in students.
In a nutshell, Seth Anandram Jaipuria School, Lucknow, is fast becoming a 21st century school in the true sense and delivering more than what it promises.
www.jaipuria.edu.in/lucknowschool