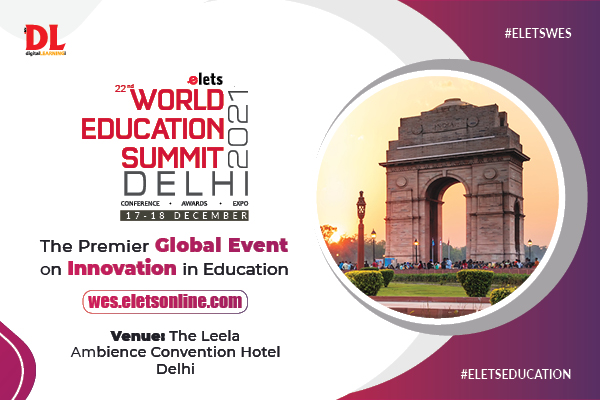 DigitalLearning is back with the 22nd World Education Summit to be held in Delhi during 17-18 December, 2021. This is the biggest meetup and networking event organised by Elets Technomedia Pvt Ltd on education innovation after the Covid 19 pandemic.
The pandemic has changed the education sector forever. There has been a rise in e-learning and therefore technology is going to play a key role in transforming the education sector. The event will focus on how technology adoption is necessary in today's teaching and learning process. How tech-enabled solutions play a dramatic role in education?
After the COVID 19 pandemic hit us, there has been a rapid adoption of technology and e-learning has seen a different scenario altogether. Over the past few months, it has been challenging times for learners, staff and educators. However, educators are exploring best practices and solutions that can transform the education sector.

Given the current scenario, the Edtech sector is developing Artificial Intelligence (AI) enabled solutions for educational institutions to impart training in a digital mode. As schools are reopening, there is a need for smart technologies in order to make learning more digitally accessible and user-friendly.
Edtech companies are working hard to cater to the digital needs of schools, colleges and universities. Growing edtech companies are bringing together adaptive interfaces, classroom engagement boosters, and smart tech solutions that help educational institutions become digitally advanced.
The event will be a platform that will discuss the nitty-gritty of such tech-based solutions and their rapid adoption across the sector.
Moreover, there will be requisite discussion to provide skill-based education. How to bridge the skills gap in future workforce, will be discussed by far and large. Upskilling is the best solution to keep up with the demands of the changing and evolving job market. Exploring the skills that we need for the future is of utmost importance to focus on.
The event will have a benign presence of stakeholders across the education sector. There will be discussion on major topics that will help to acquire knowledge and gather information that will help to transform the education sector.
National Education Policy (NEP) 2020 focuses on providing practical knowledge and customized learning for students. Critical thinking, analytical learning, and skill development are some of the priorities under NEP. The new national education policy focuses on providing high-quality education to all.
The summit will be a platform where attendees will gain knowledge, learn about best practices, get policy updates, find appropriate solutions and become aware of the latest technical know-how. '
The two-day event will focus on the gap in the education system, lack of quality research work, shortage of faculty, availability of quality institutions, less collaboration and many vital topics that need attention and development in the higher education space. The event will be an inspiration for all who will be attending it.
Also, the World Education Awards and Exhibition will be an innovative platform for all stakeholders of the education sector to participate.
Follow and connect with us on Facebook, Twitter, LinkedIn, Elets video
>