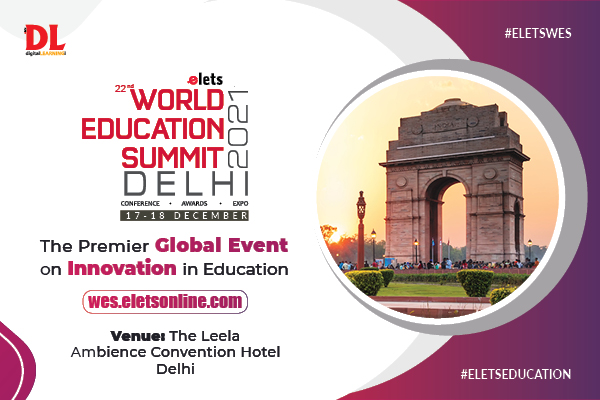 Modern technology is reshaping the education sector currently. Using the right tools and tech-solutions are imperative for the upliftment of the education system. The blended learning and education will make a perfect mix in future to support the system.
The 22nd World Education Summit, 2021, which was held on 17-18 December gathered speakers from across the country to deliberate their views on the current issues of the education sector. The panelists discussed how the National Education Policy (NEP) 2020 will play a significant role to establish its footprint and bring transformation in the education system.
There were discussions on the implementation of the National Education Policy (NEP) 2020 and multiple actions are required to be taken by the stakeholders. It is requisite to put a plan and structure in operation that will help to nurture students and improve skilled-based learning.
NEP 2020 will address the challenges of skill development, critical thinking, analytical abilities, communication skills and focus on the holistic development of a child. The two-day event highlighted the issues of the education system and focused on making education more learner-centric.
Also read: Implementing the New National Education Policy (NEP) 2020
Dr. Anil D. Sahasrabudhe, Chairman, All India Council for Technical Education (AICTE) said that in the last few years a lot of reforms have taken place in the education sector. The new National Education Policy (NEP) 2020 is aligned with the reforms of the sector.
The education sector will be tech-driven in a few years as the hybrid learning process will be implemented and the educational institutions should focus on implementing tech-enabled solutions that will foster innovative learning. Sahasrabuddhe added that uses of Artificial Intelligence, Machine Learning and BlockChain will benefit the education sector in future.
Aradhana Shukla, Additional Chief Secretary, School Education, UP Government said that with NEP 2020, the government has given a lot of flexibility. "Primary education gives you tools to learn things but you retain your knowledge while pursuing secondary education," she said.
Shukla added that the National Education Policy (NEP) 2020 has the potential to make India 'vishwaguru' in the education domain.
Rev. Fr. P Maria Lawrence Msfs, Principal, SFS Academy, Bangalore said, "Critical thinkers can draw reasonable conclusions and information as well as discriminate between what is useful and less useful to solve problems and make decisions. Critical thinking is an ability to think rationally about what to do…it engages in reflective and independent thinking."
Speaking in the context of redefining leadership, Dr Amrita Vohra, Director Education – GEMS India & Executive Principal – GEMS International School, Gurgaon said, "Leadership is a very challenging job. A person needs to be calm and composed to perform leadership."
It is important that leaders should be able to explore the leadership quality. The leaders should be provided quality training because it is required for the professional learning of teachers.
Anita Sharma, Principal, CP Goenka International School, Borivali, Mumbai said that teachers should be given an opportunity to skill themselves and help them to be competitive. "Every kind of opportunity that we can provide for our teachers to upgrade their skills and knowledge with the help of technology to ensure that whatever content children learn in the classroom is not a one way task but a collaborative effort," she added.
The technology should be able to address the challenges of online assessment. After the Covid 19 pandemic, the education sector adopted new learning pedagogies and started delivering online lectures and classes. Digital learning witnessed immense growth in the last two years. However, there were setbacks with the online assessment in both school and higher education.
Speaking in the context of 'Exploring the future paradigm of learning in globally acclaimed schools', Daniel Curry, Director and Principal, Vega Schools, Gurgaon said that globally acclaimed schools are known for their pedagogies. "Most of the global renowned schools are connected and have an international reach."
Also read: Chitkara University joins as a University Partner at the 22nd World Education Summit, 2021
It is important for educational institutions to adopt the best practices globally and become competitive in the market. There were deliberations on such topics to provide the highest quality learning opportunities.
The platform gathered reputed speakers and experts from both government and private sectors. Leaders like Mr Rajesh Agarwal, Secretary, Ministry of Skill Development & Entrepreneurship; Dr Anil D Sahasrabudhe, Chairman, All India Council for Technical Education (AICTE); Prof K.K Agarwal, Chairman, National Board of Accreditation (NBA); Raghav Gupta, Managing Director, India & APAC, Coursera; Dr Indrajit Bhattacharya, Director, National Accreditation Board for Education and Training (NABET), Quality Council of India; Sanjeev Sarma, Deputy General Manager, Regional Sales- Display Business, Samsung India; Prof V Ramgopal Rao, Director, Indian Institute of Technology, Delhi; Abhishek Jani, CEO, Fairtrade India Project of the Centre for Social Markets; Roshan Gandhi, Chief Executive Officer, City Montessori Schools, Lucknow; Dr Prem Das Maheshwari, Business Director, D2L South Asia; Sourav Chakraborty, Deputy General Manager, Pre Sales – Display Business, Samsung India; Dr. Seema Negi, Principal, Sanjeevani World School, Mumbai including many eminent personalities from school and higher education fraternity graced the stage during the two-day event.