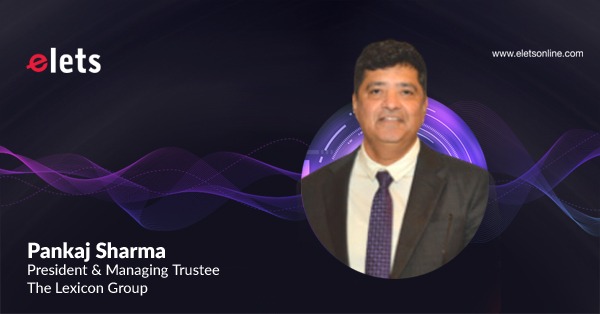 Pankaj Sharma is the President & Managing Trustee of Lexicon Group. He spoke to Digital Learning about the use of technology in education during the pandemic times.
Q – How do you see the use of digital technology in the last two years?
A – Technology has transformed our world and our daily lives over the years. Furthermore, technology has created incredible tools and resources, putting valuable knowledge at our fingertips.
Multi-functional devices have made technology extremely accessible and thereby amplified its usage, reach and efficacy. With the onset of Covid-19, the world was pushed to embrace technology and more specifically digital technology. Thereby making Covid-19 a technology enabler. Across our companies we have always leaned towards technology and utilised the circumstances and conditions for further adoption of newer and relevant technology. From the use of technology for conducting classes for our students, to the lottery draw for Class1 admissions, to adoption of placement software, we have taken giant steps.
There really is no doubt that innovation will continue to revolutionise our lives in the future. Within a few years, digital technology may become the norm for everyone, and AI-powered learning will become commonplace in universities and institutes. Future technology will undoubtedly transform our lives in incredible ways, but for now, we will focus on the many popular ways technology is advancing our lives today.
Q – Do you think that the education sector has been able to sail through even during the pandemic because of the active use of technology?
A – Technology has been regarded as critical to the reform of education, gaining unprecedented traction throughout this pandemic. It is viewed as a panacea for all education- and schooling-related issues.
Since the COVID-19 pandemic has interrupted people's normal lives around the world, the virtual world has come to their aid. Many institutions, including schools, have shifted their focus to online networks in order to conduct classes online. As a result, online education has emerged as a promising alternative to traditional face-to-face classes, catering to the needs of all levels of education from pre-primary to university level. Everyone has been doing their best to help each other by improving their current web platforms and apps, as well as providing teachers with training on how to use these apps and platforms to their full potential.
Also Read: Zyxel provides innovative solutions to education sector: Mr Gary Chen, President, Zyxel India
Additionally, innovation from the teams has led to us being able to create a complete virtual community and have been able to keep the student and parent community engaged through various events and competitions. The endeavour will be able to maintain and live in two parallel worlds (In-person and Virtual) as Covid-19 becomes a part of our life.
We need to overcome this pandemic but at the same time leverage the technology adoptions in the future too. I personally believe that every adversity should be turned into an advantage and our technological advancements and adoptions is a reflection of the same.
Q – In the last two years, we have seen a boom in the use of technology to conduct online classes. Do we see online models replacing physical class models now?
A – The world is rapidly evolving, and the assorted domains are also affected by this change. Even in the field of education, there are no exceptions. The advancement of digital learning platforms has been a significant support platform to educational institutions, creating a dual existent way of life. Will online models replace physical classes – No, Will physical classes eliminate online classes – No! We are entering into times where 'Hybrid Models' will form to be the way forward. Both technology and traditional teaching and learning methods need to co-exist and develop to serve the greater purpose of quality education for the youth. Therefore, the practise of combining digital learning tools with more traditional face-to-face classroom training will be the way forward and will add tremendous value to the learning eco-system as this will increase access to resources globally. We have faculty from across the world adding value to our students across classes.
Teachers, now, can have an even greater influence and effect on students' learning with new models. Classroom instruction has also typically been teacher-directed, with some distinction thrown in, but it is now becoming more student-driven, bottom-up, and customised, with distinction as a key focus which is in line with the Lexicon Philosophy of 'One Student At A Time' and 'Every Student is Unique' and reiterates our approach that we have had from pre-pandemic times.
Q – There is a strong demand to make curriculums industry-ready and also an enabler to create more job givers than job seekers. Your view on that
A – Our focus at Lexicon MILE, Lexicon IHM and at The Lexicon Schools has always been to create Day Zero Professionals and Empowered Entrepreneurs. Our Curriculum for Lexicon MILE and Lexicon IHM have hence been designed keeping the same in mind and with inputs from Industry Stalwarts who are part of our Advisory Councils.
An extremely valuable benefit of the work-integrated learning that we provide is that students will inevitably meet and work with a diverse group of people, each of whom brings their own wealth of knowledge, experience, and skills to the workplace. Quality curricula, supplemented by relevant research & learning internships and capacity-building opportunities, prepare future generations for productive lives by providing them with the fundamental skills that allow them to continue learning, growing and choosing their paths which could be as entrepreneurs or professionals. Through MINDHUB, our Incubation cell we promote and encourage entrepreneurship and through our industry relevant curriculum prepare our students to win in their professional journeys.
When young women and men seeking their first jobs are provided with adequate vocational education and training opportunities, including in-work internships, research and on-the-job experience, they are better prepared for a smooth transition as Day Zero Professionals.
Also Read: Demand for education loans soar amid pandemic: Ankit Mehra, CEO & Founder, Gyandhan
Q – Do you think digital technology has shrunk the world and brought the best mentors closer to the students, thus bridging the barriers?
A – Technology has the potential to become an important tool for transforming learning. It has the potential to strengthen and progress relationships between lecturers and learners; re-invent our learning approaches and collaboration; close long-standing fairness and ease of access gaps; and make adjustments to lessons learned to meet the needs of diverse students.
At The Lexicon Group of Institutes – our schools and colleges, centres of excellences serve as incubators for innovation and exploration. Educators are partners in learning, continuously seeking new understanding and acquiring new skills along with their students. Education leaders create a vision to create educational opportunities that would provide all learners with the necessary tools and continue to support them to thrive.
For one, experts from across the globe are now accessible to students there by bridging the distance and time barriers to bring mentors closer to students. To fully realize the rewards of technology in our educational system and provide meaningful learning experiences, as educators we use technology effectively to amplify the teaching and learning journey.
Q – Lastly, what is your opinion about making education and your future more future-ready through more use of technology?
A – Consider a life in which everyone, everywhere has access to great education. Imagine no boundaries or exclusions: old and young, rich and poor, from megacities to remote hillside villages, fully connected schools to fully connected students studying from anywhere. A connected future brings complete equity and inclusivity to universal learning.
It may sound like a pipe dream, but it is possible in a world where digital innovation will complement and evolve classroom learning. The Lexicon Group of Institutes is creating a world of limitless connectivity, allowing students to be empowered in ways that had never been possible. Obtaining new skills and knowledge could become an edifying lifelong journey for everyone with immersive learning experiences and access to quality training. I believe that education is the key to a more prosperous future.
I believe NEP will further empower the use of technology to amplify the outreach, efficacy and thereby results of our educational practices, making India the Educational Hub of the World.