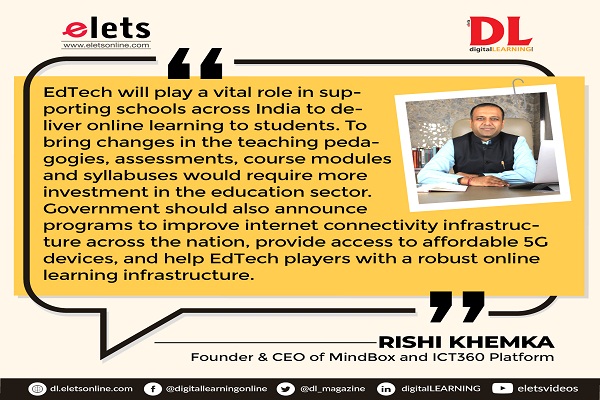 As all eyes are on Union Budget 2022 that is all set to be announced on February 1, 2022, Digital Learning spoke to a few industry experts about their expectations from the Union Budget 2022.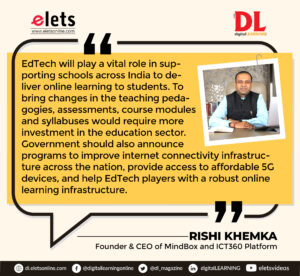 Online Education and Blended Learning is here to stay and might help shape our country's skill and education landscape in the future. To prepare our students for the future workforce, schools across India need to practice Computational thinking and deliver context-based learning through skill-building programs and tech-oriented pedagogies.
Government should increase budgetary allocation to educational institutes and encourage them to offer creative education programs to students. Courses on 3D Printing, AI, Animation, Augmented Reality, Automation, Coding, Data Science, Design, IoT, Multimedia and Virtual Reality related courses can nurture student creativity and encourage innovation which is the key to success for 'Make in India' program.
EdTech will play a vital role in supporting schools across India to deliver online learning to students. To bring changes in the teaching pedagogies, assessments, course modules and syllabuses would require more investment in the education sector. Government should also announce programs to improve internet connectivity infrastructure across the nation, provide access to affordable 5G devices, and help EdTech players with a robust online learning infrastructure.
Government should provide research incentives to encourage academia-industry collaboration, multidisciplinary research, and implementation of tech-based pedagogies to accelerate the digital transformation in education.
Education makes people independent, builds confidence and self-esteem, which is important for the development of a country. By establishing a 'National Education Bank' that gives education loans at the lowest possible interest rate will reduce the financial burden of students and ensure equitable access to quality education in the country.
Reduction in the GST slab for investment in the education sector from the current 18% to 5% will attract more investors in the education sector. Investment in education is crucial to building a globally competitive education system.
Government can support EdTech players with a budget that offers support to them in terms of finance, technology, and longer-term tax exemptions.