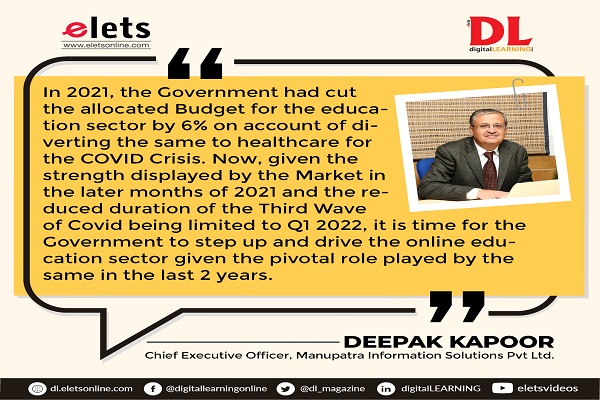 As all eyes are on Union Budget 2022 that is all set to be announced on February 1, 2022, Digital Learning spoke to a few industry experts about their expectations from the Union Budget 2022.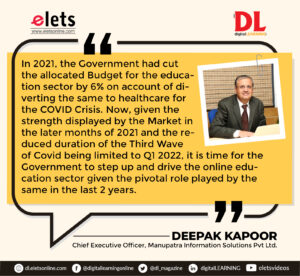 In 2021, the Government had cut the allocated Budget for the education sector by 6% on account of diverting the same to healthcare for the COVID Crisis. Now, given the strength displayed by the Market in the later months of 2021 and the reduced duration of the Third Wave of Covid being limited to Q1 2022, it is time for the Government to step up and drive the online education sector given the pivotal role played by the same in the last 2 years.
The Online Ed-tech start-ups have become the forerunners in disseminating skills and conceptual knowledge to student during the pandemic, holding the bastion when traditional educational systems took a hit, increasing penetration of access to information and skills for students across the country.
1. Removal of Goods and Services Tax (GST) on education delivered through digital means should be considered by the government reducing the cost for students across the board. This would encourage skill development beyond the academic boundaries offered by colleges and universities for students as well as continued professional development for the working crowd.
2. To strengthen the boost of online education a step further, companies private and public should encourage their staff to undertake courses and training offered by the online ed-tech which can be taken into account as part of their CSR responsibilities, creating a better skilled, dynamic workforce.
3. In the longer run and with impetus on collateral factors, this kind of government support would reduce students in India seeking greener pastures abroad. Other than tax relief, other areas imperative for the growth of the edu-tech sector are the ease of raising capital, investment in the internet connectivity to the entire expanse of the country and the reach to enhance our digital infrastructure.