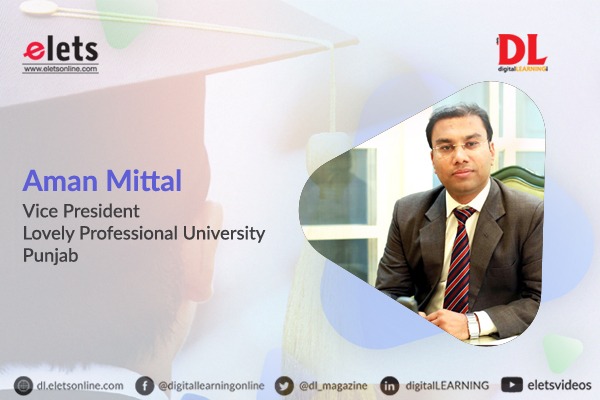 Mr. Aman Mittal is the Vice President of Lovely Professional University, Punjab. He spoke to Digital Learning Magazine on how the use of digital technology in education has grown in the last two years.
How do you see the use of digital technology in the last two years ?
Due to the COVID-19 outbreak, there has been a swift reliance on digital technology by India's education sector. While a majority of educational institutes struggled to extract productive education from the online mode, some of them brilliantly leveraged the opportunity and utilised it every day to make online education a seamless and hassle-free experience. LPU made good use of digital technology in the last two years by introducing our own online mediums & channels of communication between teachers, management and students. We view this swift transformation from traditional offline classes to interactive online classes as a very positive and productive change for our fraternity.
Do you think that the education sector has been able to sail through even during the pandemic because of the active use of technology?
Yes, absolutely! It has been entirely possible due to technology that education in India & abroad did not come to a halt. Just to imagine, if COVID-19 had hit the world 10 years ago when there were no 4G phones or technologies like Zoom and Google Meet, our teachers and mentors would have faced major difficulties in teaching. Therefore, technology has undoubtedly helped us sail through this challenging situation.
In the last two years, we have seen a boom in the use of technology to conduct online classes. Do we see online replacing physical classes?
There is no doubt that education during COVID-19 has been possible because of technology. But, it wouldn't be right to say that online education solely would be a mode of teaching in the future. In times to come, there would be two different universes that would co-exist. While one would be the traditional physical model of education, another would be a completely online mode in which students do not visit their institutions at all.
There is a strong demand to make curriculums industry ready and also, enabler to create more job givers than job seekers. Your views
The major purpose of education is to build a career for students, be it in industry, research or government job sector. It is thus indispensable to keep the curriculum updated and industry-oriented. Thus, educational institutions need to work more closely with the industry. Unlike other institutions, LPU has crafted a lot of programs in collaboration with the industry. For example, to enable the students to keep pace with changing technological advances, the university has industrial tie-ups with various industries such as Google, Bosch, Cisco, CompTIA, Intel, etc.
What is your opinion about making education more future ready through more use of technology?
Evidently, technology is evolving very rapidly. In times to come, we are going to see increasing use of technology, especially with the growth of artificial intelligence, machine learning and the meta world. As of now, the usage of technology is limited to virtual classrooms and virtual laboratories. Definitely, it will be largely different from the present scenario, which is still hard to predict. The role of technology in tomorrow's education will be immense. All the education providers, especially the bigger ones such as LPU and universities of similar sizes should plan and catch up with future technologies to provide the best of education.