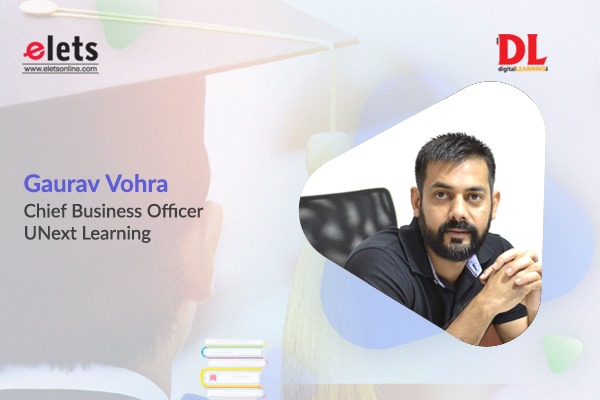 Gaurav Vohra is the Chief Business Officer of UNext Learning. He spoke to Digital Learning Magazine.
Tell us about UNext.
UNext is a next-generation online learning company, focused on the higher education ecosystem. We aim at improving access to higher education, increasing affordability, providing good quality content & pedagogy and enhanced outcomes for the student/learner community by leveraging technology. We are India's first ed-tech company that provides end-to-end learning and assessment solutions in the online space. With best-in-class content and technology stack, UNext offers platforms for online courses, digital & online assessments, and student engagement tools. Our platform is available to universities, colleges, and institutions to make quality education affordable and accessible to learners anywhere, anytime.
Do you think the digitalisation of education has helped in the globalization of education and shrinking the borders?
With the advancement of digital technology, all industries including the education sector, have gradually started embracing these technologies to modernise their offerings. Online education, e-learning and EdTech innovations got a sudden boost with the onset of the Covid-19 pandemic in early 2020. Digital technology was pivotal in continuing education, which was disrupted due to the widespread infection and subsequent lockdown. Students were spread across geographies and were forced to learn from their homes. Various remote learning tools, features and solutions helped institutions and students to carry on with their education uninterruptedly. Online modes of learning and teaching traverse brick-and-mortar walls to reach the fingertips of individual learners.
What are the challenges being faced by the EdTech companies in India?
India is an EdTech hub with over 9000 EdTech start-ups and many unicorns. As the country has a massive youth population and aspiring students, the potential of education technology is huge. The surge in internet penetration and adoption of digital innovations further intensifies its expansion. The EdTech space is facing various challenges. Firstly, the lack of high bandwidth networks in many parts of the country has become a hindrance for EdTech expansion, especially in the rural areas. Though companies are developing low-bandwidth compatible platforms, they are fully successful. Secondly, the GST slab for education services is at 18%, while conventional education is tax-free. High tax becomes a challenge in offering affordable EdTech services. Finally, regulatory interference is a concern for EdTech entities, especially for those in the higher education sector.
Also Read: "Edtech solutions support career route for students"
What is the biggest strength of the Edtech industry in making a paradigm shift in the education ecosystem?
The greatest strengths of the EdTech industry are the aspiring learners and ever-evolving user-centric innovations that make learning effortless. These two aspects are the backbone in attracting investors and the main reason for the growth of the sector. Customer behaviour is changing with the advent of new technologies. The education sector cannot remain impassive to these changes. EdTech companies, with their innovations, transform the education system based on users' behaviour. By adopting niche technologies such as augmented reality, virtual reality, extended reality, artificial intelligence, machine learning, cloud computing, IoT and others, the EdTech innovators are ensuring immersive and adaptive learning experiences