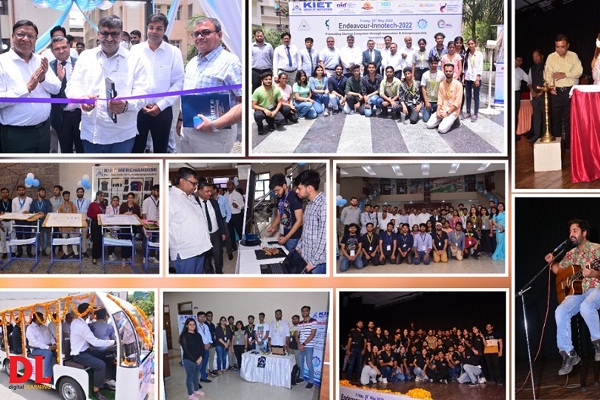 KIET Group of Institutions organised the 8th edition of the Annual program Endeavour on the theme Giving Back to State, an event by Students club E-Cell working in Innovation & Entrepreneurship and the flagship annual program INNOTECH an event for the students to showcase their innovative ideas that can be converted into product/prototype on 20th and 21st May 2022. The inaugural ceremony for Endeavour-Innotech-2022 was organized on 20 May 2022. Shri Arvind Kumar, IAS, Additional Chief Secretary, IT & Electronics Dept., Govt. of U.P. was the Chief Guest. Shri Atul Garg, Chairman TBI, KIET & Hon'ble MLA, Ghaziabad and Shri Kumar Vineet, IAS, Special Secretary & MD, UPLC, Govt. of U.P. were the Guest of Honour for the ceremony. Shri Aakash Sinha, CEO & Founder Omnipresent Robot Technologies Pvt. Ltd. was the Special guest for the event. Dr. A.K. Garg, Sr. Director, MietY, Govt. of India and Shri Sandeep Tiwari, Professor Incharge, Incubator Hub, AKTU, Lucknow graced the occasion as distinguished guest. All the guests were happy to see the enthusiasm of the students and they wished for a successful future of the students.
Innotech-2022 focused to promote the innovation of the participants by demonstrating their Innovative Models/Prototypes/Poster presentation. 33 projects and 30 posters were selected for the final round. Many renowned   industrialists and eminent academicians were invited as judge for the event. Endeavour-2022 focused on creating a network of successful start-ups & entrepreneurs want to contribute to the state to attain its goal to be $ 1 Trillion Economy by 2027 and provided an opportunity to the participants to interact with successful start-ups, professionals, policymakers and the successful incubators who have established their Enterprise in various TBIs.
Hon'ble Chief guest, Shri Arvind Kumar emphasised start-ups and wished to achieve a target of around 100 start-ups in the current year, at least one in every district. He also informed that the government is coming forward to support the private institutions. He added that they are creating Centres of Excellence in UP that can support and cater to each small and big need of the upcoming start-ups and generate an ecosystem and move into the industry from north to south. The Government is coming forward to give funds to upcoming start-ups like Defence, Electrical Vehicle making and other fields.
Shri Atul Garg, Chairman TBI, KIET & Hon'ble MLA took the opportune time to request the honourable guests to request the government to connect DRDO with the institutions that are working on innovation. He also shared that maximum push of technology into defence and motivate youth to use it to experiment and prepare defence related projects and ideas are to convert into reality.
Shri Kumar Vineet, IAS, Special Secretary & MD, UPLC, Govt. of U.P. said "Fail, if you have to succeed" is the basic idea behind being the best start up. No need to fear failures. He gave a glimpse of how IR is doing in UP and shared that Govt of India is working to make everything digital and thereby bringing transparency to the govt working.
Shri Sandeep Tiwari, Professor Incharge, Incubator Hub, AKTU, Lucknow announced KIET as nodal centre for innovations and entrepreneurs on behalf of VICE Chancellor AKTU.
Shri Akash Sinha shared that the drone industry has atleast 1 Lac jobs opportunities in the coming times. He even invited the students of KIET to take up courses from his centre and equip themselves for these opportunities.