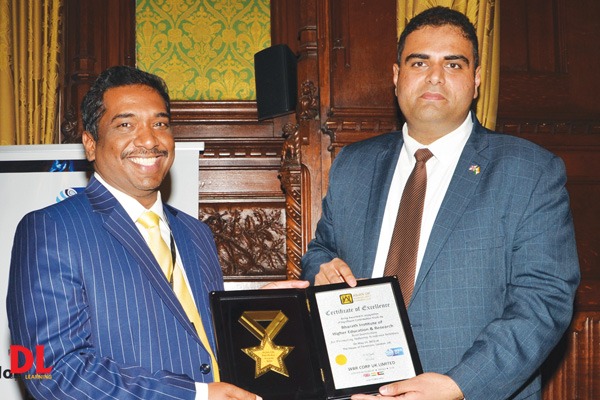 Bharath Institute of Higher Education and Research is taking commendable initiatives to promote inclusivity, outreach and access to education through their innovative intiatives.
It has been an illustrious journey for Bharath Institute of Higher Education and Research (BIHER). A recent feather in its cap included an award at the UK's iconic House of Commons. BIHER President Dr Sandeep Aanand received the Asian UK Award 2022 for Best Edupreneur, for his impeccable track record in educating thousands of students and ensuring they get employment opportunities in the biggest companies the world over.
One of the oldest private institutes in Tamil Nadu, BIHER is known for its rapid modernisation and ramp-up of its educational pedagogy, cutting-edge research and ground-breaking community service activities. Recognising the efforts, Dr Sandeep Aanand received the Asian UK Award 2022 while being a key part of the Ideas for India conference that featured other well-known speakers such as AICC MP and former party president, Rahul Gandhi, former Union Minister Salman Khurshid and TIPRA Founder, Pradyot Manikya and many others.
The deemed-to-be varsity is providing multi-stream, multi-cultural and high-quality education to nearly 10,000 students from around the world. It is functioning in a sprawling area of 305 acres of land with 1.3 crore sq.ft buildings located in 6 Campuses both in Tamil Nadu and Pudhucherry with state-of-the art infrastructure facilities.
BIHR has been known for having one of the most robust systems for promoting industry-academia relations, as evidenced by their robust NIRF rankings over the past few years. While receiving the award, Dr Aanand also announced that the Bharath Group would create a program to fund and assist 100 deserving, underprivileged students to pursue research grants abroad and create intellectual growth for India and Tamil Nadu, over a period of time.
"No student studying in any of our group institutions should ever feel that they cannot do research overseas for lack of funds. We will help disadvantaged students with great ideas travel and conduct research and make us all proud," he said. Currently, the Bharath Group of Institutions has MoUs with 100+ international universities including legendary citadels of learning such as the University of California, Berkeley, Cornell University, Harvard University, Auckland University of Technology and URAL Federal University, etc.
Reflecting on what the award, given by WBR Corp UK, meant to him, Dr Aanand said that this was merely the beginning of the grand plans they have for helping more of their students access global education through research collaborations. "I am truly honoured and blessed that a large UK-based combine has bestowed this honour on us. We have made great strides in the kind of research we are doing, despite working with some of the most rural and underprivileged students in the South of India. We do this by encouraging this kind of forwardthinking thought process to solve society's problems as opposed to simply showing statistics. That is more important to us," he said.
During the Ideas for India conference which was organised by Bridge India, Dr Aanand, was one of the key delegates and discussed business, start-ups, defence tech, clean energy, and how to tap the potential of students in rural areas.
Starting way back in 1984, what started as one of Tamil Nadu's first private engineering colleges is now a massive educational conglomerate. Comprising BIHER (One of India's most reputed multi-stream universities comprising Medical, Nursing, Architecture, Management, Agriculture, Pharmacy, Law, Management, Allied Health Sciences and Humanities and Sciences) the group also boasts of running the Bharath Medical College and Hospital and Sri Lakshmi Narayana Institute of Medical Sciences. The institutions are widely regarded as among the most well-attended in India and are known for opening their doors to students from disadvantaged families to help them get a great education.