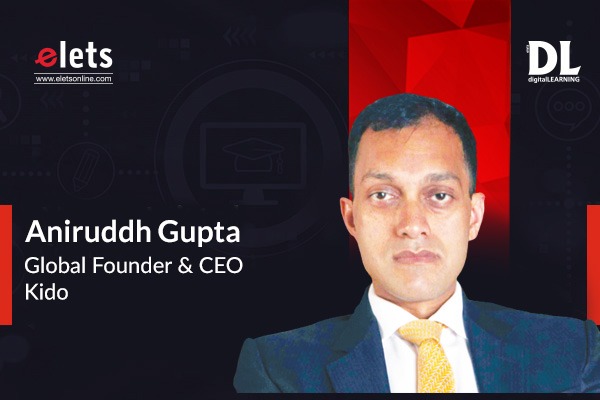 Stating the importance of education in the early years, Aniruddh Gupta, Global Founder & CEO, Kido talks with Elets News Network (ENN) about innovative pedagogical curriculum and the opportunities the segment holds in the coming times.
How do you see the present landscape of the early education scenario in the country?
The COVID pandemic has been quite a setback for the early education sector in India, but the events of the past two years have also presented the sector with an unprecedented opportunity. Because of the full closure of preschools during the pandemic (India was one of the few countries where preschools were closed for almost two years), almost 30-50% of the capacity in the sector has been destroyed. At the same time, parents have seen firsthand the importance of early year education with children staying at home throughout the pandemic.
Historically, preschools in India were seen as a replacement for daycare. The focus isn't on quality education and it is not regularised, unlike full schools. We see this changing as more parents realise the importance of the first five years. In addition, post-pandemic, we expect parents to be more conscious of factors such as hygiene, cleanliness, number of children in a classroom, the design of the school, and the quality and ratio of staff – to ensure that children are not only well looked after,, but the school itself runs with the highest standards of operational care, so as to create a safe environment for children.
In short, we see significant opportunities for high-quality players in the industry going forward.
Kido is known for its innovative pedagogical curriculum. Could you throw some light on the thought and the process of creating this curriculum?
The fundamental premise of our curriculum is that high development outcomes (academic and non-academic) can be achieved through play-based learning. We differentiate between what children learn and how they learn it. And we recognise that each child might have a different preferred learning style. So the curriculum is designed such that high learning outcomes are achieved through learning styles that can be customised to each child.
To do this, we have set learning goals across different developmental areas (including goals for creativity, physical development, literacy, maths, STEM, art etc.) based on criteria adopted in the UK, USA, Australia, Singapore, and India. Our method of teaching is adopted from leading early childhood philosophies such as Montessori and Reggio Emilia. And we have integrated research done and techniques developed over the past twenty years, such as the theory of Multiple intelligences, Project based learning, problem-based learning, and thinking-based learning to ensure that children at our schools hit the learning goals (and exceed them) in a way that makes their journey fun, engaging and natural.
Finally, the curriculum is designed so that any teacher, anywhere in the world, can implement and conduct the classes with a high level of quality, with our training. So children in our schools in India have the same quality of education that children in the US and UK have.
What are the obstacles being faced by the early education segment in the country?
The main obstacles facing the segment in India are: (a) low (though growing) awareness of the importance and need for early childhood education among parents; (b) lack of effective regulation in the industry, which allows low-quality operators to run poor preschools, harming both the children and the industry; (c) shortage of high-quality teachers; and (d) not enough investment either by the government or the private sector to significantly upgrade the quality of the offering available to parents.
At Kido, we have a firm belief that every obstacle creates an opportunity for growth. We have developed one of the most advanced systems of early childhood education and preschool education anywhere. In addition to our high-quality schools in India, we are also trying to solve the problem of access to quality, affordable early years education at a mass-market level through our initiative on Kido Village. Through Kido Village, we offer our training, curriculum, and operational expertise to any woman wishing to set up a preschool at her home for children in her neighbourhood, at a low cost. We are also reaching out to parents who wish to spend more time with their children, educating them at home, through Kido Club. Kido Club is our online portal where we have distilled our curriculum and expertise into activities, videos, and events for parents and children at home, complete with a preschool at home program.
How has preschool education evolved post pandemic?
The most significant changes are (a) increased awareness among parents of the importance of preschool education; (b) increased focus on hygiene and quality of operations; and (c) an increased acceptance of some sort of online learning for specific activities.
Additionally, with several parents now working hybrid (at least in the west, and the situation is developing in India), there is increasing demand for hybrid preschool solutions where children attend school 2-3 times a week, and the learning can continue at home for the other days. We do see that as a growing trend.
At the same time, in India, government neglect of the sector has only increased through the pandemic and beyond, with almost the entire focus being on full schools.
What are your expansion plans for India?
With preschools in India restarting post-pandemic in 2022, and the opportunity we see ahead of us, we are looking at significant expansion of our school network in the next five years.
Our target in India is to open 100 owned and operated Kido Schools over the next five years and expand beyond that thereafter.
In addition to our retail centre launches, we are already working with corporates for on-site dedicated centres for their workforce, and both commercial and residential real estate developers for schools in upcoming projects, so that we can cater to communities in as many locations as possible.
Additionally, we will expand Kido Village significantly to enable access to quality, affordable preschools to the mass market across India over the next 3-5 years.