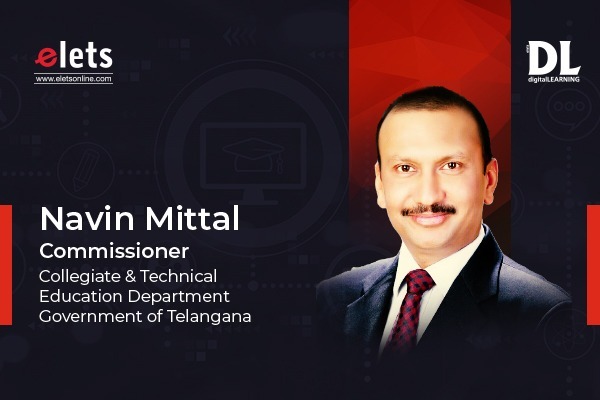 A state that has witnessed huge transformations in the higher education segment, starting 2018, Telangana has seen massive flexibility being provided to students while choosing their courses. Navin Mittal, Commissioner, Collegiate and Technical Education Department, Government of Telangana talks about the future landscape of education in the country with Hemangini Rajput of Elets News Network (ENN).
Telangana has expanded the ambit of learning with a renewed focus on technology-enabled learning as showcased by the recently launched courses on Artificial Intelligence (AI) and Machine Learning (ML) from this academic year. Could you elaborate upon the objectives of this push and other academic initiatives planned for the students?
Telangana has put a lot of focus on the new technology and the new age courses. For the last two years we have added almost about 25,000 seats in the new technology courses like artificial intelligence, machine learning, cyber security, robotics, data science, Internet of Things, in fact, the entire gamut of it.
I can proudly say that of the total seats added in the country, more than 20 per cent of those seats are in the state of Telangana, in the last two years. The Government of Telangana and the Department of Technical Education have laid that kind of emphasis. And it has been our continuous endeavour to encourage more and more students to take up the new age courses.
Apart from the full-fledged courses in this sector, we are also enabling students to do a minor in these courses. So, the students who are already in our engineering colleges, if they do about 20 credits in any field of specialisation, they can get a minor or a specialisation in their subject.
Thirdly, even for our degree college students, also, that is students who are doing B.Sc. we are starting AI/ML programs for them also. In fact a large percentage of B.com and B.Sc. students in the state are having computer science applications as an option, whereas in B.Com, 77 per cent of the students want to opt for B.Com computer applications. Similarly for the physical sciences also, the percentage is very high, almost 75 per cent upwards.
Last year, we also introduced a special course of B.Sc. Data Science, and Data analytics courses, are doing very well in the segment for the degree students. And this will really push the development of the new technology-related fields in the state of Telangana and in the country in general.
What are the special initiatives being taken to foster the technical education ecosystem in the state?
So, the special initiative which are being taken to foster the technical education ecosystem in the state is its multi-pronged approach. So, the first initiative is using technology in our education and that is being integrated in a very big way.
Of course, Covid was a one disruptor which forced us to go digital. But from the learning of covid we are integrating a lot of this digital ecosystem into our technical education system. Apart from this, we have also laid a lot of emphasis on the modern curriculum. So both in our engineering colleges as well as in our polytechnics, we have revisited the curriculum and made it more market-friendly which is what the industry needs. Also, we have made sure this is in sync with the latest technologies what students need to use when they go into the employment market, or they want to do something on their own being an entrepreneur.
The third initiative is that a lot of emphasis is being laid on reforms in the sector, which is making life easy for the students, and giving them a lot of flexibility in terms of how they want to shape up their careers in terms of subject choice, subject combination, and multiple pathways.
Finally, major emphasis is also laid on faculty development because unless you develop the faculty, they would not be able to teach. We expose our faculty to not only national best practises but also to international ecosystems in a very big way.
How do you see the future landscape of education in the country?
The future landscape of education in India is very bright. In fact, the last couple of years have been transformative in that regard. One is that NEP 2020 is a path-breaking policy regarding the direction, which especially higher education ecosystem is going to take in the country. Secondly, the overall technological development, which is taking place in the education sector.
Three, I think Covid 19 has been a big disruptor in changing the mindsets of people in terms of how we adopt technology; how we transform our education system. So, I think these three things put together are taking our system in the right direction. Personally, I am very optimistic and parallelly a lot of innovations are happening in this sector, especially in terms of how students shape up their career. In fact, work-integrated learning is a very big sector, which is now being adopted on a large scale and I see a lot of potential in this regard.
What have been the major transformations witnessed by the higher education segment in the state?
In the state, I would say huge transformations which have happened in the higher education segment. One of them was in the year 2018 when we went for a major overhaul of our government degree colleges, where we not only modernised courses, but also introduced new course combinations. Later in 2019, we went in for a lot of flexibility regarding how students choose their courses, which was first started with the government colleges and then extended to the private colleges.
We also revised the whole credit framework as well as the curriculum in 2019. And the net impact of that is our government colleges have seen a major upward trend. For instance, there has been a 68 per cent growth in the student admissions, in our government colleges in the state, which shows that once we show the quality and once, we address student choices, students are willing to come in a major way into that system. Apart from this, as I mentioned earlier, our emphasis is also in how we integrate technology into it; technology in multiple ways including technology in education and technology in teaching. That means students should be abreast of the latest technologies in terms of their learning. So I would say the integration of technology in multiple ways and has given us extremely good results and helped our students in their journey not only in terms of better employability but also an upsurge in students' entrepreneurship.
What are the challenges and opportunities of digitisation in the education system?
The challenges and opportunities of digitisation are enormous. But each aspect of the education system can be benefited by digitisation. For example: in universities or college management systems it can be in terms of the use of biometric devices or facial recognition devices for attendance which we have adopted; it can be in terms of the use of e-office in our institutions which we have done in terms of evaluation. We have started on-screen digital evaluations and all our answers get scanned and are sent to the faculty members online who also evaluate them online. So this is the entire gamut of how digitisation can be done in administering the institutions.
Secondly, it is also about the use of technology in reaching out to the students. It could be through online programs, it could be through online classes, it could be through also use of hybrid mediums of education i.e., students who are not having success can also participate in the process through digital means.
And thirdly, as I said technology as education regarding new age technologies to be the focus of the educational journey. There are some challenges in terms of which this whole process must be handled very properly; in the sense that change management is very important, and up to what extent, we could leverage technology. In fact, covid has shown that simply online education will not help us in terms of student access because there is a lack of devices and lack of proper bandwidth at the student end but also in terms of the methodology or the pedagogy of teaching also. We have not yet been able to meet the full needs of students through the online mechanism and I think that is major challenge. So we must find out the best mix which is required for both the sides.
Your thoughts on making Telangana as a dream destination for higher education.
Telangana has the potential of becoming the dream destination for education not only in India but also globally, as we have done amazingly well in many sectors. We are known for IT globally. In fact, the big 5 of the world, Microsoft. Google, Amazon, Apple, and Facebook, all of them have their development centres in Hyderabad, speak of the IT progress which we have.
We have also done remarkably well in the pharma industry, as we are the major global exporter of pharmaceutical drugs and vaccines.
One of the challenges we have faced is that we were limited regarding Article 371 D in terms of our seats being reserved for local students, which prevented students from outside the states, as well as globally, from coming here for educational purposes.
To the great extent that has now been addressed in the Private Universities Act, wherein now almost 70 per cent of the seats are open to anybody. And I see huge interest in new private universities coming to the state of Telangana in fact some global interest regarding foreign universities is setting up its capex here.
Do we have a separate policy or anything for foreign students to come and study in Telangana?
India and UK have just signed mutual recognition of degrees, which was a major stumbling block, which means Indian degrees will be recognised in UK, and similarly, the UGC regulations have come up with the dual degrees, twinning programs/joint degrees, which is a great step forward.
What message would you like to give to our readers?
India is poised at a position that enables us to develop very quickly in the future, which results in a higher number of opportunities for employment innovation and entrepreneurship. Students should dream big. They should keep their goals high and work on themselves as much as possible to equip themselves with skills, knowledge, and the right attitude.