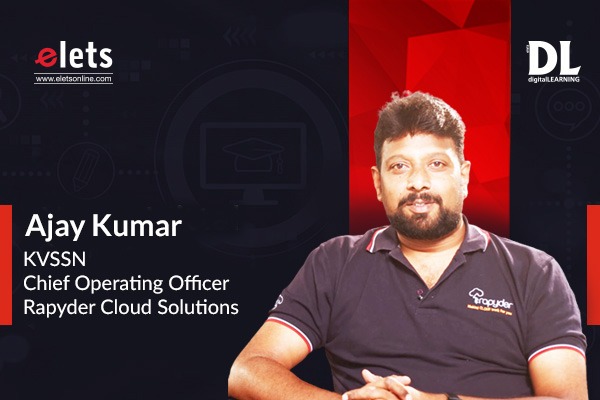 Ajay Kumar KVSSN, Chief Operating Officer, Rapyder Cloud Solutions elaborates on the journey of Rapyder and the opportunities that the rise of cloud computing is bringing.
How did Rapyder came into existence? What was the thought behind its formation?
A journey that has crossed its 5th milestone years, started with just a 5-member team. Rapyder came into existence with a simple aim to create a passionate team who believes in creating & delivering value for our customers in a true sense making the cloud work for them.
Our philosophy is how we can create value for our teams and their well-being. We are strong believers that team members are differentiators for the success of the organisation. Our mission is to help businesses leverage the full potential of cloud benefits and newer opportunities around it and make business leadership stress-free for their business continuity. We have created an employee-friendly workplace that will drive excellence, and motivation and create better results.
Rapyder is mainly composed of 3Cs & 3 Ws. 3Cs for – Clarity, Culture, and Competency – and 3Ws for– Customer win, RapyDearWin, and Business Win. Rapyder strives to build high-performing and customer-focused teams yet remain focused on our mission to improve the workplace by allowing employees to thrive while keeping a customer centric attitude.
With high level cloud competencies as its strength, what type of consulting services does Rapyder offer for edtech and educational organisations?
Rapyder's cloud solutions enrich the virtual classroom experience for edtech businesses through digital transformation ensuring a seamless customer experience with a business scalability meeting growing demands.
We are a strategic cloud partner for many educational institutions & edtech firms, having solved from simple to complex business problems in digital transition viz Cloud Consulting, Migration, DevOps, App Modernization, Data Analytics, and AI/ ML etc. We help stitch a bespoke cloud strategy that most suits the business needs with minimal downtime reducing operating expenses.
Our Cloud engineers are experts in developing cloud-based apps that can handle and analyse data quickly and reliably. Services surrounding AI/ML skills are used to analyse the available data and derive meaningful results. With our managed services edtech firms can get 24/7 support and stay focused on their core services.
Please elaborate on Rapyder's other service portfolio for edtech customers.
Rapyder's service portfolio for edtech customers includes SaaS, PaaS, and IaaS offerings. We have our own IP solutions to enhance the edtech communication channels with their users. Our Centre of Excellence has been putting heads together to solve edtech problems with Data Analytics & AI/ML solutions that enhance their teaching and learning process. Our team can help our edtech customers migrate their programmes and apps from their on premises location to the cloud or Cloud to Cloud.
How does Rapyder contribute to the cumulative demand in digital transformations that have seen a boom in recent times?
Rapyder has been working with Start-Ups, SMB's & Enterprises in the implementation of cloud solutions for improved data protection, pricing, performance, and migration through a digital transformation. We conduct Know Your Architecture workshops, and IT Landscape assessments at regular intervals to make them cognizant of the digital transformation and show the value they derive in time.
Going by the aspirational value of cloud technology, is it a good career prospect for students?
Cloud as a career may be quite lucrative and long span in the industry to those who take an interest in it. Cloud services have grown indispensable in numerous areas, including health care, education, manufacturing, gaming and finance, etc. Cloud provides students with a plethora of opportunities due to its widespread availability, demand, and established public & private cloud solutions. It gives you the opportunity to advance their career by opting from a diverse selection and work as a cloud architect, cloud administrator, or cloud security expert, etc.
With a massive emphasis on digital transformation, the increased need for cloud specialists is being driven by the expanding number of start-ups, as well as existing global corporations. This is an indication for job seekers with a wonderful opportunity to grow their career, in the field of cloud and allied solutions.
There is immense talent in rural India and Rapyder is very keen to create opportunities for tier-2 and tier-3 cities students and make an impact in Indian towns & rural areas to contribute to their careers, bringing them to the speed on par with metros. We have already defined our hiring strategy in tier-2 & 3 cities and are making investments in training. The first batch is already identified and has been trained for 4 months and has started working with our customers.
What are some of the key challenges sustaining the education sector in India? How does Rapyder plan to address the same?
Over the last few years, the Indian education sector has seen a significant transformation due to the advent of new technologies. The growing trend of cloud computing has revolutionised the way we teach and learn. Although modern technologies have shown a significant impact on the education system, only a small percentage of the population benefits while the larger number is still unserved.
Reasons such as lack of digital infrastructure and awareness, security, and high expense perceptions are among the obstacles. Rapyder, as a cloud organisation, aspires to bridge the digital divide and ensure that everyone has equal access to information. We firmly believe that cloud computing has a great role in overcoming challenges faced by the Indian education system and hence provides cost-optimised cloud services enabling edtech companies to undergo much-needed digital transformation.
How do you envisage education five years down the line? What are future projects for Rapyder in the pipeline?
Learning will become far more exciting and rewarding because of creative, immersive, and interactive kinds of teaching. With rising online courses, there is a greater connection between the teacher, student, and parent, making learning more personal, intuitive, and responsive. Future education is collaborative and there is a pressing need to work in tandem with multiple partners converging into a single source to exchange information/content to create a seamless learning experience for users at speed.
a. We are migrating the company (on-premises), focusing on futuristic experiential learning and training consultant and solutions provider for K-12, higher education, and vocational & industrial organisations based in the Middle East.
b. Control tower setup for a Micro learning platform with a library of 5,000+ lessons to help students upskill in key areas like leadership, communication & marketing.
c. DevOps automation for a company that focuses on digital, Interactive Worksheets for your classroom.