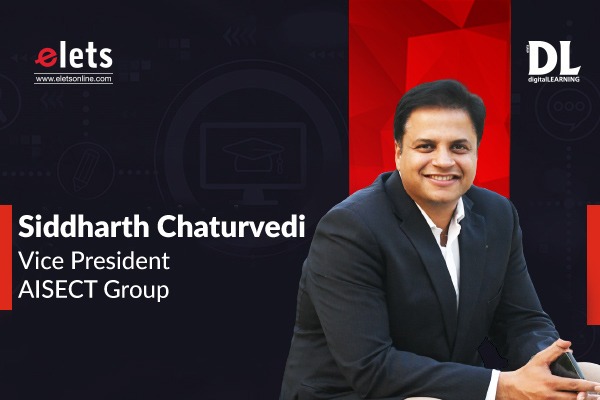 The education sector has faced an ultimate challenge during the pandemic period and landed with its own solutions and methods like hybrid learning, and remote learning. Despite being a relentless journey, the outcome is revolutionary and gives an innovative edge to the educational panorama. To delve deeper into the current scenario in the educational landscape, Sheeba Chauhan of Elets News Network (ENN) had an exclusive conversation with Siddharth Chaturvedi, Vice President, AISECT Group. Edited excerpts:
After the pandemic, everyone is talking about edtech can replace classroom learning. What is your take on the same? Are there any positives that came along with edtech for classroom learning?
The pandemic has altered the ways of life we were used to. The entire scenario pushed people beyond their comfort zone and encouraged them to come become solution-oriented. Ed-tech as a sector saw unparalleled growth much before the pandemic, however, it was during the lockdown that people understood the true potential of e-learning. With blurred lines as to when the education will resume to its former state, schools and colleges made online learning a way of life for students.
There is no scope for ed-tech to replace classroom learning in totality, a hybrid model is a way forward. The pandemic has made it seamless for online learning and classroom learning to co-exist in a way that provides the best of both worlds for students. Edtech players like Byjus & AISECT Learn are doing the same by integrating self-paced online learning with center-based faculty-based classes.
As we have witnessed the main language that is used for learning in edtech is English. What is the scope of edtech courses being available in different languages and not being restricted to only one language?
With rapid innovation in ed-tech, the language barrier, in my opinion, is the least of the concerns. Regional content has seen a meteoric rise in the past few years, which is making education inclusive.
Due to the vast regional diversity present in India, ed-tech has taken a different approach as compared to the west. There is no dearth of content available in different languages, dialects and even scripts. With languages and dialects changing every few meters in India, the challenge is to provide personalised content. As far as regional content is concerned, I feel we are on the right track and there is immense scope for growth and innovation in the years to come.
There are many players like Learnvern and AISECT Learn, which offers courses in Hindi and other regional languages apart from English.
Edtech has been making headlines for instant firing from jobs. Do you think this should be the case for traditional institutes as well if the faculty or staff isn't performing well?
More, than ed-tech, this is a pattern witnessed with most startups. This cannot be categorized specifically to ed-tech. Traditional institutes have teachers and instructors who have been loyal employees for years and they are fueled by their passion to teach. Hiring and firing is a highly subjective topic and it has to be assessed based on individual performance. Moreover, we believe that faculty should be periodically trained and upskilled so they are aligned to the current landscape.
Covid has forced ten years of digital technology into a month. Do you think the speedup of the process will lead to better results?
COVID accelerated innovation in a manner that could not have been imagined in years. With the ambiguity and fear of the unknown, people did not have a choice but to make the most of the situation to stay afloat and changed the way people look at life in general. It is safe to say it has impacted every arena of life, not just digital transformation. As for digital transformation, is concerned, COVID has been a major catalyst for innovation and fast-paced growth of the sector as well.
There are MOOCS (Massive open online courses) from platforms like Udemy or Coursera. Faculty or Staff is fearing that this transformation will ultimately replace them. What is your take on the same?
The biggest advantage of MOOCS is that they are a powerhouse of access. They complement traditional education but will not be able to replace that system altogether. Players like Udemy, Coursera & AISECT-MOOCs have played a pivotal role in making education accessible to a pool of students who do not have access to the traditional learning ecosystem, having said that, it has not impacted our traditional education system. On the contrary, it has been the biggest enabler to continue to support imparting education to the remotest parts of the country in case of students not being able to attend physical classes.