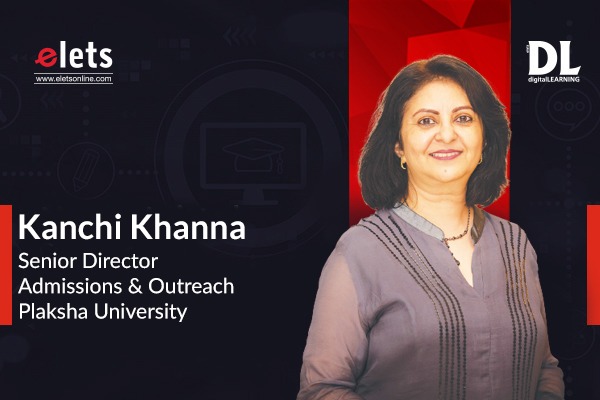 Currently, there is a discrepancy between what the industry expects and what is available in academics. This issue needs urgent attention. The current educational system in India faces a number of difficulties, including an excessive focus on memory and a lack of attention on innovation. Both academics and industry must work together to close the using technological advancement. To elucidate the topic further, Sheeba Chauhan of Elets News Network (ENN) interacted with Kanchi Khanna, Senior Director, Admissions & Outreach, Plaksha University. Edited excerpts:
There is a huge cry in the industry that fresh graduates don't have employable skills. What steps education institutions can undertake to bridge the skills gap?
This entire conversation around skill development started a decade ago when corporates realised that candidates fresh out of college lacked the necessary 21st-century skill-sets for the stated job role. While some progress has been made in this regard, a lot more needs to be done to develop communication ability, analytical/critical thinking, and soft skills alongside technical proficiency amongst the graduates. Hence, it's essential for education institutes to focus on integrated learning from year one, contrary to the earlier concept of 'T-shaped skills' where students would be first taught technical core and then inculcate the leadership skills. Additionally, building an entrepreneurial mindset is the need of the hour as it widens the students' perspective and allows them to think in a 360-degree fashion right from their college days.
As the pandemic accelerated the sudden swirl of technology in the education landscape. What could be some popular technology specializations paving the way ahead?
Popular technology specialisations such as AI/ML/ Robotics are paving the way. Many institutions are contributing to this digital evolution in the education sector. At Plaksha University, we stand at the forefront of providing cutting-edge technology education in the country. The university is committed to making Indian youth capable of imbibing technological progression and adept in new-age skills to solve India's challenges with advanced curricula. Some of Plaksha University's cutting-edge interdisciplinary degrees, aligned to the future of work include:
B.Tech in Computer Science and Artificial Intelligence
B.Tech in Robotics and Cyber-physical Systems
B.Tech in Biological Systems Engineering
BS in Data Science, Economics and Business
Apart from providing blended learning along with academic excellence, Plaksha University's razor-sharp focus on research-based pedagogy is transforming Indian talent, further raising their innovation quotient. Additionally, the university has partnered with many industries, other national and international universities, and organizations to delve deeper into research and holistically address the need for experiential technical education in the country.
Intake in Engineering courses is reduced by 25 per cent in the previous years, students are not finding relevant opportunities after graduation. What do you think is the base cause of the lack of good opportunities? Is faculty, curriculum, industries, or the students themselves responsible for it?
There is an urgent need to reimagine technology education across the country, enabling the research and innovation ecosystem. Education institutes must revive their education curriculum that empowers students to address the grand challenges with solutions structured around real-world problems and impact-focused research. These elements form critical pillars of Plaksha University to ensure graduates become future-ready.
For instance, unlike traditional engineering institutes, we have an ingenious admission framework where a student's 360-degree profile is evaluated. We don't just test a student's knowledge in mathematics or physics but also consider their aptitude through innovation challenges.
Traditionally, engineering colleges allocate a particular stream or specialisation based on the score. In contrast to this, at Plaksha University, students are allotted specialization as per their interest after a holistic overview of their academic strength along with extracurricular and co-curricular activities. We understand the diversity of the school education model in India and empower students to take charge of their life's direction with continued support from our faculty and founders. Overall the admission process is geared towards enrolling students who can thrive in a self-directed learning model.
At Plaksha University, instead of considering seats for every course, we focus on total student intake at the campus to offer a personalized learning environment. For instance, this year, we had 120 enrollments, and next year we aim to have fewer than 150 students enrolled for courses. For the next 2-3 years, we plan to have less than 200 students to deliver on the promise of Individualised learning. Furthermore, we maintain a smaller faculty-student ratio to ensure students have access to faculty members for doubts or other guidance.
We have witnessed that the CEOs of some of the big brands are of Indian origin, be it Google, Microsoft or Twitter. What is the role of the education ecosystem in making India a global powerhouse of talent?
The larger vision of the academia and education industry is to make students excited about solving problems rather than just landing a job. If you look at the current scenario, the best jobs in the industry are offered to graduates who are curious enough to solve societal challenges with technology. The onus to prepare a socially conscious generation that brings high-quality intellect, ideas, dynamism, and passion for innovation lies in India's entire education ecosystem.
Hence, the entire education ecosystem must collaborate to build a robust ecosystem of innovation and research in India that will entice the youth to study in the country rather than move abroad. Here are some ways:
Educational institutes must update the course curriculum, identify emerging specializations, cultivate a culture of accountability, and provide students with diverse learning opportunities.
Introduce new models of upskilling through partnerships with corporates and institutes to impart quality technical education.
Expand talent sourcing boundaries to rural India, build a productivity-driven technology skill set across the country.
The Info Edge Centre of Entrepreneurship at Plaksha enables students to launch their startups which are internationally recognized. Additionally, Plaksha Entrepreneurs Support Program (PESP), a 3-month in-residence incubation program for Plaksha graduates, Plaksha alumni, and other graduate students, enables students to kick-start their venture. This program is a launchpad for budding entrepreneurs where eminent startup founders and experienced mentors guide students. Every student is mapped to a founding mentor, extending support beyond the compilation of the course. The fact that Plaksha University has been set up by a global community of entrepreneurs, business leaders, and academicians provides a solid vision to nurture the next generation of entrepreneurs.
We aim to foster an entrepreneurship ecosystem through our research-based pedagogy and catalyze over 1000 start-ups over the next decade. I am delighted that so far we have successfully contributed towards fostering an ecosystem of entrepreneurship and innovation of international standards out of India.