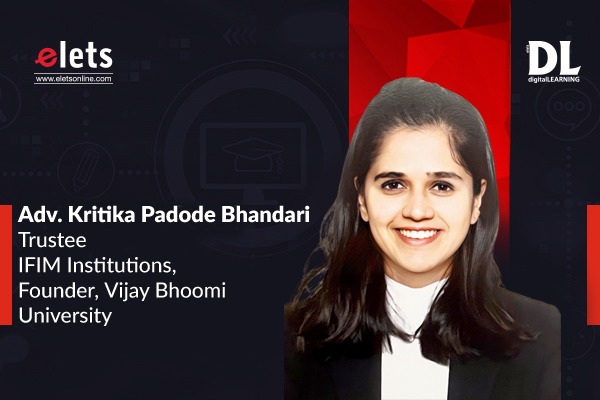 Theory and practicals are two parts of learning that need to be focused on equally. Educators & industry experts believe that now is the time to reverse the curriculum of 70 per cent theory and 30 per cent practical. We have a few professional courses that are already working towards a more practical approach in lieu of a theoretical one.
Most recently, something similar came up from the doors of the Bar Council of India and they decided to revamp the curriculum by allowing the final year students to act as paralegals for a period of six years. There are many other erupting alterations that are happening in the world of law students.
To delve into the topic deeper, Sheeba Chauhan of Elets News Network interacted with Adv. Kritika Padode Bhandari, Trustee, IFIM Institutions, Founder, Vijay Bhoomi University. The conversation was insightful and elucidative.
Bar Council of India (BCI) is all set to revamp the curriculum and allow final-year law students to act as paralegals for a period of six months. What is your take on the same?
It is definitely a welcome move. A legal internship of any sort will give students a chance to apply the knowledge of legal subjects they have acquired over the course of four years. Application of knowledge in a real- life setting will also allow them the freedom to explore which area of law excites them to pursue professionally and also the kind of lawyer they would want to be. A lawyer can play multiple roles in the profession- advocate, judge, briefing counsel, working in a firm etc and an experience of this nature will help them choose an appropriate role for themselves wisely. A longer internship will also help them get a better understanding of process and practice which is not possible in a shorter duration internship. Apart from all the benefits to the students, this will also help add manpower to the much-needed legal aid force in our country. With an exploding population spread across different parts, we are in a dire need of quality legal aid volunteers and this experience will motivate students to pursue legal aid in the future as well along with their private practice.
Similar to other professions, lawyers also need hands-on experience from internships. What are the advantages and disadvantages of doing internships in the rural areas of India?
I only see advantages to this proposition and no disadvantages as such:
Application of knowledge of legal subjects in a real-life setting
Ability to develop skills that are essential for lawyers communication skills, listening skills, mediation skills, drafting, dealing with clients, and learning the ropes of the system
A chance to explore and make an informed choice are your specialisation and the kind of lawyer you would like to be
The ability to connect with the grassroots and inculcate social responsibility
To get a chance to work closely with practitioners and find your mentors
At National Law University, students go to district and high courts or corporate law firms. Do you think traditional law colleges will ever be able to compete by working on Rural Internship for Law?
The real learning from internships is agnostics of labels or higher forums. Key aspects of a good quality internship are being able to undertake more serious tasks during your stint like drafting, working closely with seniors to monitor their professional work, engaging in precise high-quality case research & analysis, and getting to go to Court regularly to monitor the progress of the case.
Theory and practical are two segments that need to be focused on equally. Though we have an ample amount of courses that work on the curriculum of theory only. Should all courses introduce some practical application to their theory courses?
They absolutely must because there is a sea of difference between what we study in the classroom and how these Statutes play out in the Act. Importantly for each subject it is essential to get drafting experience to understand the nuances of the Act in its entirety and actually ensure that your knowledge may be of ready use to the employer. Also, as many legal academicians may not have a practice background, it is a good idea for them to explore the opportunity to invite a legal professionals to co-teach courses especially procedural ones to expose students to the pragmatic nuances and give them exercises and assessments that are focused on knowledge and skill building for the professional world.
How is the adoption of technology changing things at Law Schools? What are the technologies that are presently in place at various institutions?
Technology is slowly penetrating Indian Law Schools. We see most of the future-looking law schools use advanced digital teaching tools to enhance learning. With the pandemic, we have witnessed an increased exposure of students to lectures from leading legal academicians and professionals owing to the robust use of platforms like Zoom. Competitions such as Moot Court Competitions, negotiation and mediation competitions have taken the virtual route- increasing access of students from all over to these competitions. Assessments, attendance, timetables, and access to lectures are now enabled digitally in forward-looking institutions.
Even the idea of the BCI introducing an aptitude test to place young lawyers in the chambers of senior lawyers is a welcome move as it will introduce more meritocracy in the system and give many students who are first-generation lawyers the chance to work with and learn from stalwarts of the profession.