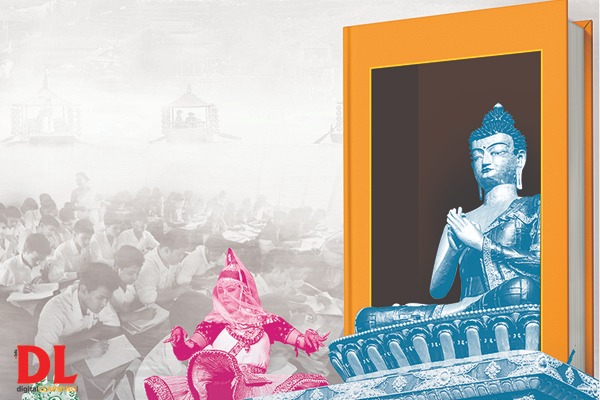 North-East India has made great strides in the field of education in recent years. The region has some of the best educational institutions in the country, producing top-notch professionals who are making a mark globally. Technology has also played a crucial role in enhancing the education landscape in north-east India.
The significance of the north-east lies in its rich history and the geographical bounds. The seven states of the north-east popularly known as the seven sisters, namely Arunachal Pradesh, Assam, Manipur, Meghalaya, Mizoram, Nagaland, Tripura and Sikkim together have a population of over 45 million. These states are not merely called the seven sisters; but they are interdependent. The unique geography is its biggest antiquity and connotation. Though the outlook of education in the north-east is challenging, the youth of the region and the varied prestigious institutions are swaying the quality of education to the heights.
Present education landscape
Looking at the present scenario of education in northeast India and the future growth opportunities, the region has many coveted educational institutions that offer quality education at par with national and international standards. These institutions are not only lucrative for regional students but also for students from other parts of the nation and the globe.
Some of the leading educational institutes in the north east are Indian Institute of Technology (IIT) Guwahati: Established in 1994, IIT Guwahati is one of the top engineering institutes in India. It offers B. Tech, M. Tech, MBA and PhD programs in various disciplines.
The region also has National Institute of Technology (NIT) Silchar: NIT Silchar is one of the 31 NITs established by the Government of India. It offers undergraduate, postgraduate and doctoral programs in engineering, sciences and humanities.
Assam University: Established in 1994, Assam University is a central university located in Silchar, Assam. It offers undergraduate, postgraduate and doctoral programs in various disciplines including arts, sciences, commerce, management and law. For students who want to pursue science and technology, the best institute is North Eastern Regional Institute of Science and Technology (NERIST): NERIST is a Deemed University located in Nirjuli, Arunachal Pradesh. It offers diploma, undergraduate and postgraduate programs in engineering and technology.
Opening doors to future possibilities
As history has witnessed, education is the foundation stone of all future growth and success. Alongside the same thought, the education sector in the north east has seen an immense spurt in recent years and is ultimately providing the right set of circumstances to enhance, enrich and increase the growth of the region. Highlighting the future fortuity, the region has a large pool of talented young individuals who have the potential to make a mark globally. With good educational institutions and adequate support from the government, they will rise high to their full potential and contribute towards developing north-east India.
Some of the factors which will drive the growth of the education sector in north-east India include:
Increasing number of aspirants: There is a growing number of young people who aspire to pursue higher studies and make a career in academics or research.
Improved infrastructure: The government is investing heavily to better the infrastructure of educational institutions in north-east India. This will help attract more students from other parts of the country as well as abroad.
Favourable policies: The government has introduced several conducive policies for promoting higher education in north east India. These policies are helping attract more investment into the sector, which will lead to further growth and development.
Availability of scholarships: There are many scholarships available for students from northeastern states which helps them pursue higher studies without any financial burden.
Despite the challenges faced by educators in north-east India, there are many potential growth opportunities in the sector. One major opportunity lies in increasing access to education using technology. With internet penetration rates increasing across India, there is a growing number of people who have access to online resources and services. Educators can take advantage of this by developing online courses and other educational materials that can be accessed by students anywhere with an internet connection. This would enable more people to receive an education without having to physically attend a school or college.
Technology – enhancing the last mile connectivity
The education landscape in north-eastern India is unique. While the literacy rate in the region has increased in recent years, there are still many challenges that need to be addressed. Technology is also one of the major tools that needs to flourish fully across the region to enhance last mile connectivity and better educational growth for the region. In addition to increasing access to education using technology, it can also be used to improve educational outcomes. For example, educators can use data collected from student performance on tests and quizzes to tailor instruction and better meet students needs. Apart from that educators can use video conferencing and other tools to connect with experts from around the world and bring new perspectives into the classroom. When used effectively, technology can enhance every aspect of education , from administration and operations to teaching and learning.
Another initiative started by UGC through MOOCs (Massive Open Online Courses) helping a large section of the populace get benefit in non – traditional ways. Improving connectivity, especially last mile connectivity, also invites investments providing betterment opportunities for NE youth.
Technology is helping students irrespective of anything. It is even granting access to pupils with disabilities to have better access to education. Through the various high-tech tools like VR (virtual Reality) glasses, smart boards, which is also a fun way of learning while watching the interactive videos and lectures.
The government is also supporting technology intervention in education. Most recently, the Chief Minister of Meghalaya launched 50 government lower and upper primary schools that were upgraded under Phase 1 of the Meghalaya School Infrastructure Improvement Scheme. CM Conrad K Sangma stated that though only 50 schools had been upgraded currently, the impact of it will be immense. "It will bring about important changes in the field of education." The entire shift of the education sector towards technology is aiming for a massive metamorphosis in the landscape of education. It will transform the way India used to teach, learn and grow.
Through the glance of educators
As we came across myriad educational institutions that are doing wonders in the field of education and facing some challenges at the same time. Elets News Network reached out to educators across the north-east region to talk about using technology in education in their institutions and other models used considering the recent paradigm shift in education.
Dr. Manoj Kumar Choudhury, Principal, Kaziranga English Academy, Guwahati said "The incorporation of the aforementioned techniques in teaching allows the learners to take ownership in their learning resulting in optimised academic excellence. It makes the learners intrinsically motivated and highly curious about the subject. Such an approach engages the hearts and minds of learners enabling better concept retention, and promotion of critical learning and managerial skills."
While talking about the same, Sailesh Sarmah, President-All Assam Private School Association, Director – Our ABC Group of Institutions, said, "Education is not really tech-driven. It is about inspiration from teachers. The best teachers arouse the curiosity of the students that makes them 'want' to learn a subject. A tech-driven methodology may enable a student to learn alone. In fact, many do that. There are students who do brilliantly while passing from open schools. Technology is a tool. And like any tool, teachers need to use it well.
"ICT and innovation in schools trains students to meet the challenges in the world. Lack of digital knowledge definitely keeps students unconnected with the progressive world. At Springdale School , we strongly believe that technology has to be integrated in the learning cycle hence, we empower teachers and students to use it well. Different technological innovations are being adopted in our school for the holistic development of the students", said Shahnaz Ahmed, Chairman & Founder Principal, Springdale Sr. Sec School, Jorhat, Assam.
Looking ahead
The present scenario of education in north-east India is very encouraging with many good educational institutions catering to local as well as global aspirants. The sector holds great promise for future growth as well with adequate support from government policies and investments. With favorable conditions like these, it is achieving a lot right now and will aim for even bigger in the coming years.
While there are many challenges faced by educators in north-eastern India , there are also many potential growth opportunities. One major opportunity lies in increased access, which is only possible by technology reach and by government initiatives such as Digital India. The north-east has become digitally literate & skilled. Now, they are prepared for technical advancements taking such provision of ICT devices in each district & every classroom.