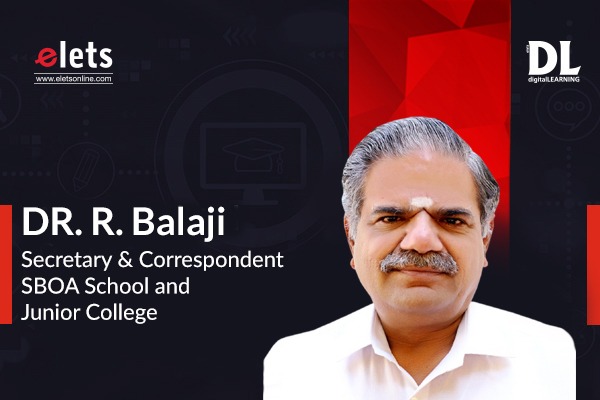 Education has the most proliferating impact on the growth of a nation as well as on the evolution of society and the values it upholds. The spectrum of education is facing an era of digital transformation with rapid changes happening at a great pace. As a part of education, along with leadership and vision as well as building the capacity of teachers and the millennials, creating the right learning infrastructure is equally important. Access to technology can facilitate and empower educators to build 21st-century skills, that will build critical thinking, problem-solving, attention to detail, collaboration and teamwork among each other. With regards to the same, Sheeba Chauhan of Elets News Network had an exclusive conversation with DR. R. Balaji, Secretary & Correspondent, SBOA School and Junior College. Edited excerpts:
Technology is driving the education sector to great success. What is the action plan in your state to equip students with technology-driven education?
"Education helps people become better citizens, get a better-paid job, and shows the difference between good and bad". We aim to inculcate a C&C action plan, spanning the twin objectives of digital competency – Cyber ethics and Curriculum development. We would begin by providing holistic and extensive orientation programmes, topped with effective seminars and projects that induce tech creativity as well as teamwork. Furthermore, we would approach the prevalent problem of tech-based barriers and equip students with technological proficiency. The following methods of teaching have been adopted in the action plan to equip students with technology-driven education; the four components of technology, ie. Personalisation, evidence-based learning, increasing school efficiency and bringing out continuous innovation are incorporated to bring out the desired results in learning. There are several technological activities for children like developing digital literacy, increasing visual literacy skills through songs and stories, and developing Learning Speaking Reading Writing (LSRW) skills. Each lesson, whatever the subject are further taught through gamification and a blended learning environment. These are better engagements through which immersive learning is attainable. Integrating mechanisms such as Kalvi TV, Dhiksha App, TwT (Teach with Technology) would drastically improve technological-driven education ubiquitously.
Hybrid learning is somewhere reducing the role of teachers in students' growth. Do you think the introduction of technology in the education landscape can completely erase the existence of teachers?
As rightly said by Frank Bruni "The health of our democracy and the perpetuation of our prosperity depends on teachers no less than they do on Silicon Valley's innovations. Let's make the classroom destination as sensible, exciting and fulfilling as any other." It would be inaccurate to assume that teachers would be rendered obsolete with the advent of technological education. In fact, teachers would transform into more effective mentors and tutors. One-to-one interaction between the teacher and the pupil helps in gauging the depth of understanding of a topic by the student. Human interaction kindles motivation and inspiration in the learner. Monitoring of students' activity is not effective in online classes. Attention span in an online class is drastically reduced. In today's age, the old-school method alone will not work. The generation today loves technology. To connect with students and help them understand better, the teacher has to come out of their comfort zone and explore new ways to engage them. This means even in a technology-infused learning environment, the role of a teacher will remain ever-important. Our teachers and supervisors are inherent to the system and their use case with the rise of technology will only lead to higher efficiency and effectiveness. Under hybrid learning, teamwork would facilitate more in-depth and nifty schooling.
Your school has been awarded in the category of "Innovative Practices for Academic Excellence" recently at the Elets World Education Summit. What are the next innovation practices you are bringing in to make the education space better?
SBOA School and Junior College with its motto of "Educate and Illuminate" has not just evolved, developed and adapted itself to be in tune with the current changes in education but also envisioned keeping pace with the futuristic education system. Traditional classrooms have been relatively isolated and collaboration has been limited to other students in the same classroom. In the future, we expect students to share and learn with students from other states /countries. They will collaborate on group projects, learning cultures and exchange ideas using technology-based tools such as WIKI's, Google Docs etc. Students take more responsibility for their own learning by gathering relevant information. The teacher's role will shift to being a "Guide on the side" rather than "a sage on the stage". In our institution, we will be integrating financial education into our curriculum which, we feel, is prime to the holistic development of our students. Working with Finance4Future, an organisation that spreads knowledge on personal finance as well as entrepreneurship, will empower us all. Secondly, to hone the extracurricular skills which we believe are just as vital for thriving in a competitive environment, we are constantly developing and expanding our Model United Nations Society as well as the Debating Society – which work to foster logical reasoning and critical thinking.
Your school is contributing immensely to India's education sector. What are your expansion plans for this year and beyond?
"The great aim of education is not just knowledge, but action." This academic year-
We aim to bring in education with Virtual Reality – this would enable us to transverse many barriers and exponentially increase the engagement and liveliness of the classrooms.
Identifying the unique talent in each individual and honing them to perfection.
To provide high-quality sports infrastructure with multiple sporting facilities on the terrace.
Bringing in redesigned furniture and latest state-of-the-art devices.
More outreach programmes for better social integration in our society.
Incorporate energy efficiency into our present architecture and to plan in campus waste management to make our school selfsustainable, zero waste zone.
Furthermore, we aim to bring in the student-centric discussion, collaborative reading and writing complimented with brain-developing infrastructures such as the Mind Box (Creative Tech Centre) and the Atal Tinkering Lab. The challenge of creating a positive atmosphere is about making school a place where children feel challenged but competent, where they work hard but enjoy it, and where achievement is the product but not the sole objective.