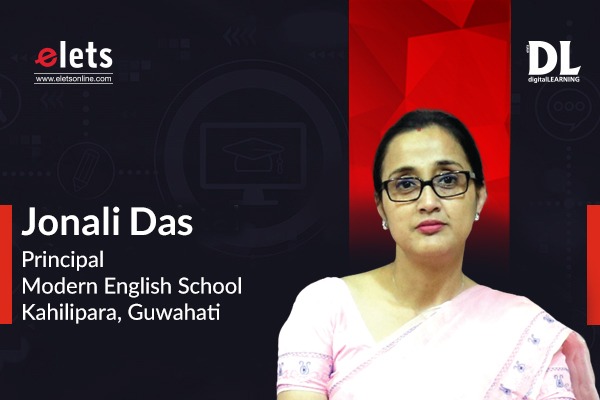 Elaborating on the transformative role of technology in the education sector, Jonali Das, Principal, Modern English School, Kahilipara, Guwahati shares with Sheeba Chauhan of Elets News Network (ENN) how it enables students to explore new subjects and deepen their understanding of complex concepts. Edited excerpts:
The Indian education system follows multiple school boards like CBSE, ICSE, or state. Which board does your school follow and why?
Modern English School, Guwahati, follows the Central Board of Secondary Education (CBSE). We follow the CBSE board because it is well-recognised, respected, and universally accepted throughout the country. Moreover, it has a thorough and dynamic curriculum imbibed with the latest trends in education. Further, the pattern of most of the competitive entrance examinations like IIT-JEE, PMT, Dental Courses, NDA, CDS, and other Defence and civil services follow CBSE, as its syllabus is nationally acclaimed.
How does exposure to a global perspective provide educational benefits to your students? Please elaborate on the same?
Exposure to a global perspective in education helps students develop global competencies and equips them with relevant 21st-century skills necessary for communication and collaboration. Besides, learning with authentic tasks drives the students' engagement in class activities. Further, learning with a global perspective allows students to understand global citizenship politics while creating a fair understanding of world issues, current economic & political events, world history, culture, and geography
Students have recently been exposed to significant mental health issues at an early age. How do you cater to your students for a mentally healthy ambience that can foster learning?
To help students fight mental health issues, we have launched a Mental Health Counselling Division, raising awareness and teaching students to deal with various emotional and psychological concerns. The team of experts at the division will guide students in handling stress and making healthy choices. Further, the mental health issue programs launched by the school aim to help students deal with stress in their daily lives and how to strike a balance between academic and personal life. These counsellings are provided to the students of class 5 and onwards. Under the mental health counselling initiative, various individual and therapy sessions will be conducted. Additionally, counsellors will visit each class as a part of the class-observation activity.
What key features have your school inculcated to keep itself ahead in technology-driven education?
COVID-led pandemic transformed the face of the education sector. Changes witnessed during this time are expected to dominate the industry even in 2022 and beyond. Therefore, the need for education trends such as online, experiential, outcome-based, and skill-based learning will grow further. Technology provides students with easyto-access information, accelerated learning, and fun opportunities to practice their knowledge. It enables students to explore new subjects and deepen their understanding of complex concepts, particularly in STEM. We have introduced various tech-driven education platforms in our school. Usage of Smart Boards, TV, Google Classroom, and Google Meet are being introduced for effective learning, communication, and access to educational resources. Our school recently conducted Structured Assessment for Analyzing Learning (SAFAL), an online competency-based assessment (pilot project) by CBSE for Grades 3, 5, and 8, to assess the progress of foundational skills and basic learning outcomes/competencies among students.