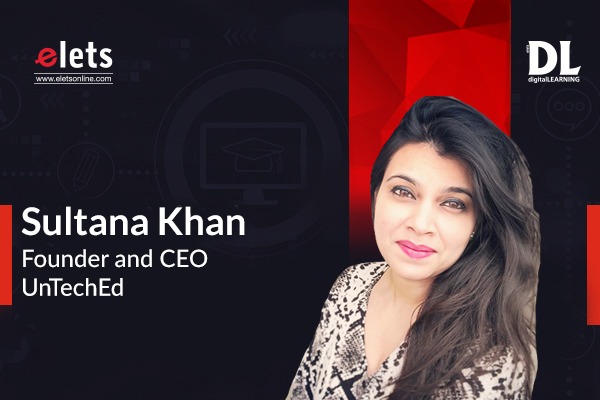 In the last decade, online learning has literally swept the education industry worldwide off its feet. Shortterm courses, and e-degrees help students enhance their skills while pursuing their regular full-time courses simultaneously. To know how technology has given the digital shape to education, Sheeba Chauhan of Elets News Network (ENN), interacted with Sultana Khan, Founder and CEO, UnTechEd. Edited excerpts:
You have faculty exchange programs and guest faculty programs. How do you see the faculty exchange programs across the nation as beneficial for the holistic development of students?
UnTechEd is a professional education Marketing Services company with 15+ years of experience. Through our unique faculty exchange programs, we provide an opportunity for the national and international faculties to become part of mutually beneficial programs. This helps students studying in India have the best of both worlds in their home country itself.
We acknowledge that its premier domestic partner institutions have quality faculty. However, as they say, 'Many minds, many thoughts'. Faculty exchange allows students to benefit from a global faculty who have spent their time teaching at institutes of international repute. Such a learning experience would help students develop a global perspective on their subjects beyond books. We foster interaction between a domestic institution and the best institutions globally to help both exchange faculty and maximise the benefits of their respective students. With 130+ international institutions already present on our partners' list, domestic institutions can literally 'find their right match' from a plethora of choices.
Employability is a big issue that should be addressed. As you organise many employability workshops, what can be the 21st-century dynamic skills that can help students at the workplace?
In today's time, a dynamic enterprise environment, ever-evolving work models, and emerging technologies such as Artificial Intelligence and Machine Learning challenge fresh graduates in an era where digital transformation is constantly disrupting industries worldwide. Therefore, it is essential for students to prepare themselves beforehand for such a rendezvous. This is the reason that 21st-century skills are mandatory for all students.
Higher education must contribute to the development of a skill set that is recognised as useful by recruitment personnel across a variety of industries. For instance, skills like critical thinking and creativity are two of the most sought-after skills globally. 21st century skills are a set of dynamic, competitive skills that help employees respond proactively to the ever-changing requirements in today's work environment. Such skills can vary from learning skills like communication and collaboration to literacy skills such as media and technology literacy. Even life skills like flexibility, initiative-taking, leadership, teamwork and productivity are no less important.
Long story short, since the workforce has evolved a lot in recent times, higher education should also take steps accordingly.
Technology has given the digital shape to education and we are bombarded with many new models during the pandemic. What are the present education models that will stay in the long run be it hybrid or online?
The technology in the learning space has been overcrowded much before the pandemic, since the era of the introduction of MOOCs. There was a time when there were debates over the need for face-to-face education and it's sustenance. Technology is a great enabler in education and its delivery but not the standalone model. The physical delivery models are beyond the subject specific learning and we should be looking forward to technological advancements for better learning outcomes for the learners.
Conventional courses or offline degrees were ruling the higher education segments. With the coming up of short-term courses and e-degrees, how do you think it will give an edge to the education paradigm?
In the last decade, online learning has literally swept the education industry worldwide off its feet, and like how. Short-term courses, e-degrees help students enhance their skills while pursuing their regular full-time courses simultaneously. Online courses and e-degrees offer flexibility and a new learning environment, and also help students manage their time better while developing new critical and technical skills.
In this manner, students can also broaden their perspective to find new learning avenues beyond the regular classroom teaching. Employability, which is always a top priority for students pursuing their higher education, is often rightly addressed by such short term courses and e-degrees in today's times. Therefore, students can take a leap of faith and opt for a few such courses along with regular studies to give a boost to their future career.
We, at UnTechEd, understand the significance of such educational enhancements. Therefore, we consistently encourage our partner institutes and their students to focus on building their professional profile by adding value through certifications and skill advancement courses.
What are the robust tools and assessment frameworks that help students identify their areas of interest?
It is a question that cannot be responded to with a short response as I must address several aspects from pedagogical structures, national policy frameworks and comparison of several models that work in different parts of the world. But a simple response here would be to allow educational institutions to have the freedom on choosing flexible frameworks and expose their learners to different subjects and experiences. As UntechEd we are already working on one such programme that will enable students in India to identify their areas of interest and become environmentally conscious to become an effective future leader.
How is UnTechEd helping the domestic and international institutes in the growth strategy?
UnTechEd aspires to blur the boundaries between domestic and international institutes through its unique growth model. While we provide exclusive student recruitment services to international institutes through our UTE hubs present in domestic institutes, we also help domestic institutes foster tie-ups with international institutes and utilise the same to their benefit.
Through a UTE hub present in-campus of a domestic institute, international institutes can help themselves with activities like Direct Student Recruitment, engage in an exclusive partnership with the domestic institute and also explore the scope to organise international events on the campus of the domestic institute. Indirectly, this also helps an international institute increase its student recruitment numbers exceptionally through awareness creation. Simultaneously, its domestic partner can explore tie-ups of various types, such as student and faculty exchange and summer programs with international institutes and leverage an opportunity to participate in international events.
UnTechEd is also coming up with a subsidiary named the International Academic Quality Consortium (IAQC) that helps maintain the quality of education standards and accredits universities.