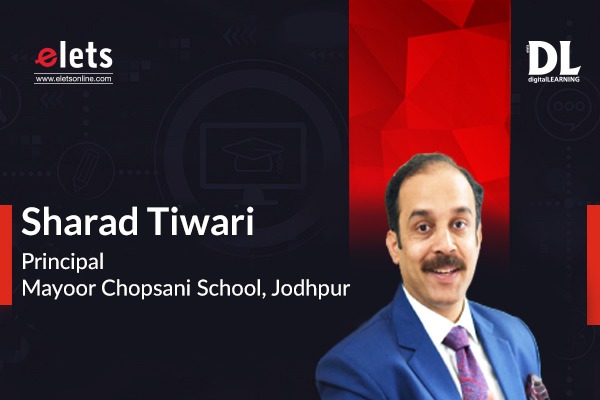 Technology intervention has increased rapidly into the education space. One of the most significant method that is gaining traction is 'Gamification' both in learning and teaching methods. Gamification can be easily and effectively incorporated into the e-learning practices also. The traditional role-method is impacting the curiosity of students to learn and enhance their knowledge base. With gamification, students are keen to learn and adapt to long hours of learning as it is more of 'play as you learn' instead of boring long hours of monotonous learning. It is also a significant way of improving student's behaviour not just in learning journey but in their life also. Gamification also has the potential to inculcate higher education skillsets with easy gamified learning methods. To delve deeper into the topic, Sheeba Chauhan of Elets News Network interacted with Sharad Tiwari, Principal, Mayoor Chopsani School, Jodhpur. Edited excerpts:
With the erupting usage of technology in the education sector, which technology do you consider the best innovation for students at higher and school levels?
According to me, no technology can altogether replace a teacher or a facilitator. AI unquestioningly is part of the future but not quite there yet. It is rapidly becoming a topic of study for many schools and institutions whether or not to implement it at a higher level. It could be considered the best so far for information storing and sharing but would still be devoid of emotional connection with the students which is a must requirement at the higher level.
As the world is pacing fast toward technology-driven education, one such application of technology is the "gamification of learning". What are your thoughts on using gamification as a way of teaching and learning?
Gamification is nothing really new in the world of learning. However, there is now increasing pressure to use these tools and techniques to a much greater extent, especially in learning that is provided digitally. It would be fine for me, encouraging gamification at schools until the ultimate goal of its implementation is not compromised which is the mastery of knowledge, skills and behaviours that are a requirement for student's future.
Making maths and science more of a fun then a dull exchange of facts and figures certainly helps young learners, even breaking the cultural prejudices for certain subjects labelled as "Tough or Difficult.
Gamification may work well for junior learners, certainly not of much help to senior school students unless we are taking into consideration differently abled learners. Finishing years of school must prepare the young adult to take up challenges he/she would soon be dealing with in a working environment in his/her near future.
Do you have any plans in near future to implement technologies like gamification at your school?
As I had mentioned earlier, Gamification may work well for junior learners. We have gamified Maths learning for students in our school which have brought substantial difference and made maths learning winning. We constantly upgrade and update ourselves to cater the current needs of the children. We constantly do what is in the interest of the children. If gamification makes learning fun nothing would hinder me in implementing more of such tools to promote fun learning which will inspire the students to continue learning.
How is your school planning to implement technology-driven education? What can be the next big innovation that the education sector can get involved in for a better future?
Our school has made all possible updates when it comes to the usage of technology in order to keep Learning-On for students and teachers. Whether it was sudden coming on online platforms like zoom, google classroom, Microsoft team etc for teaching, creating the digital library, providing teachers with the latest software for AV creation, empowering teachers to be tech-savvy and many more.
Our teachers have not yet given in the weapons of technology which were responsibly handed to them. They make constant use of these in taking classes for those who could not attend classes because of one or the other reasons. Keeping in mind that each child learns at his/her own pace teachers invite slow-learner for the remedial session online and try to bridge the learning gap in such students.
Flip classroom is the need of the hour. To put it simply, this technique encourages students to use technology to learn at their own convenience at home and teachers assess their learning when the students attend classes. Why not teach new generation to be self and life-long learners?
Post covid, we have come across a new ecosystem of school education. What are current changes that are apt for the holistic development of students?
The school systems went through a threshing floor experience. It has given clear edge to those at the forefront of using cutting-edge technology but a death blow to many others who had just the basic infrastructure to impart education.
It is impossible for this generation to be away from technology and attempting to do so would be catastrophic. Education's age-old three R's – Reading, Writing, and Arithmetic – are being joined by a fourth: Rethink. School structures which largely stayed the same is posed with a challenge to meet that is from teaching culture to learning culture.
Unsurprisingly, the educational focus has to move toward the life skills, attitudes, and personal awareness the student will need in an increasingly complex world or what the great mind calls it the VUCA world. The all-inclusive approach to education develops a learner's ability to adapt and accept life's challenges, build their understanding, and learn from their errors. This is what is also the aims and objectives of NEP-2020.
The curriculum framework deepens the thought process and easy planning. Tell us about the innovative curriculum you have been following in your school.
We have an informal base of the NCERT curriculum, lavishly garnished with an assorted mix of international flavors from the IGCSE and IB approaches in our classrooms. Our long-standing collaboration with schools in Germany and UK helps our teachers to serve academic help in their classes in such a manner that the learners get the best of both worlds!
Our school tries to develop in students the ability to 'create' as against 'copy' by providing an experiential learning curriculum in the formative years. It not only enhances their learning potential but also brings them to the center stage of learning.
Our school's curriculum is recognised for its strong emphasis on cultural and value education. Utmost importance is given to action based classrooms with a blend of co-cultural activities.
Great emphasis is laid on technology-intensive teaching. Audio visual aids like Avs, charts, models, and PowerPoint presentations are used regularly for effective teaching.
Classrooms are equipped with interactive digital whiteboards connected to a Smart Class Knowledge Centre in the school building. A team of trained professionals ensures technical support for teachers. Students are exposed to world-class teaching methods.
We firmly believe that in today's close-knit world community, every child must grow in appreciation of different cultures. Therefore, we promote international viewpoint and global awareness in our students as well as teachers by sending them on regular exchange programmes to Germany and UK.
We encourage abundant access to the 'global way of life' and discoveries that unravel the common thread of humanity worldwide.
Do you think a learning-centric approach is the best way to reach students for teaching?
Learner centric approach has always been the best way. You consult the learner for his/her preferred style and pace of learning. You design or moderate the content as per the need of the learner in today's world with a quick switching view to the next decade.
India has the second-largest market for online education. According to the recent National Achievement Survey, there is a decline in learning levels. Do you consider digital transformation as a catalyst for a decline in learning results?
The last NAS was conducted at a time the systems were just recovering from the blow of the pandemic. The mode of assessment has a limited scope when you resort only to the MCQs. I do not fully agree with the survey outcomes.