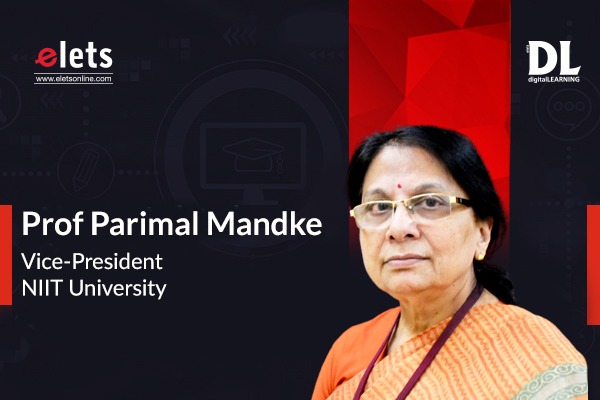 Technology is altering student preferences for learning subjects, the way students learn, the way students need to be assessed, and the need to connect them with business processes right from their first day in college. To know more about the technological advancements in the education sector, Prof Parimal Mandke, Vice-President, NIIT University, shares her thought with Sheeba Chauhan of Elets News Network (ENN).
What are the new-age courses according to the evolving scenario in education? What all NIIT University offers in the same domain?
The COVID crisis that gripped us in 2020 has accelerated digital transformation. Organisations and businesses across sectors are seeking professionals proficient in digital skills. However, according to a recent report by Nasscom-Zinnov, India is projected to face a shortage of 14-19 lakh tech professionals by 2026. A huge requirement is projected in Cybersecurity, Data Analytics, AI/ ML, IoT domains among others. To help the industry address the skill gap while offering challenging careers to students in today's hi-tech and ever-changing work environment, NIIT University offers a range of programmes – BTech in Data Science, BTech in Cyber Security, BTech in Computer Science & Engineering, BTech in Electronics & Communication Engineering, BTech in Biotechnology, 5-year Integrated MTech programme, 3-year BBA and 4-year Integrated Masters in Business Administration.
How does the digital revolution begin at universities? What role can universities play in bridging the industry-academia skill gap?
The pandemic has changed the rules of the game. Faced with issues like social distancing, universities and educational institutions across the country were compelled to adopt an online mode of teaching and learning. Hence, it accelerated the adoption of technology in the education sector to create more opportunities and enhance their digital operations. It enabled students to learn and grasp at their own pace and time. Going forward, educational institutions will adopt a blended learning model, which includes a vast range of digital activities that collectively deliver effective learning.
This crisis offered an opportunity to re-evaluate assessment methods in education and introduce ways to evaluate the students' overall development. This would be consistent with the New Education Policy (NEP) 2020 and will certainly help students come out successfully as independent, self-driven, and tech enabled learners.
It is imperative that learners today acquire new-age digital skills. Jobs in software and IT, data and financial analysis, and digital marketing will be in demand in the future. Universities should focus on providing courses that are relevant in tomorrow's world. Industry-linked programmes and courses that offer the required skill sets should be included. This will train the students and help them to be future-ready. The industry should be brought to participate in university courses while students are studying on campus.
What is making students recession-proof for the new future of work?
Being in a world that is dynamic and ever-changing, it is important to train students to adapt to the latest technological changes around us so that they can overcome the challenges they may encounter. The new-age courses offered at NIIT University teach students to be self-learners and survive in any work environment. Even though an economic recession could affect the student's field of choice, helping them identify their interests and aligning those with the skills in demand can teach them to stand out and find a way to survive. It is significant to be technologically updated and well-informed. Even though a rise in inflation can lead to job cuts, there is a huge demand for well-skilled employees across the world.
How is technology changing the face of education? What are the major goals that NU has set to adapt to the technological changes in the education space?
Technology is changing everything in education. Student preferences for learning subjects, the way students learn, the way students need to be assessed and the need to connect them with business processes right from their first day in College. They need to have a breadth of knowledge and at the same time, depth in some specific subject. Since the knowledge content is profusely available because of the Internet, what students need to master is the learning process itself.
NIIT University is quick to adapt the new technology and tools in the curriculum. NIIT University has designed an integrated digital learning platform called Nugget that enables learning almost the same way as the student would learn in person on Campus. Nugget and in-person learning in the classroom are combined optimally to have the best learning experience for students.
At NIIT University, a significant part of a blended learning model has been implemented, based on extensive work done over the last 10 years, with 40 years of research and experience from the sponsoring organisation, NIIT Limited. This model incorporates innovative pedagogies, technology-based teacher-student engagement and end-to-end processing of student administration. Though the conventional mode of learning will never be obsolete, a more holistic hybrid model of blended learning will be the new norm going forward.
Placements are a very crucial part of students' college accomplishments. How is NU taking the lead to make it a 100 percent placement institution?
The curriculum at NU is created to offer students successful career opportunities. The university has a track record of 100 per cent placements for students who have opted for the same and have been previously placed in leading organisations like Coca-Cola, Cognizant, Infosys, and TCS (Tata Consultancy Services), to name a few.
NIIT University includes experiential learning in academics to ensure that students are well-trained for the future. The Career Development Council (CDC) and Centre for Industrial Collaboration (CIC) are in charge of placements at NU and they work with over 400 active industry partners, including some of the leading organisations like Morgan Stanley, IBM, Ernst & Young, and so on. The 'Design My Future' initiative at NU helps them understand their strengths, identify their career choices, and articulate their life purpose, values and vision. The University also provides summer internships and industry practice which gives students exposure and understanding of the real world they will face in the future. .
What can be the skillsets that students must acquire to make themselves industry ready?
Technology has become an essential part of our lives. It has changed the way we live and work. With Work from Home (WHF) and hybrid working models, most organisations today need employees who are digitally savvy. Being updated with the latest technology trends is of utmost importance in order to advance in your career. Additionally, with most operations and business processes moving online, organisations need professionals who are well-versed in new-age technologies like cyber security, data science, AI and ML. Universities should therefore understand the tech talent requirement of the industry and offer courses that prepare students for the world of work.