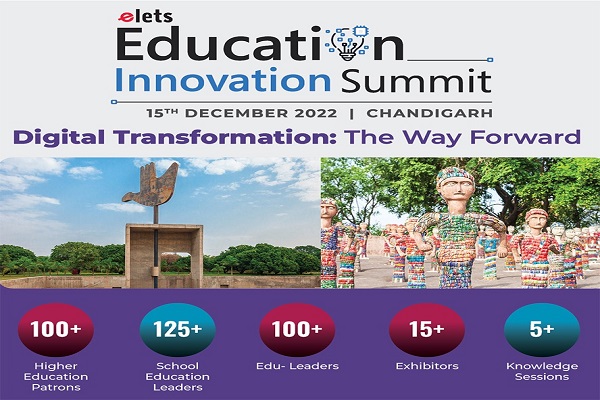 Innovation is the necessity that lets everyone evolve and grow with time. To address the evolution and the rapid pace of transformation in the education paradigm, Elets Technomedia is back with its flagship event Elets Education Innovation Summit at 'The Lalit' in Chandigarh on 15th December. This innovation summit will bring the entire education ecosystem on one platform to lay down the innovative methods and pedagogy that the education ecosystem is a part of.
Elets Education Innovation will be a one-stop destination for investing your time and getting maximum benefits under one platform. Higher education figureheads, school education leaders, government dignitaries and leading edtech will grace the summit with their humble presence and their thought-provoking visions.
The summit will present an amalgamation of innovation happening in both higher and school education. Innovation in education is about more than new technology. It's about solving a real problem in a fresh, simple way to promote equity and improve learning. The various edu-leaders, education enthusiasts, higher education figureheads will express their valuable thought process on the innovation aided by technology, and other innovation that is driving the education space towards a growth path.
The event segments

One of the most engrossing segments of the event is the awards. Educators always thrive to be innovative aspiring leaders. While they work towards commendable work in the education world, they hardly get recognition for it. We are here to facilitate their remarkable work. Elets Education Awards celebrate the remarkable accomplishments of Universities, Schools, Institutions, and Higher and School Education Leaders across the nation in bringing change & innovation.
Renowned for its transparency and authenticity, Elets Education Awards will honour the real spearheads of transformation and growth. This time, we are recognising the torch bearers in the categories of Most Promising University in India; India's Leading University in Innovation; Outstanding B-School with global exposure; Recognition for E-campus; Online Education Platform Provider; Award for Edupreneur of the year; Pinnacle Award for Iconic Leader in Education; Innovative Practices for Academic Excellence Recognition for revolutionary education; Excellence in innovation School; Leading School in ICT Usage; Excellence in unconventional teaching method and many more.
Apart from the awards, the conference will also have more than five knowledge sessions. As the industry's most eminent leaders, educators, and experts are going to be on the dias, these discussions will indeed be very descriptive and illustrative sessions
The highlight of the event will be a massive deliberation on recent topics that are turning the education landscape towards development and growth. The spotlight will be on few key topics such as NEP 2020: Changing the Dynamic of Indian Higher Education & Institutional Preparation; Reskilling and Upskilling of the workforce – Education innovations paving the way for future-ready talent; Implementation of VR, AR and AI at schools – Technology turns catalyst for change!; Evolving role of edtech in higher education: The future of learning & skilling; Developing student-centric model of teaching in schools: A New-age pedagogy.
Expos – The edtech's showroom
Edtech is the major driving force behind the technological revolution and acceleration in the education space. The expo segment of the summit will provide you to connect with India' s leading edtech and get to know their innovative solution that is making teaching and learning easy and accessible. It will provide you an opportunity to connect and network one-to-one with no restrictions of time, the innovative technology and solutions of these edtech can help your schools and university to grow at a rapid tangent.
The event will be action-packed, rapid, and enthralling with all these segments, if you want to grab all of this under one roof, don't forget to join us at Elets Education Innovative Summit at 'The Lalit' on 15th December in Chandigarh.

br>