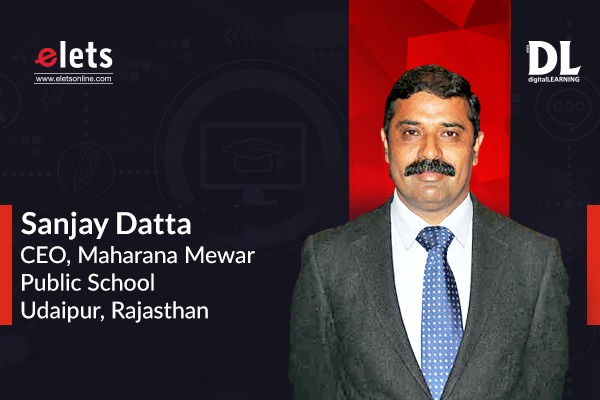 Technology aids in improving communication as well as educational quality in the education system. Modern technologies like Artificial Intelligence, Learning Management Systems are being implemented in every school today, shared Sanjay Datta, CEO, Maharana Mewar Public School, Udaipur, Rajasthan had an interaction with Kaanchi Chawla of Elets News Network (ENN). Edited excerpts:
Tell us about your achievements in terms of 'Innovation in Education' during the year 2022.

Maharana Mewar Vidya Mandir paid emphasis on the National Education Policy, with an additional impetus to vocational education, in the year 2022. The school has introduced various vocational clubs such as Agro club, Fitness, and Nutrition club, Career guidance clubs, YUVA tourism club, Sigma science club, INTACH, TED-Ed, Eco club, Environmental sensitivity club, Happiness club, Energy conservation clubs, and many more to equip students with practical knowledge and hands-on experiential learning.
To enhance and inspire students about vocational learning and skill development the school has made special provisions for SEED (Skill, Enhancement, Empowerment, and Development) lectures in its daily routine.

We feel elated to share that the school has innovated and implemented BASE model pedagogy as a part of its "Happiness Classroom Initiative". As a result of this, to quote a few, one of our students, Pari Sahu represented the state of Rajasthan at the National Level in a BEE painting competition organised under the aegis of NTPC, National Campaign Energy Conservation, 2022. Likewise, Niramay Upadhyay, a young wildlife enthusiast, received first prize in World Wildlife Federation (WWF) quiz, in association with Udaipur Forest Department, during the Wildlife Week Celebration.
How futuristic technologies are going to transform education in the year 2023?
Technology helps in mending the quality of education, the educational system, and communication by providing enriched resources. Since technology in education systems is seeing increased implementation every year, we would not need to linger much longer to see the outcomes. Modern tools and technologies like Artificial Intelligence (AI), Learning Management Systems (LMS) through ERP, Gamification, and 3D animation pedagogy-based learning is being practiced in MMVM. As an endeavor towards futuristic technologies, in 2018 MMVM Udaipur, has successfully implemented RFID attendance and GPS tracking technology. We strive to follow augmented & virtual reality and blockchain in the coming years. The growing influence of technology in education is, thus, providing us with a quick look into a step-by-step evolving realm of unrestricted learning.
What is the innovation that accelerated the transformation of growth in the education landscape in the year 2022?
One of the most important emerging trends in education in 2022 is a stark shift from subject-oriented rote learning to a more skill-based learning method. The key skills needed in today's competitive business environment are cognitive thinking, problem-solving, and management. Thus, with the inclusion of skills training in the curriculum by the Department of Skill Education, CBSE has introduced 18 skill subjects in secondary and 38 skill subjects at the senior secondary level. Skill hubs, art-integrated learning, the hub of learning, and SAFAL (Structured Assessment for Analysing Learning) are some of the initiatives taken by the board and Government of India to upgrade the proficiency of the young generation and provide them with an awareness to explore various career opportunities.
What is your mission and vision to impact the paradigm shift of the education arena in the year 2023?
Education systems are undergoing a great paradigm shift.
Teaching and learning are also evolving to cope with the changes. There is a massive teaching and learning pedagogical revolution, which needs to be understood
And why not? While everything around us is changing, then why not education? Change seems to be constant in education. When a paradigm shift takes place, we see things from a different perspective as we focus on different aspects of the phenomena in our lives. Based on the same philosophy, our mission is to provide future leaders with a skill-based, seamless learning opportunity through a curriculum that is in sync with international standards.
Our vision is to create a learning environment that ensures the development of a logical yet creative mindset, excellent interpersonal skills, and a balanced emotional intelligence. Last but not the least, it also ensures the integration of the rich culture of our country in the learning process so that the learners develop commitment, integrity, compassion, and respect for all.