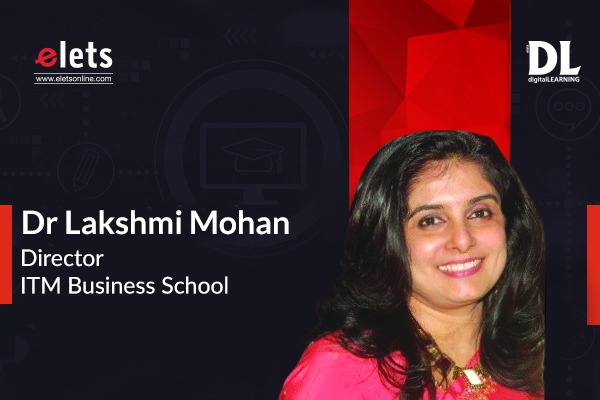 The positives that NEP brings forth are a multi-disciplinary approach, practical and project-based learning, single regulation, encouraging grading systems and an overall improved learning output said Dr Lakshmi Mohan, Director- ITM Business School in an interview with Nidhi Shail Kujur of Elets News Network (ENN). Edited excerpts:
What is your vision for innovation in education? What are the steps you are taking for your institutions to bring innovation?

Innovation and education are closely connected, and this is witnessed by the way education has progressed from gurukul days to modern technology-embedded education. I believe that innovation has to be holistic, bringing transformation in people, processes and products. People include all the stakeholders such as students, alumni, faculty members, regulators etc. It is about the value addition we provide to each one of them. The process is the systems and strategic alignment brought in the institution for better communication, connection and future records. Product here means the various programs and courses that can add value to the learners. Innovation in education must bridge the gap between industry and academia and build synergies for the betterment of students.
At ITM innovation is crucial as we make conscious efforts to align the learnings of our students to current trends and business requirements. Innovation is best seen in a free and empowering environment. We welcome new ideas and reward innovators. Our labs and cells are symbolic for explorers to research and experiment on new thoughts and make them happen. We build a creative environment coupled with ample support and collaborations to enrich innovative efforts.

What can be the best technology to surpass innovation in the field of education?
Surprisingly, though the pandemic was the deadliest period for all, it accelerated innovations in technology. There are several tech options available for education such as ease of operation, faculty management, advanced teaching-learning processes, tech-based mental health interventions, admission and placement management etc., thus making a smart campus a reality! There is no single best technology but a package that makes learning and education management fun and fabulous.
NEP, experiential learning and a new paradigm of education is the talk of the town. According to you, what are the perils and promises of NEP and the paradigm shift?
NEP is a refreshing change to the landscape of education but the mammoth size and massive diversity of India's education leaves doubts on the implementation aspect. AISHE 2019 report states that there are 1000 universities, 39931 colleges and about 10725 stand-alone institutions catering to 3.74 crore students in the higher education space. NEP calls for attitudinal changes for all the stakeholders right from the founders to teachers, students parents etc. Multiple boards and accreditors add to the confusion.
The positives that NEP brings forth are a multidisciplinary approach, practical and project-based learning, single regulation, encouraging grading systems and overall improved learning output.
What are the segments of the education landscape that still need revision?
Moving towards learner-centric education is very vital for effective education. NEP can be a success only if there is larger accountability from educators. Revising the curriculum as per NEP standards must be a priority. Adapting to new technologies and making the best use of them for people, process and product transformation is a segment that will remain dynamic and the need of the hour. Collaboration is key to success and education partnerships will make a remarkable difference in the education landscape.
Do you think digital disruption in the education space will bridge the employment gap between colleges and cubicles?
Digital is the magic wand in the education space. We all know that knowledge is at the click of a mouse. Learning is no more restricted to textbooks and classrooms, it has transformed with digital disruption. Digital has empowered the learner with a plethora of possibilities and thus bridged the employment gap. Digital content, skill enhancing courses have made it easy for students to access learning and development. C2C, College to cubicle is a smoother transition in today's times for any sincere student who focuses on the larger goal.