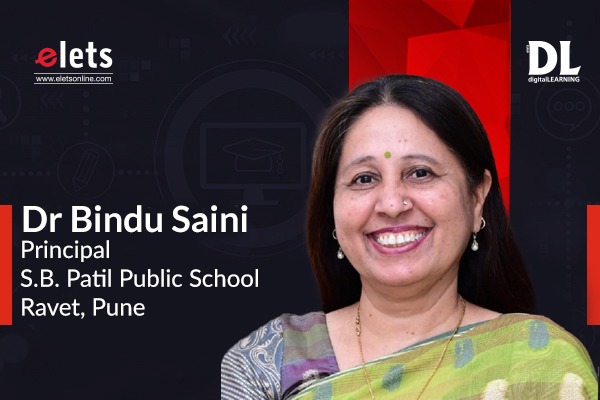 Education will thus evolve to be more skill and technology-inclined rather than being subjective and theoretically based says Dr Bindu Saini, Principal, S.B. Patil Public School, Ravet, Pune in an interview with Nidhi Shail Kujur of Elets News Network (ENN).
Tell us about your achievements in terms of 'Innovation in Education' during the year 2022.

The holistic development of the students has been an innate part of S.B. Patil Public School's creed. This means that we nurture and nourish students not just academically but also co and extra-curricular. But for this to happen and to make them 21st Century skilled and smart – we provide the best technology available to enable them to be savvy in all walks of life.
Ergo, S.B. Patil Public School has integrated e-learning into an everyday classroom activity. Supplementary technology implemented such as the school's ERP, RFID cards provided to students and staff, and the automated library provides students, parents and faculty with ease of interaction and information thus reducing time-wastage; increasing security; and easy access to knowledge.

The School Innovation Council (SIC) is a landmark step to encourage creativity and problem-solving with idea generation among students and staff. Further, the activities done throughout the day need to be reflected upon; this is facilitated by the Reflection Sheets for staff and students.
Also read: Technology will help in mending the quality of education: Dr Kavita K Roy, Oxford World School
The implementation of NEP 2020, holistic report cards, SAFAL, etc. will radically change the face of education.
How will futuristic technologies transform education in the year 2023?
Ever since the pandemic, we have extended the limited use of technology within education and transformed it into an innate, intricate and inseparable part of pedagogy.
As we strive to make our students 21st Century skilled and smart, the teaching of subjects such as Artificial intelligence (AI), Learning Management Systems (LMS), Augmented and Virtual Reality, Gamification and Blockchain will become essential since these will not just be restricted to the fields and arenas of science but will also be used in all areas of the industry be it management, arts or commerce.
In the school setup, digital libraries flipped and blended classrooms, and other apps have brought about a revolution in the teaching-learning process.
Education will thus evolve to be more skill and technology-inclined rather than being subjective and theoretically-based.
What are the innovations that accelerated the transformation of growth in the education landscape in the year 2022?
If one notices, technology grew in manifold ways during the pandemic. Apps and software updated and amended their user interface (UI) and features to help people who were then confined to their homes.
Whilst social media apps added more features and devised more ways to entertain users; the dawn of full-fledged online teaching arose. Apps and software such as Zoom, Google Meet and Google Classrooms became an essential ingredient in pedagogy.
If we recall, prior to the pandemic, video calling software was primarily used to socially interact with friends and family but these soon transformed into something students and faculty used every day to conduct classes and interact.
We live in the day and age of Industry 4.0 which constitutes AI, machine learning, data sciences, virtual and augmented reality, etc. Interestingly, we are, step-by-step, venturing into and crossing the threshold of Industry 5.0. This means everything in AI… with emotions (cobots).
This evolution will radically change the face of human interaction, and the landscape of education in the coming years.
What is your mission and vision to impact the paradigm shift of the education arena in the year 2023?
As the principal and team leader, my personal vision resonates with our school's recently revised vision statement: "Nurture, educate and enrich young minds to realise their potential as world citizens". This blends seamlessly with its mission to prepare children for the future as global citizens by providing requisite knowledge and skills in an environment of sharing and caring.
The vision to prepare students as "world citizens" itself implies that we are molding them to be students who, once venture into the world, will be prepped to be globally ready to face the challenges it brings.
This means that we, as educators, have to think at least ten years ahead in the future to prepare students to be job ready entrepreneurs who will have the skills needed for opportunities that exist then.
As educators, we need to focus more on students' skill development and instil in them the right kind of attitude to face the competitive world.