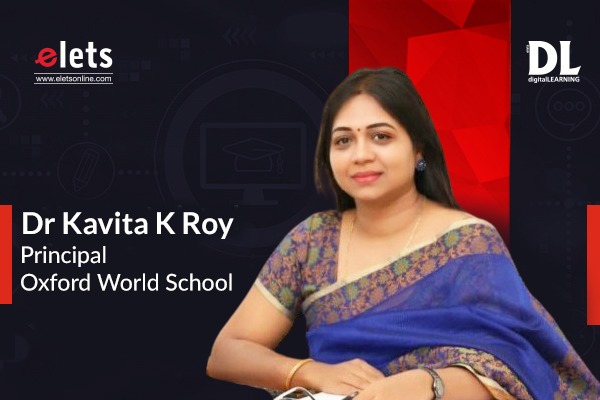 Online assessments and examination, blended learning models in education are a journey and not a destination achieved during the year 2022, says Dr Kavita K Roy, Principal, Oxford World School in an interview with Nidhi Shail Kujur of Elets News Network (ENN). Edited excerpts:
Tell us about your achievements in terms of 'Innovation in Education' during the year 2022.

The year 2022 put more emphasis on the NEP, which gives additional impetus to vocational education by introducing vocational subjects, skill enhancement and training at school levels. The two years of the pandemic have paved the way towards newer possibilities and innovative dimensions of learning. The education industry stood up with the help of technology and catered to the needs of the children. To make them future-ready, we need to focus on making education more employable. We first need to reach every nook and corner of the country with better infrastructure and technological integration. Alongside also make the youth self-reliant through skill-based education as envisioned in the National Education Policy 2020. At present, the 'Skill India' mission is blowing at full steam. Metaverse or 'mirror world', or the 'special internet', or even the 'AR cloud', a virtual learning experience with enhanced physical reality, is the future of education in the coming years. Online learning will be more real with the help of the metaverse, which involves the concept of Augmented and Virtual Reality (AR & VR). It's time to recognize the importance of leveraging the advantages of technology and optimizing digital platforms to meet the current and future challenges of providing quality education for all. The need is to invest in the creation of open, interoperable, evolvable digital infrastructure, e platform such as SWAYAM, DIKSHA & SWAYAMPRABHA provide teachers with a structured and user-friendly rich set of assertive tools for monitoring the progress of learners, content creation, digital repository, learning games and simulations, fun based student – appropriate tools like apps, gamification of Indian art and culture, in multiple languages should be effectively used by the learners. Online assessments and examination, blended learning models in education are a journey and not a destination achieved during the year 2022.
How futuristic technologies are going to transform education in the year 2023?

Technology plays a very important role in helping everyone survive in this 21st century. Without it, one cannot imagine this world. It has grappled its way into our day-to-day lives, making its grasp tighter in every aspect. Ever since Covid-19 happened, technology has proved to be a boon for the educational sector. Educators realized the role of digitization a while ago but this pandemic gave it a sudden thrust and boost.
Technology will help in mending the quality of education, the educational system, and communication, and providing enriched resources. It will make learning effective for learners and help educators perform their duties efficiently. Artificial intelligence such as Professor Einstein (a robot) is already making waves in the educational sector. The robot helps science students by lecturing and helping them to understand science subjects. A few more to add on are viz., Learning Management System (LMS) is a rostrum that is being developed to constitute and track online learning activities and initiatives. It assists in developing and delivering content, lectures, and pedagogical aids, and alleviates and nurtures communications. Through LMS, parents can have an eye on their ward's roster, marks, and assessment dates, creating a chance for parents to be engrossed in their child's learning. Gamification is a new quirk in technology where educational games are being simulated to engage your visuals for learning with the help of coding. Augmented reality and virtual reality can help the classroom become more interactive and immersive while engaging pupils' senses. Technology makes it easier for students to find information quickly and accurately.
What are the innovations that accelerated the transformation of growth in the education landscape in the year 2022?
The outbreak of COVID-19 was the catalyst for a digital revolution in education. Lockdowns forced schools and universities to embrace new ways of learning, including remote classes and innovative learning platforms. The walls of the classrooms are no longer a barrier as technology enables new ways of learning, communicating, and working collaboratively. Technology has also begun to change the roles of educators and learners. "COVID forced us to speed up the adoption of digital learning tools that we'd be considering for a long time. They've completely changed the way we teach. We can reach students more efficiently and effectively, and they find it easier to communicate with us. Digitization and remote technologies are going to be a huge part of the future of learning, here's a look at some of the biggest education trends of 2022.
Remote learning (Hybrid learning), Augmented Reality & Virtual Reality, and Extended Reality (ER) create virtual models of real-world places. ER Platforms like Google expedition mean teachers can take their classes on a virtual tour, Robot teachers, AI & Machine learning, Chatbots, QR Codes, and Nanotechnology etc., 2022 is on course to be an exciting year for digital education. New technologies will continue to create exciting and interactive learning environments for the education sector.
What is your mission and vision to impact the paradigm shift of the education arena in the year 2023?
A 21st-century education is about giving students the skills they need to succeed in this new world and helping them grow the confidence to practice those skills. With so much information readily available to them, these skills focus more on making sense of that information, sharing and using it in smart ways. The ability to think critically and creatively, collaborate with others, and communicate sets students up for success in their careers, but also empower them to lead happier healthier lives. Education needs to be all about empowering students with transferable skills that will hold up to a rapidly changing world, not prescribed content that has been chosen for its past relevance.
Technology must be used strategically to benefit students. Students are increasingly advanced users of technology even as they enter school for the first time, so this can often mean being open to the possibilities presented rather than attempting to teach and prescribe the use of certain programs. Many a classroom 'technology class' has baffled children by attempting to teach them about programs, websites and hardware that are no longer relevant or that they understand far better than the teacher does.
21st-century teachers need to serve as a guide or mentors or facilitators for their students, not as the all-knowing sage providing them with all the information. With so much access to resources of all kinds, children are invariably going to know more than teachers on different topics and be a step ahead of the technology in use. Teachers need to be empowered as facilitators and motivators for learning so that they can empower their students in turn.
This shift is great news for teachers. Instead of struggling to give kids all the information they need to succeed in areas the teacher knows little about, they can support students as they make their steps into different fields. It's about preparing kids to go beyond their parents and teachers, making sure they have the skills to do it, and then helping along the way as they build the confidence to achieve.
This means teachers need to be forward-thinking, curious and flexible. Teachers must be learners, adopting new ways of teaching, and learning alongside their students. Simply asking questions like "what will my students need twenty or fifty years from now? How can I help give them those skills?" can change your mindset, make you a leader, and help you bring about change in your classroom, school and community.