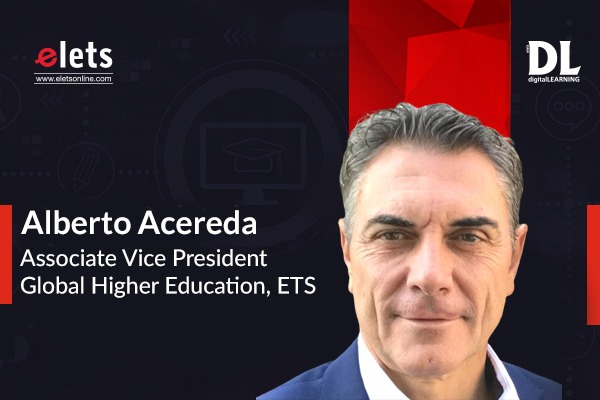 GRE has recently formed an India Business School Advisory Council to enhance its work in the management education space. Alberto Acereda, Associate Vice President, Global Higher Education, ETS, had an interaction with Garima Pant of Elets News Network to delineate more about the GRE Tests. Edited excerpts:
Tell us about your achievements regarding 'Innovation in Education' during the year 2022.

The interesting thing is that we are observing a diversity in institutions who are starting to scale up because GRE itself is a diverse tool that can be used by students who may be interested in different disciplines. You have this in engineering & business schools, and we are seeing that traction moving forward in India.
What has brought about the increasing acceptance of GRE scores beyond the off-accepted streams?

If a student wants to do a graduate programme, but is unsure whether to lean more towards a business school or an engineering school, he/she can be evaluated by taking the GRE and admitted to one of these distinct schools accordingly.
I believe that in the 21st century, with institutions seeking a more varied cohort of students, the GRE accomplishes just that. It can bring different abilities, diversity, and backgrounds to education programmes.
What are the enhanced security features that are being implemented to prevent instances of cheating?
ETS has been working aggressively on cheating prevention. It has taken a very decisive approach by investing millions of dollars in test security, and establishing an entirely new team of individuals who are constantly taking care of this.
It's not just an issue for the GRE, it happens throughout the industry. It's unfortunate, but there are still people who do not obey the rules.
We aim to ensure that individuals who take the test honestly and legally are not cheated by those who use other means. We have made improvements on biometrics to names and ID checking by creating multiple processes.
We were also working on scanning of test environments so that the cheating issue can be effectively dealt with.
GRE has grown 68 per cent compared to equivalent 2021 volumes in India. What has prompted this growth?
In recent years, ETS is focusing more on India as it is now the global priority for ETS. We've created offices in India, expanded our teams, and have started to communicate with stakeholders, students, institutions, and the government to see how we can make our contribution. We are not only thinking about the GRE, but also about how to improve the GRE and establish a portfolio of assessment and tools that can help institutions, faculties and students.
How do you see India as an investment destination? What are your future plans for investment and expansion in the country?
Over the last two years, we have been investing millions of dollars on infrastructure in India.
We are also having more interactions with higher education players in India, we want to be a part of the higher education ecosystem. It's fantastic to see young and smart people in the vibrant city of Delhi and it's quite exciting for us.
In 2025, there are going to be millions of students who will take post secondary education and India is going to be one of those places not just because of the large population, but because of the excitement happening in the higher education space.
What do you look for in an institute for fostering future partnerships?
When we talk with institutes and universities about our solutions, we want them to understand that ETS is more than just a vendor who provides an assessment or sends the score; we want them to see ETS as an educational partner who provides solutions according to their needs.
In all cases, such as public/private universities, segments such as business schools or law, ETS from the United States to India, and globally, are attempting to provide solutions with its portfolio that are actually actionable and customisable for the institutions and, at the end of the day, it places the student at the centre of the discussion.
So, rather than a vendor-type approach, we are looking forward to the partnership approach. We believe that a student's life cycle does not have to be linear, but circular. As a result, we must assist students from the moment they express an interest in higher education until they get their first job and then find different options for success in the future.