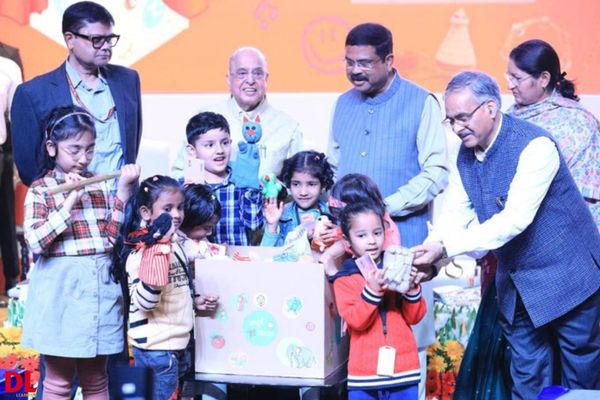 At least 1,200 central government-run schools will be mandated to use "Jaadui Pitara," a play-based learning resource for kids aged three to eight, starting in the upcoming academic year, according to Union Education Minister Dharmendra Pradhan.
One of the most important recommendations of the new National Education Policy (NEP) 2020 would be fulfilled by this cutting-edge, child-centric learning approach, according to Pradhan.
The government introduced a national curriculum framework (NCF) for foundation or early childhood care in October of last year in accordance with the National Education Policy (NEP) 2020, which advises against using textbooks with children between the ages of three and six. Also, it placed a focus on encouraging learning based on play, lived experience, and the usage of one's mother tongue.
The ministry consequently introduced play-based materials for kids enrolled in Balvatika, which includes classes for nursery, lower kindergarten (LKG), and upper kindergarten (UKG).

While there won't be a book for Balvatikas 1 (nursery) and 2 (LKG), Pradhan indicated that students in Balvatika 3 (UKG) would be introduced to a playbook. Only classes 1 and 2 will be required to use textbooks, and they will only be used as examples.
He stated that the textbooks for classes 1 and 2 will be released by the NCERT by the end of this month.
Playbooks, activity books, workbooks, toys, manuals for teachers and trainers, flashcards, narrative cards, posters, puzzles, puppets, and kid-friendly publications are all included in the "Jaadui Pitara" (magic collection).
As stated in the NEP 2020, "it is a major stride towards improving the learning-teaching environment and making it more child-centric, dynamic, and joyous for the 'Amrit Generation'." Pradhan added. He explained that the reason it was called Jaadui Pitara (Magic Collection) was because it possessed the charm of variety, flexibility, and inclusiveness.
According to a statement from the ministry, the play-based teaching and learning materials place a strong emphasis on children's growth in five areas: physical development, socio-emotional and ethical development, cognitive development, language and literacy development, and aesthetic and cultural development.

br>