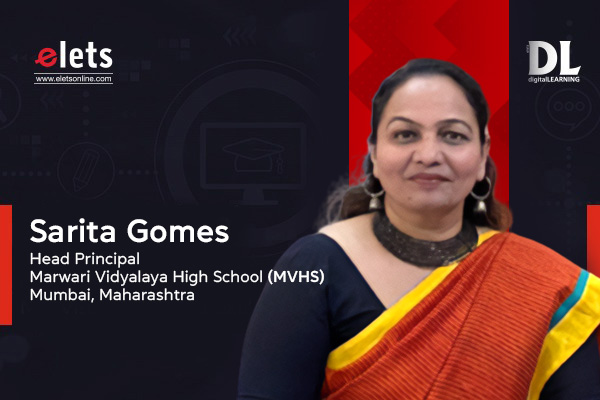 Mother-tongue as a medium of learning can improve educational quality by building upon the knowledge and experience of the learners and teachers, shared Sarita Gomes, Head Principal, Marwari Vidyalaya High School (MVHS), Mumbai, Maharashtra in an exclusive conversation with Sheeba Chauhan of Elets News Network. Edited excerpts:
Schools are striving for quality education for the overall development of students. What is your school doing to enhance the quality of education?
Maintained infrastructure, Pedagogy skills, Quality of teachers, Extra- curricular activities.
Proper implementation of a government initiative. Assessment and evaluation tools. Community building, Mission, Vision & Objectives, Program educational objectives, Student learning outcomes, Syllabus, Unit & Lesson Plan Outcomes. Teaching Methods, Assessment & Evaluation Tools , Customisable Rubrics & marking schemes, Continuous quality improvement , Outcome-based education & accreditation , Student Success, Constructive alignment , Presentation of outcomes with automated mind mapping.

What are your approaches to improving smart infrastructure in your school? Will it help adapt technology implementation in learning and teaching methods?
There should be spacious good ventilation in all the classrooms along with facilities like fans, lights, benches, chairs, smart boards, etc. Libraries, Playgrounds, Well-equipped labs, facilities study tables, chairs, furniture, and basic utilities such as water, electricity etc. study halls, multimedia room. There should also be facilities such as laboratories, art and crafts workshops, school office, theatre, and well- maintained sanitation facilities.
Yes, A very important technological impact on education is increased interactivity and class engagement. In addition, better overall comprehension, practical learning, time management, and combined learning methodologies are just some of the impacts that technology has had on student learning.
According to NEP, teaching in a vernacular language will help students learn better. Do you have any plans to implement the same in your school?
I agree, mother-tongue as a medium of learning can improve educational quality by building upon the knowledge and experience of the learners and teachers.
Also Read | Technology is here to stay and has already transformed teaching and learning strategies: Pratima Sinha, DSR Educational Society, Jubilee Hills
We are working on lesson plans where we can make easy way of communication to explain to the students.
What are the schemes and programmes, you are going to implement in 2023 to move towards an inclined curve for your school?
We are doing a little and we will start 'Beti bachao beti padhao' -concession provided by Indian Railways scholarship ,career counseling, sponsorship of fees for those students who are from minority background in our school. We are working on scheme for residential education for high school students in targeted areas and improving assessment as well. It's a long list that I can add.

br>