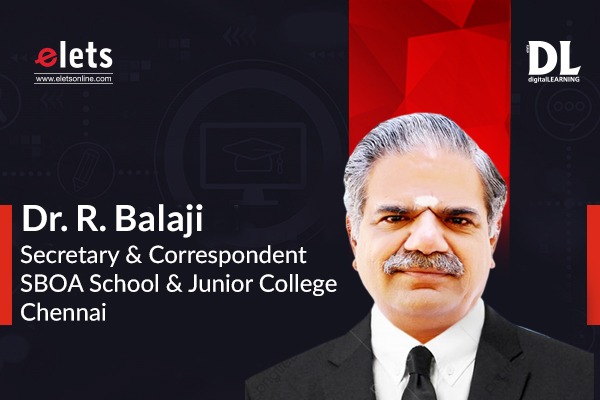 Pre-primary education must be given top priority by the government. It is essential to design flexible, play based foundational curriculum. For this, a teacher educational curriculum should be developed to train teachers appropriately, shares Dr. R. Balaji, Secretary & Correspondent, SBOA School & Junior College, Chennai with Srajan Agarwal of Elets News Network (ENN). Edited excerpts:
Union Budget 2023 focused on revamping teacher training. How do you support the move and what are your plans for implementing training at your school?
In my opinion, change is a growth requirement, and so I agree with the revamping of teacher training. Students should be provided with the best possible learning experience and for that teachers have to adapt and find newer ways to meet the changing needs.
As far as our school is concerned I feel teachers should be trained to adapt the changing dynamics of education trends. They should be provided with continuous development programmes that will enable them to stay abreast on new methods of teaching skill development techniques, and to map student's learning and academic process. The use of podcast videos gamification and flipped classrooms offer more scope for discussions and interventions and therefore teachers need to be trained to use such practical approaches too. Training teachers to plan their lessons incorporating ICT (Information and Communication Technology) tools to boost creativity, collaboration and effective learning will be implemented. Learning with fun and effective tools like quizzes, game based learning – building lessons and activities based on games which would facilitate learning with motivation and fun which is the need of the hour and therefore features should up skill themselves in order to teach skill based and competency based learning curriculum.

Recently, the Education Minister launched the Yuva Sangam portal which will concentrate on organising youth-exposure tours for students from North Eastern States to other states and vice versa. How do you think such initiatives are going to develop multicultural education in Indian students?
Multicultural education seeks to create equal educational opportunities for all students. It changes the total school environment. Multicultural education is a reform to give equal educational opportunities irrespective of race, social class, ethnic groups and gender. It enables the students to know more about their own and others' history, culture and art. It will bring immense exposure and opportunities for knowledge exchanges and enhance their mutual understanding. It will encourage cooperative social skills among students. Multicultural education will expose students to various cultural and social groups preparing students to become better citizens in their communities. It will enable students to maintain a good relation with students of different ethnic groups. Moreover, in a country like ours where we are bound to "Unity in Diversity", if students are exposed to diversity and have multicultural education, they get better prepared for a diverse workplace and it allows them to interact in a wider range of social groups and feel more confident in themselves as well as in their interaction with others.
NCERT issues guidelines for 'Early identification and intervention for mental health problems in school-going children and adolescents. How are you planning to work on the same at your school?
Schools play an important role in creating an optimistic community that enhances a sense of connection and belonging among students. Mental health problems can be resolved by the following ways:
Mental health education can be integrated into academics.
Seek school counsellors help.
Mental health building tools can be incorporated, such as mindfulness, relaxation techniques, art etc
By providing mental health and well-being tips in the morning assembly.
Appropriate training to be given to educators so that they can identify and respond to signs of mental health issues.
To take up physical exercise, meditation, yoga, hobbies etc
To raise awareness about mental health.
Encourage to eat healthy and stay fit.
Importance of mental health will be taught by involving students in activities like poster making or painting.
To develop healthy relationships and the ability to work cooperatively with others.
Special programmes can be organised by the school Counsellors for teenagers in school.
According to the economic survey 2022-23, enrollment at the pre-primary level decreased from 1.1 crores [11 million] in 2021 to 1.0 crores [10 million] in 2022. Your comments on the same.
Pre-primary education must be given top priority by the government. It is essential to design flexible, play based foundational curriculum. For this, a teacher educational curriculum should be developed to train teachers appropriately. I feel lack of awareness, illiteracy among parents and poverty are the basic reasons for the low enrollment at the pre-primary level adding to the problems of closure of schools due to the pandemic. Steps should be taken to make education affordable. Day care centres should be integrated with kindergartens to create a more cohesive system.
Schools at all levels showed an improvement in their gross enrollment ratios (GER) for the fiscal year 2021–22. Do you think the mere improvement in GER will enhance the quality of education?
No, I disagree with the statement. In my opinion quality of education depends on a good curriculum, advanced educational learning materials, proper infrastructure, trained teachers, appropriate assessment of the child's learning, boosting their self-esteem and preparing them for life. Quality of education is enhanced by the physical, social, mental, emotional development of every student irrespective of their gender, ethnicity, status, race etc.
With the crashed job market across the world, how are you going to train your students to be competent citizens in the outside world? Do you think 'Becoming job providers, instead of job seekers' will improve the unemployability rate in India?
To become competent citizens here are a few suggestions:
Students should be equipped with the first century skills such as critical thinking, creativity collaboration and communication.
Extra-curricular activities should be given importance in order to get transferable skills that can be applied in the workforce.
Entrepreneurship should be encouraged.
No, in my opinion job providers do not increase unemployability rate in India in fact they decrease it.
Employment rates can be improved through the following ways:
MNC and establishment of domestic industries increases job opportunities and also improves the standard of living.
Technology enabled job profiles provides opportunities to more young professionals.
Tourism sector also provides employment to many people.
Under the PM – Yojana "Skill India Mission," the Indian government AIMS to develop practical skills, which are required by the industry. Unemployability rate has dropped drastically since its implementation.

br>