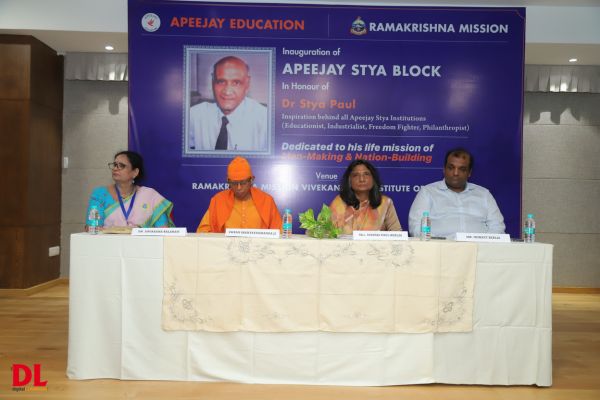 To promote value-based holistic education, 'Apeejay Stya Block' was inaugurated at the Ramakrishna Mission Vivekananda Institute of Values (VIVA) in Gurugram. This special block, dedicated to the memory of the Late Dr. Stya Paul, an eminent educationist, industrialist, philanthropist, freedom fighter, and the driving force behind all Apeejay Stya Institutions, was inaugurated Sushma Paul Berlia, Chairperson of Apeejay Stya Group and Apeejay Education.
The inauguration ceremony, attended by prominent dignitaries and members of the Apeejay Stya Institutions, celebrated the legacy of Dr. Stya Paul and his commitment to man-making and nation-building.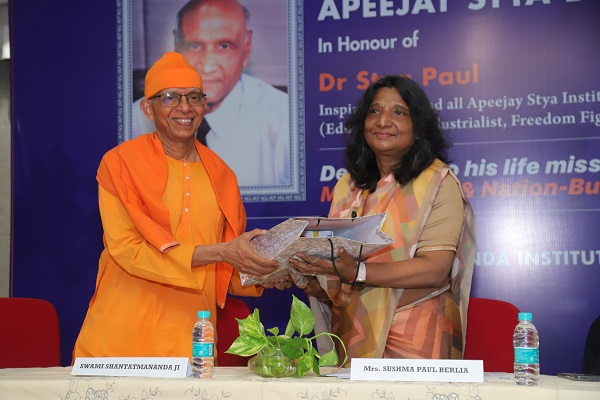 Speaking on the occasion, Berlia emphasised the longstanding association between Apeejay Education and the Ramakrishna Mission, rooted in the shared commitment to value-based education. She expressed her belief that this partnership would continue to work closely in furthering the cause of values in education and education for values.

Swami Shantatmanandaji, Secretary of the Ramakrishna Mission and Head of Vivekananda Gurugram, expressed his gratitude for the support extended by the Apeejay Stya and Svran Group. "The Ramakrishna Mission, founded 125 years ago by Swami Vivekananda, always believed that the highest levels of spiritual attainment must come through service to humanity. Apeejay Education has been effectively imparting the Value Education programs and projects of the Ramakrishna Mission for several years," he said.
Apeejay Education boasts a rich heritage spanning over five decades, with a family of 26 educational institutions and Apeejay Stya University at its core. Their vision is to usher in value-based holistic education that leads to man-making and nation-building.