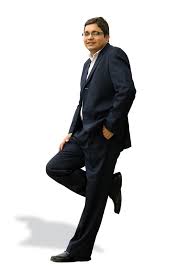 Inspirited by the 'Digital India' initiative of Prime Minister Narendra Modi, India stands committed to promoting the spread of Information & Communication Technologies (ICT). The ICT is infusing various systems with new vitality, thus playing a crucial and benefi cial role in advancing the wellbeing of all sections of our society.
Education is one sector that has realised the benefi ts of technology, perhaps, ahead of several others. The adoption of ICT here has been fast, leading to delivery of stunning results even faster. It goes to the credit of educational institutions in India, which are adopting high-tech methods of teaching-learning at the global pace, so as to stay relevant in times of neck-and-neck competition.
At a time when the Government of India is going whole hog towards implementing the ambitious Digital India project in the country, the "World Education Summit – Delhi" Special Issue of DigitalLEARNING highlights the positive implications of technology that are very much relevant and timely in the present context of educational transformation the world is witness to. The convenience of online courses with the advent of new technologies has caught the attention of professionals and students across the nation, furthering the idea of technology-led learning. All this has led to entrepreneurs tapping into the Indian eduTech space.
This issue contains various sections, including the Cover Story on WES that aims to discuss, deliberate and set the future course of education in India.
Besides, well-researched articles on ICT initiatives in schools and higher educational institutions bring in opinionated viewpoints from thought leaders and educationists across the globe. Moreover, case studies, features and the comprehensive 'Jnana Sangama Report' are undoubtedly interesting reads.
The Education sector being one of the fastest developing sectors worldwide and the second-largest industry in India clearly invites opportunities of investments but, sadly though, it stands a victim of the restrictive regulatory environment that forces out the potential speculation of private players exploring and entering this sector. The business story in this issue carefully lays down consolidated perspectives of big private players in the segment, analysing the 'whys' and 'hows' of the policy syndrome.
In view of the paradigm shift taking place in the Indian educational sector, the need for its skillful management and faculties to adapt to the changes is imperative. This will provide the much-needed impetus to the undercurrents of technology fi nding their way into the education domain.