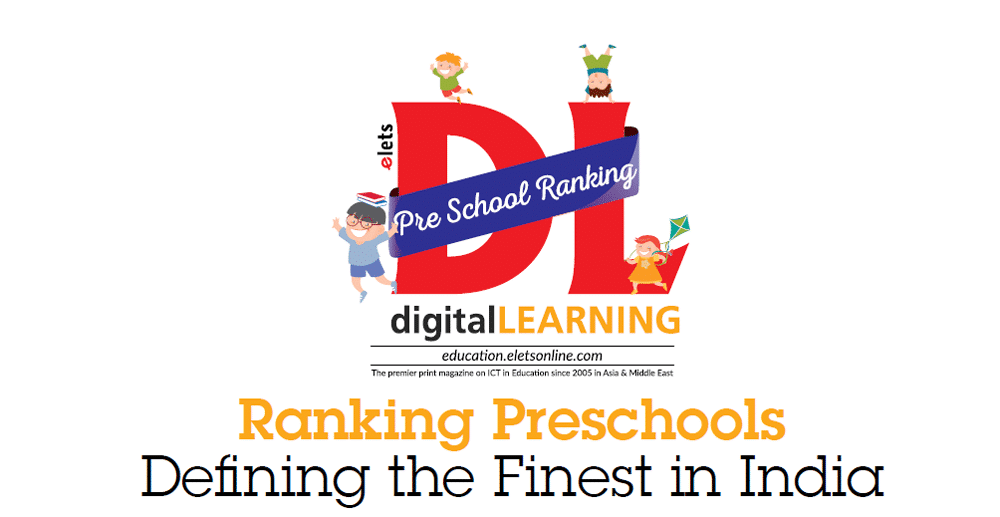 For the first time, digitalLEARNING, Asia's leading education magazine has come up with the ranking of India's top Preschools. "India's Top Preschool Ranking 2016" has been introduced for generating public awareness and enhancing know-how about the preschool segment. Since last five years, our magazine has been publishing the ranking for top schools of India. Our experience in K-12 school ranking helped us venture into the rankings of India's preschools in standalone and franchises, one of the most rapidly growing segments in education sector.
Preschool ranking covers the best preschools of India's 10 metro cities. It also includes information about the world of preschools, factors and methods to rank them. The ranking is for all those who are somehow attached to a preschool like parents, teachers, educators and school management.

Preschool is an early childhood learning programme where children learn while playing. Usually, children aged 3 – 5, are enrolled in preschools, some preschools allow kids as young as two years. Preschools are different from traditional day care centres. In preschools, the emphasis is on learning and development of kids whereas the daycare centers enable parents to work or pursue other activities.
'India's Top Preschool Ranking 2016' is our effort to affect the segment in a better way. Though there are 1.6 million 'Anganwadis' in our country, the public is restricted to private preschools only. It indicates the requirement of transformation of the country's 'Anganwadis' into full-fl edged pre-primary schools.

To generate awareness in the public, we have convened various conferences and summits in different states and cities across the country. Globally and nationally renowned ECCE pundits along with principals and teachers from across India have participated in these events and shared their expertise and knowledge about the preschool segment.
Considering all that enthusiasm and aforementioned factors in government and private space of preschool segment, digitalLEARNING presents the "India's Top Preschool Ranking 2016". This was perhaps an unprecedented attempt whereby the service providers invited service seekers to rank their performance on an open platform where they had no control or influence over the outcomes. You would therefore find a significant variance of participation across education destinations on this count. There were cities where schools couldn't decipher the intent of the same and thereby missed the boat.

Ranking top preschools of India is one of the most challenging tasks, given the large size of the educational ecosystem. To start with, we sent the ranking questionnaire to more than 1000+ preschools across the country. Preschools displayed overwhelming enthusiasm in the activity and 800+ schools sent us the filled questionnaire. Preschool ranking has been done in two categories: Standalone Preschools and Franchise Preschools. Based on various factors for both the categories, rankings have been allotted to the preschools. Franchise preschools have been also ranked region wise. Complete methodology for preschool ranking is as follows:
PARAMETERS FOR STANDALONE PRESCHOOL RANKING: Standalone preschools are the schools, which do not sell their franchise rather such preschools establish their own preschool centers in various cities that are managed by a single committee or trust. Ranking of such preschools is done on the basis of following parameters.

HOLISTIC DEVELOPMENT OF STUDENTS: Holistic development of students focuses on addressing all of their emotional, physical, relational, intellectual, creative and spiritual needs of life. This perspective to development encourages caregivers and teachers to look at the child as a whole and not focus on the individual parts.

INFRASTRUCTURE: This being one of the key parameters in ensuring healthy learning environment for kids in preschools. The schools were evaluated on the basis of campus aspects of class rooms and transitional spaces and Supervisable circulation spaces (such as hallways and corridors).

PEDAGOGY: It refers broadly to the deliberate process of cultivating development within a given culture and society. From this point of view, ranking of preschool is adjudged based on three basic components: (1) curriculum or what is being taught; (2) teaching methodology or the ways followed to teach the toddlers and (3) methods followed by preschools to develop cognitive and affective skills essentially required for successful functioning of kids in society that education is designed to promote.

STUDENT ENROLMENT: This factor of ranking focuses on the number of students enrolled every year. Under this parameter, a detailed study of student enrollment for last five year along with enrollment of girls and boys in the preschool is done. After a comparative analysis of last five year report, ranks in this segment are allotted to a preschool.

INNOVATION IN ICT USAGE: In today's competitive and ever changing world, Information Communication Technology plays an important role for overall development of a student. Under this parameter, factors like, promoting latest technology tools for learning, keep best security practices through ICT, creating virtuous circle based around ICT and innovative teaching, use ICT to link home and school effectively and positive associations with computers are considered to rank the preschools.

PARAMETERS FOR FRANCHISE PRESCHOOLS: Preschool franchise in India is among booming businesses nowadays. Education is India's fastest growing franchise business sector right after food & beverage. The ranking of preschool franchises is done on the basis of following parameters.

SUCCESS IN FRANCHISE: To determine the ranks under this parameter, various important factors like, standards followed by all the franchise of a brand are followed or not, employee training, services provided to customers, involvement with the community, communication rate between franchisor and franchise are considered. Scores obtained by a brand on these factors are combined to rank a preschool brand.

INFRASTRUCTURE: This parameter is very important to ensure healthy, pleasant yet comfortable learning environment for kids in preschools. To rank a preschool factors like campus area, total built-up area, Safety and security, class rooms conditions and transitional spaces are considered.

INNOVATION IN PEDAGOGY: Pedagogy is the discipline that deals with the theory and practice of education. In other words, it is the study of 'how best to teach'. Innovation in pedagogy is must as it allows the teachers and schools to be in sync with the modern teaching methods and trends. Innovation in Pedagogy draws more interest of kids towards the subject. So it is an important parameter to decide rank for a franchise preschool.

QUALITY ASSURANCE: Quality assurance is the systematic process to check whether a product or service being developed is meeting specifi ed requirements or not. For a preschool, quality assurance is to increase customer confi dence and a school's credibility. Quality assurance helps a preschool franchise to improve work processes and effi ciency, and enable it to compete with others. In order to rank among the top preschools franchises, they have to follow and abide by the certain quality standards.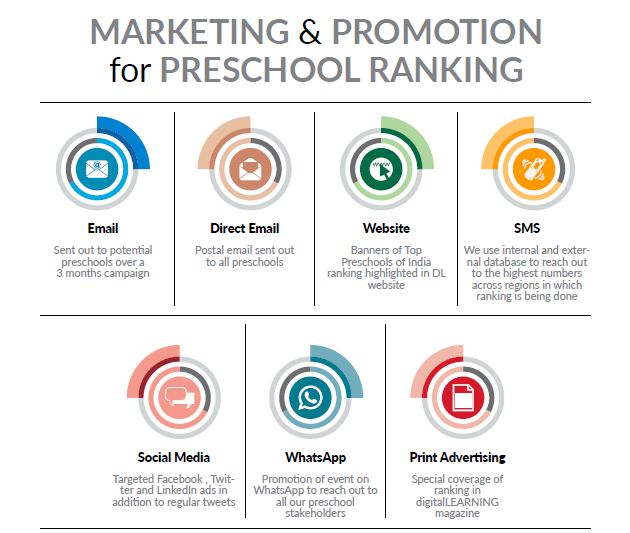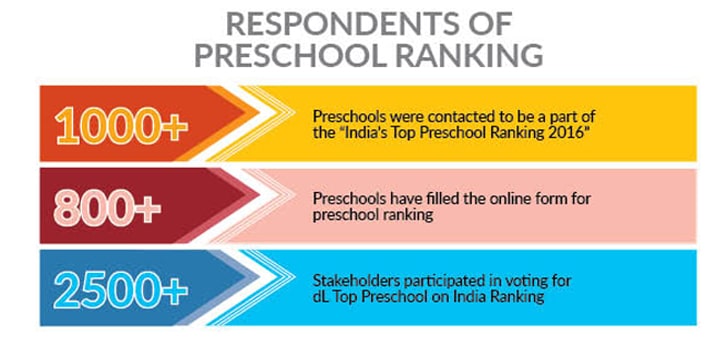 And The Top Standalone Preschool Are….
We allotted cumulative ranks to the schools and formed a city wise ranking, segregated across various cities of India: Ahmedabad, Bengaluru, Delhi, Gurgaon, Hyderabad, Mumbai, Noida and Kolkata.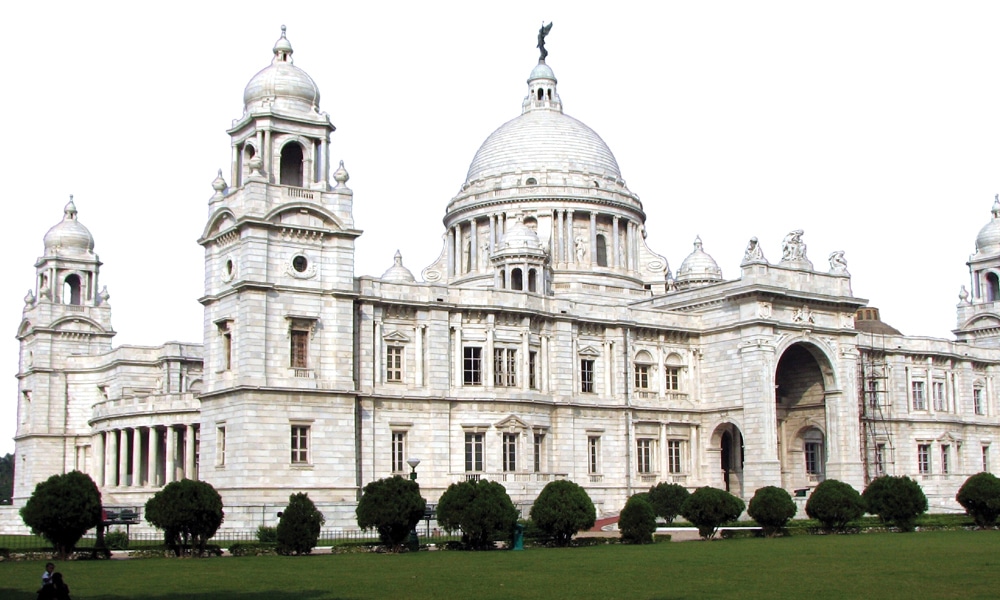 Kolkata
STANDALONE PRESCHOOLS
 1. EUROKIDS, Saltlake
EuroKids provides fun learning experience in a secure, warm, friendly & hygienic environment which becomes the child's second home.2. MONGRACE MONTESSORI HOUSE, Short Street, Kolkata


Mongrace Montessori House endeavours to foster independence, creativity, social skills, character and moral development among the kids.

3. DOLNA CRECHE, Kasba
Dolna Creche facilitates the proper physical and mental growth of children and provide them – a home away from home.
4. BUBBLE BLUE, DB-43, Salt Lake
At Bubble Blue, children are motivated and helped to explore themselves.5. STARKIDS, Rajarhat
Starkids provides the optimal learning environment and the curriculum to foster the all round development of a child, including academic achievement and life-skills enrichment.6. PRARAMBH, BT Road
Prarambh was started in the year 2006 as the pre-primary wing of the Aryans School.
Ahmedabad
STANDALONE PRESCHOOLS
 1. OLIVE GREEN KIDS SCHOOL, Navrangpura
Olive Green Kids School is a preparatory co-educational day school established to provide students the best possible educational programs.2. EUROKIDS, Satellite
Unique curriculum and special learning initiatives, Motion Based Learning, Learn2Play, EuroGym and EuroMusic, makes preschooling at Eurokids Satellite engaging for children

.

3. REDBRICKS JUNIOR, Satellite
Redbricks Junior is a preschool that integrates researchbased curriculum, nurturing teachers and excellent infrastructure in order to create a strong foundation for child's early education and development.4. RISING KIDS PRESCHOOl Bapunagar
Rising kids is the brainchild of 4 independent educationists who were congregated to a common idea – Empowering Childhood.5. THUMBELINA NURSERY & K.G. SCHOOL
Thumbelina preschool focuses on providing a stressfree, safe, secure, loving and comfortable environment to your children.
6. CRAYONZ MONTESSORI PRESCHOOL
Crayonz Montessori Preschool was founded with the vision of enabling children to reach their full potential through the principles of Montessori education leading towards a more harmonious and peaceful world.7. SMART KIDS, Maninagar
Smart Kids preschools are equipped with smart classrooms and curriculum is also designed in such a way that it opens the doors of thinking for kids and liberates their minds to explore.8. PCRESCENT PRE PRIMARY SCHOOL
Crescent is a pre-primary school that runs in four standards – Pre Nursery, Nursery, Jr. K.G. and Sr. K.G. The school has airy and homely classrooms, an activity room, a sand pit and a spacious playing zone.9. NINE KIDS
Vision of Nine Kids is to create an exceptional learning environment for children to acquire 21st century skills and make them future ready by building a strong foundation from an early age.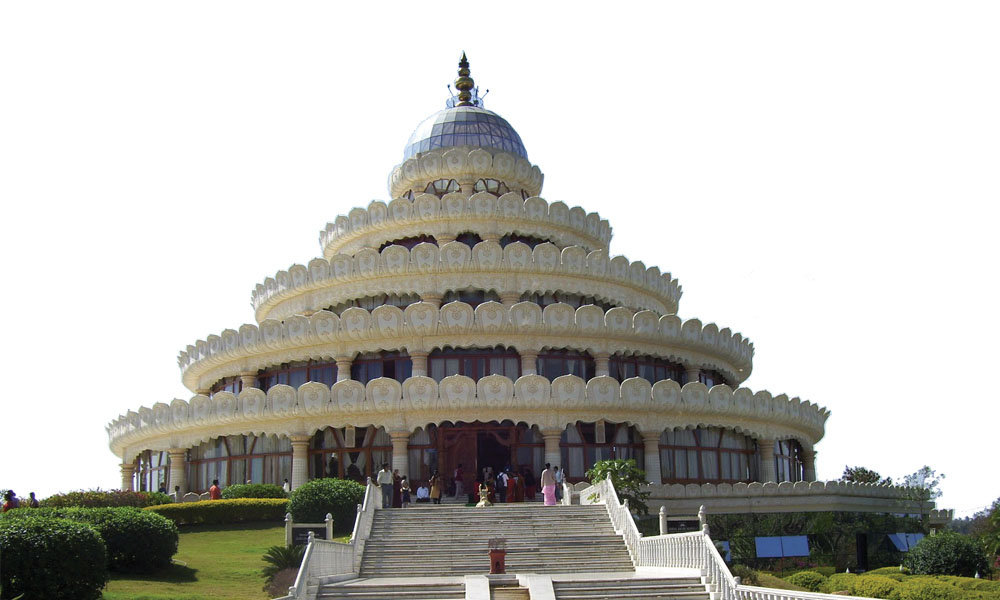 BENGALURU
STANDALONE PRESCHOOLS
1. HEAD START MONTESSORI, Koramangala
Head Start Montessori focuses on individual learning and discovery but with the assurance that support and guidance is available for kids. 2. NEEV, Indiranagar
Neev nurtures the multiple intelligences that children are born with – integrating academic, social, emotional, physical and creative development.3. WECARE, Sarjapur Road
WeCare provide a stimulating early care and education experience that promotes each child's social/emotional, physical and cognitive development.4. THE BANGALORE SCHOOL, Whitefield
The school strives to accomplish significant improvement in self-confidence, social behaviour and the communication ability of the child.5. FUN & LEARN, RT Nagar
Fun and Learn provides the right platform for integration of knowledge, values, life skills through its well-researched and structured content.
6. KLAY, Whitefield
KLAY's teaching and learning philosophy is based on Multiple Intelligence and experiential learning, where the child learns through experiences in and around one's learning space.7. THE MAGICAL YEARS, Kodigehalli
The Magical Years Montessori pre-school sees children as they really are, and develops their potential, be it spiritual, emotional, physical or intellectual.8. GREEN DOT MONTESSORI SCHOOL, Hosur Road
Green Dot Montessori School helps the child to become a human being comfortable with himself, with his society and humanity as whole.9. FIRST STEPS, Cunningham Crescent Road
First Steps considers each child like a fl ower in a garden and allow them to bloom in their own special way, keeping in mind their individual capabilities.10. TRIO TOTS
TRIO TOTS Preschool nurtures young, global learners up to the age of 5 years, through a systematic and wholesome development process.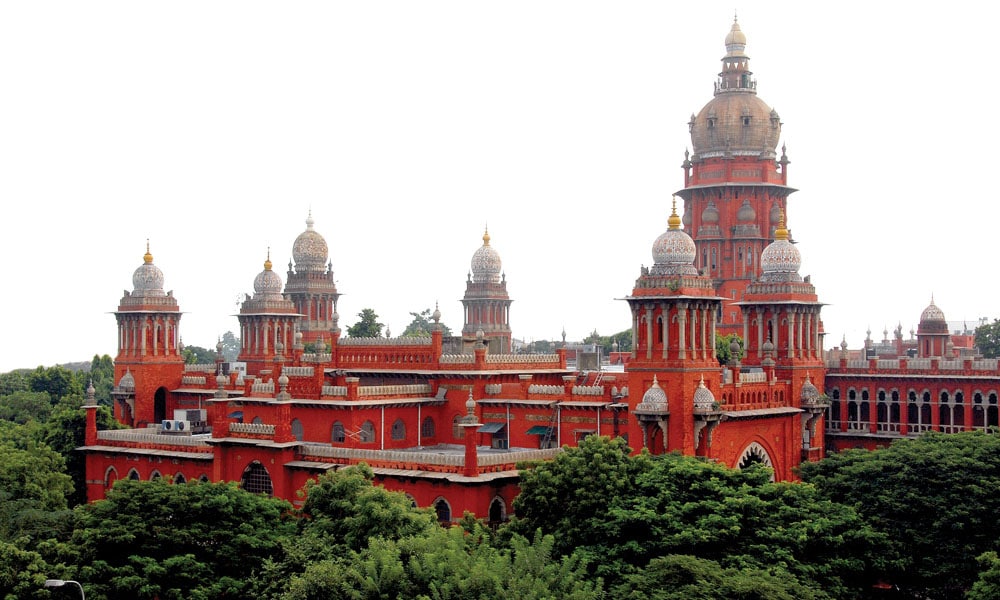 Chennai
STANDALONE PRESCHOOLS
1. INDUS EARLY LEARNING CENTRE
Indus Early Learning Centre develops kids as global citizens and the leaders of tomorrow through the traditional values of love, empathy, discipline and respect.2. VRUKSHA MONTESSORI
At Vruksha Montessori, children develop at their own pace and learn that school can be an unending adventure, one that inspires a lifetime of discovery.3. KIWILEARNERS
KiwiLearners ensures that each child is nurtured as a competent learner and communicator, able to confidently make choices, solve problems, question and explore.4. ALPHABET
The objective of alphabet is to school children by giving their free minds a pathway to ensure their progressive personal development and quality learning.5. SEED ACADEMY
Seed Academy nurtures the enthusiasm and energy of kids by creating a school experience that mimics their natural learning process that is aligned with current educational research.
6. AMELIO EARLY LEARNING CENTRE
At Amelio, children are exposed to various activities across a single theme, so they learn through their own strengths and interests and are geared to become all-rounders.7. LEARNING TREE
Learning Tree uses the Montessori Method to help each child spontaneously reach his or her full potential – intellectually, socially, and emotionally.8. ALACRIS PRESCHOOL
Alacris focuses on 'how to learn' rather than 'what to learn' through child centric content. The school nurtures an environment that supports every small step taken by your child with an unstinting encouragement.9. BAMBOOLA
Fun fi lled environment of Bamboola stimulates child's development in a variety of skill areas including, language, social, emotional, physical and thinking skills.
DELHI
STANDALONE PRESCHOOLS
1. THE MAGIC YEARS
The Magic Years was started in 1978 to provide young children of New Delhi a fine start to their education.2. STEP BY STEP NURSERY SCHOOL
At Step by Step Nursery School, special care has been taken to ensure that their school day is full of joyful learning activities that challenge them and develop a love for learning.3. LITTLE PEARLS
Little Pearls provides a stage that prepares a comprehensive framework for learning, development and care of children.4. THE ARDEE SCHOOL
The Ardee school, Delhi established in 2003, offers a pure Montessori curriculum. It is a multi-national and multi-cultural community with branches in other cities of India.5. AADYANT
At Aadyant, students are encouraged to do significant things through fun filled activities, with a thought that every student is special and unique.6. WONDERLAND
At Wonderland, every child is considered as a special one. The school tries to develop children's intelligence quotient as well as their emotional quotient.7. TENDER FEET NURSERY SCHOOL
Tender Feet Nursery School is a culmination of a lifelong desire to provide good, wholesome education to little ones in a professional manner within a homely, healthy and happy atmosphere.
8. GOLDEN BELLS
Golden Bells preschools help kids to grow freely in a very natural way in secure and welcoming surroundings, drawing out the best in them.9. LEARNING TREE PLAYSCHOOL
At The Learning Tree Playschool, children learn to be one with nature. The curriculum is designed to provide a strong educational foundation through hands-on learning activities.10. SANTA MARIA INTEGRATED LEARNING ENVIRONMENT (SMILE)
Children from various countries, socio economic backgrounds, and different abilities come together to explore the joy of growing amid animals and lush green gardens at SMILE.11. THE STUDY SCHOOL
The Study School believes in activity-based learning. The activities are designed to provide an overall broad based foundation for the child.12. SAKSHAM
Saksham offers children a nurturing environment where they are treated with love, kindness, patience and courtesy.13. SHISHU VUN PRESCHOOL
Shishuvan believes that every learner comes with a curriculum of her/his own. The school is an environment in which learners find the support for their learning.
HYDERABAD
 STANDALONE PRESCHOOLS
1. KINDERKARE, Gachibowli
KinderKare provides safe and healthy environment, suitable for the child's physical, social and mental development.2. BLUE BLOCKS, Gachibowli
Blue Blocks provides an empowering and rich environment to the child, inside of which the child develops independently into an integrated personality.3. POLKA DOTS, Jubilee Hills
Polka Dots uses a large repertoire of techniques, strategies and tools for teaching the eight intelligences including role playing, musical performance, cooperative learning, reflection, visualization, storytelling and so on.4. GLOBE TOT'ERS – A BIRLA PRESCHOOL
Learning Environment at Globe Tot'ers is cheerful, engaging and designed keeping in mind the needs of children.5. FIRST INNINGS, Banjara Hills
First Innings strives to promote holistic growth by taking into account, the kids' intellectual, creative, and emotional needs.
6. ABODE KIDS INTERNATIONAL SCHOOL
Abode's mission is to create an environment rich with varied experiences (curriculum, toys, activities/jobs), in which kids are at will to explore, learn, play, create, visualize, socialize and celebrate their uniqueness.7. TULIPS – THE PRESCHOOL, Bachupally, Hyderabad
The preschool is an International Standard preschool that was started with the motto "Learn to play… Play to Learn…"8. LITTLE EINSTEINS, Kondapur, Hyderabad
Little Einsteins' preschool programme introduces child to the joy of learning in the initial years of his life and will help him in his all-round growth and shape his personality.9. GREENWOOD KINDERGARTEN
Greenwood Kindergarten focuses on personalised tender care that stimulates the nascent mind to explore, understand, learn and appreciate the finer aspects of life.
GURGAON
STANDALONE PRESCHOOLS
1. PALLAVAN
It is Pallavan's endeavour to motivate each child by help- ing them learn the right skills and abilities and by giving them ample opportunities to display these skills.2. IDISCOVERI XSEED PRESCHOOL, Sector 46
IDiscoveri Preschool considers every child unique in thought and action. Kids at school are allowed to develop at their own pace and appreciated for their individuality.3. MEDHAAM PRESCHOOL
Medhaam is an institution that goes beyond providing knowledge to children. It embraces the vision to become an association that builds not just the intellect but also the minds of children and inculcates wisdom.4. APPLE BLOSSOM PRE NURSERY SCHOOL
Apple Blossom is a pre-primary school where tiny tots bloom and grow in a warm, secure and stimulating environment. It is their "home away from home".5. INTELLITOTS PRESCHOOL, Sector 28, Gurgaon
Intellitots educate with a belief that early experiences set the stage for lifelong habits of learning, social behavior and emotional and physical growth.
6. PUMPKIN HOUSE
Education program at Pumpkin House is designed to whet the children's appetite for a lifetime of learning and to spark off the thrill in contributing new ideas.7. DISCOVERY MONTESSORI USA – Asia Operation
Discovery Montessori provides a safe, Secure, caring, nurturing, and educational environment that allows children to learn through experimentation, exploration, classroom education and discovery.8. ODERN MONTESSORI INTERNATIONAL (MMI), DLF Phase 1
The toddler and playgroup programme in MMI is designed to give a child the foundation for learning .The child develops self-confidence, independence, and concentration through Montessori activities.9. IBAMBINI PRESCHOOL & LEARNING CENTRE, SUSHANT LOK 2
iBambini Preschool follows Reggio Emilia-Inspired Curriculum. The focus of this approach is 'listen to and value what children say and do', thus respecting the rights of children as individuals.
MUMBAI
STANDALONE PRESCHOOLS
1. BESANT MONTESSORI SCHOOL
Montessori School: The aim of the school is to provide the best pre primary education for the children of suburbs, based on the principles of education.2. HARMONY MONTESSORI
The philosophy of Harmony Montessori is to provide a carefully planned, stimulating environment to assist the child in his development where his mind, body and will, work together in harmony.3. WEST WIND
The school's curriculum continues to not only encompass formal academic training but a wide variety of activities such as Hindi, music, exercise, art and craft, yoga and P.T.4. RIMS INTERNATIONAL PLAYSCHOOL
Rims International Playschool provide a safe and fun environment where a child can grow at his own pace and start on his lifelong learning journey.5. LITTLE BO PEEP
Little Bo Peep preschool prepares the children with the skills, they will need to enter school and have the best start they can.
6. ALPHA KIDS
At alpha Kids, each child is considered unique and made ready to keep pace with changes. The school follows holistic approach towards development for a child to be successful.7. CASA BAMBINO MONTESSORI
Casa Bambino Montessori makes children learn to look after themselves, becoming independent; adapt and care for his environment, gaining confi dence and social awareness.8. CHILDREN'S NOOK
Children's Nook creates lifelong learners who are con- fi dent global citizens that excel in their endeavors and contribute to the betterment of the society at large through their knowledge and commitment.9. SPRING BUDS INTERNATIONAL
Spring Buds International emphasizes on learning through play and exploration, stimulating the minds of the youngest members of the school in every positive way possible.
NOIDA
STANDALONE PRESCHOOLS
1. Windows Play Group & Pre-Nursery School, Noida
Windows school introduces children to the world of learning in a systematic and scientifi c way.2. Gaia Playschool & Daycare, Noida
Gaia Playschool & Daycare provides and sustains a joyful and dynamic learning environment that is developmentally appropriate and responsive to the needs of each child.3. Stimulus Preschool
Stimulus Prechool nurtures the leaders, innovators and achievers of tomorrow by providing them with a strong foundation of belief, knowledge and reason to make the world a better place.4. Aspam
Aspam Preschool strives to a safe, fun fi lled, happy, respectful, and global education environment benefi tting the children, parents, staff and community for creating a better world5. EuroKids, Noida
EuroKids helps kids in transition from home to preschool by ensuring its 'Child-First' ideology is at the core of all initiatives, with all efforts directed towards
6. Little Pearls Play School, Noida
Little Pearls Play School provides a rich experience of Trust, Honesty and Natural creative growth that aims to preserve and improve human life7. Gunjan Playschool, Noida
Gunjan playschool is 10 years old play school where little (18 months-4 years) ones learn while playing in safe and secure atmosphere.8. Rhythm Play School
Rhythm Play school and Day Care is a home away from home for the little ones.
Top Franchise Preschools of India are…
Laying the foundation of children's career, the relatively new phenomenon of preschools where tiny-tots are introduced to the concept of learning is playing a crucial role in education world. Due to their vast presence and consistently rising number, it becomes interesting to explore what makes a few the finest among the rest.
Top 5 National Preschool Chains of India
Unique curriculum and special learning initiatives by EuroKids provide fun learning experience in a secure, warm, friendly & hygienic environment which becomes the child's second home. Eurokids has a spread across 350+ citi es with over 900+ franchises. The franchise chain has nurtured over 3,00,000 kids.
At Shemrock, everyday is converted into wonderful learning experience by infusing love and care into every aspect of learning that leads to the all-round development of kids. Shemrock Preschool has 525+ branches across the country
Kidzee's MI-aided methodology helps kids in discovering their own creati ve and aestheti c potenti al and enables them to realise their unique learning style. Kidzee has nutured more than 4,00,000 children throughout India with over 1500+ centers in over 550+ cities.
Bachpan preschools ensure that the students are provided an environment that is conducive to catalyse their physical, cerebral, emotional and social development. Bachpan Preschool has a network of 1000+ branches across the nati on.
Considering that each child is unique and learns differently, Kangaroo kids focuses on customised learning. The school imparts a holistic education based on a path breaking model. Kangaroo Kids' revolutionary model of education is imparted at over 100 schools in 30 cities across India, as well as in Dubai, Maldives and Qatar.
Top Franchise Preschools of Northern Region

WHAT'S BEST ABOUT THEM…
Mothers Pride
Successful Franchise Business
Bachpan Play School
Value for Money Franchise Chain
Kidzee
Most Preferred Franchise Chain
Maple Bear
Innovati ve Global Early Learning Pedagogy and
Admirable Quality Assurance for Franchisees
Kangaroo Kids
Best Preschool Infrastructure
Little Millennium
Profound Technology Usage in Early Childhood Teaching
Brats & Cuties
Innovati ve Preschool Enterprise
Footprints
Upcoming Preschool Franchise
PREFERRED FRANCHISE CHAIN IN NORTHERN REGION
INNOVATION IN PEDAGOGY
Name of Franchise
Preschool
Preferred
Franchise Chain
in Northern
Region
Name of Franchise
Preschool
Innovati on in Pedagogy
Kidzee
1
Maple Bear
Canadian Preschool
1
Shemrock
2
Sanfort School
2
EuroKids
3
Kangaroo Kids
3
Little Millennium
4
Podar Jumbo Kids
4
Maple Bear
Canadian Preschool
5
Mother's Pride
5
Sanfort School
6
EuroKids
6
Mother's Pride
7
Litt le Millennium
7
Kangaroo Kids
8
Shemrock
8
Podar Jumbo Kids
9
Kidzee
9
QUALITY ASSURANCE
INFRASTRUCTURE
SUCCESS IN FRANCHISE
Name of Franchise
Preschool
Quality
Assurance
Name of Franchise
Preschool
Infrastructure
Name of Franchise
Preschool
Success in Franchise
Litt le Millennium
1
Kangaroo Kids
1
Mother's Pride
1
Maple Bear Canadian Preschool
1
Mother's Pride
2
Shemrock
2
Mother's Pride
1
Podar Jumbo Kids
3
Sanfort School
3
Shemrock
2
EuroKids
4
EuroKids
4
EuroKids
2
Sanfort School
5
Maple Bear
Canadian Preschool
4
Sanfort School
2
Maple Bear Canadian Preschool
6
Kidzee
5
Podar Jumbo Kids
2
Kidzee
7
Kangaroo Kids
6
Kidzee
3
Litt le Millennium
8
Little Millennium
7
Kangaroo Kids
3
Shemrock
9
Podar Jumbo Kids
8
Top Franchise Preschools of EASTERN REGION
WHAT'S BEST ABOUT THEM…
Shemrock
Best Preschool Infrastructure
Bachapan
Value for Money
Kidzee
Preferred Franchise Chain
Shanti Juniors
Admirable Quality Assurance for Franchisees
Eurokids
Successfull Franchise Business
Little Laureates
Upcoming Preschool Franchisor
INFRASTRUCTURE
PREFERRED FRANCHISE CHAIN IN EASTERN REGION
Name of Franchise
Preschool
Infrastructure
Name of Franchise
Preschool
Innovati on in Pedagogy
Shemrock
1
Kidzee
1
Eurokids
2
Shemrock
2
Kidzee
3
Bachpan
3
Bachpan
4
Eurokids
4
Shanti Juniors
5
Shanti Juniors
5
QUALITY ASSURANCE
SUCCESS IN FRANCHISE
INNOVATION IN PEDAGOGY
Name of Franchise
Preschool
Quality
Assurance
Name of Franchise
Preschool
Success in Franchise
Name of Franchise
Preschool
Innovati on in

Pedagogy

Shanti Juniors
1
Eurokids
1
Eurokids
1
Kidzee
2
Kidzee
2
Shanti Juniors
2
Eurokids
3
Shemrock
3
Shemrock
3
Shemrock
4
Bachpan
4
Kidzee
4
Bachpan
5
Shanti Juniors
5
Bachpan
4
Top Franchise Preschools of Western Region
WHAT'S BEST ABOUT THEM…
Eurokids
Top Franchise Chain in Western Region and Admirable Quality Assurance for Franchisees
Podar Jumbo Kids
Successful Franchise Chain in Maharashtra & Innovati ve Early Learning Pedagogy
Kangaroo kids
Best Preschool Infrastructure
Tree house
Successful Franchise Business in Maharashtra State
Shanti Juniors
Profound Technology Usage in Early Childhood Teaching
Kalorx Preschool
Innovati ve Preschool Enterprise in Gujarat
Serra
Value for Money Franchaise Chain
Sesame Street Preschool
Innovati ve Preschool Enterprise
Leap Bridge
Conti nuous Teacher Development in Preschools
Rangoli
Upcoming Preschool Franchise
QUALITY ASSURANCE
PREFERRED FRANCHISE CHAIN IN WESTERN REGION
Name of Franchise
Preschool
Quality Assurance
Name of Franchise
Preschool
Preferred Franchise Chain in Western Region
Eurokids
1
Eurokids
1
Kangaroo Kids
2
Podar Jumbo Kids
2
Podar Jumbo Kids
3
Kidzee
3
Tree House
4
Kangaroo Kids
4
Kidzee
5
Tree House
5
INFRASTRUCTURE
SUCCESS IN FRANCHISE
INNOVATION IN PEDAGOGY
Name of Franchise
Preschool
Infrastructure
Name of Franchise
Preschool
Success in Franchise
Name of Franchise
Preschool
Innovati on in

Pedagogy

Kangaroo kids
1
Podar Jumbo Kids
1
Podar Jumbo Kids
1
Podar Jumbo Kids
2
Tree House
2
Kangaroo kids
2
Eurokids
3
Eurokids
3
Tree House
3
Kidzee
4
Kidzee
4
Eurokids
4
Tree House
5
Kangaroo kids
5
Kidzee
4
Top Franchise Preschools of Southern Region
WHAT'S BEST ABOUT THEM…
Euro Kids
Preferred Preschool Franchise in South India and Admirable Quality Assurance for Franchisees
Oi Playschool
Best Preschool Infrastructure
Maple Bear Canadian Preschool
Preferred Preschool in Karnataka
Podar Jumbo Kids
Innovative Early Learning Pedagogy in Southern Region
Smart Kids
Preferred Preschool Chain in Andhra Pradesh
Seed International
Value for Money Franchise Preschool Chain in Tamil Nadu
Iris Florets
Upcoming Franchise Chain in Telangana
Springboard International Preschools
Successful Franchise Business in Telangana
Planet Kids
Innovative Parent Engagement in Bangalore
Little Elly
Upcoming Franchise Chain
Time Kids
Innovatiion Pedagogy in Early Learning
PREFERRED FRANCHISE CHAIN IN SOUTHERN REGION
INNOVATION IN PEDAGOGY
Name of Franchise
Preschool
Preferred Franchise Chain
in Southern Region
Name of Franchise
Preschool
Innovation in Pedagogy
EuroKids
1
TIME Kids
1
TIME Kids
2
Kidzee
2
Kidzee
3
EuroKids
3
Little Elly
4
Shemrock
4
Bachpan
5
Little Elly
5
Hello Kids
6
Hello Kids
6
Shemrock
7
Bachpan
7
INFRASTRUCTURE
QUALITY ASSURANCE
SUCCESS IN FRANCHISE
Name of Franchise
Preschool
Infrastructure
Name of Franchise
Preschool
Quality Assurance
Name of Franchise
Preschool
Success in Franchise
EuroKids
1
Kidzee
1
Little Elly
1
Bachpan
2
Little Elly
2
EuroKids
2
Little Elly
3
Eurokids
3
TIME Kids
3
Kidzee
4
Bachpan
4
Kidzee
4
Shemrock
5
Hello Kids
5
Shemrock
5
TIME Kids
6
Shemrock
6
Hello Kids
6
Hello Kids
7
TIME Kids
7
Bachpan
7
Innovating Preschools of India
Healthy Planet School, Ghaziabad
DCMP Elementary Campus, Ludhiana
Millennium Star kids preschool, Thane
B R Global School, Sonepat
M. Kids by Manchester International School, Coimbatore
Millennium Star kids preschool, Thane
Hellokids preschool, Godhra
Vidhyashram Public school, Jodhpur