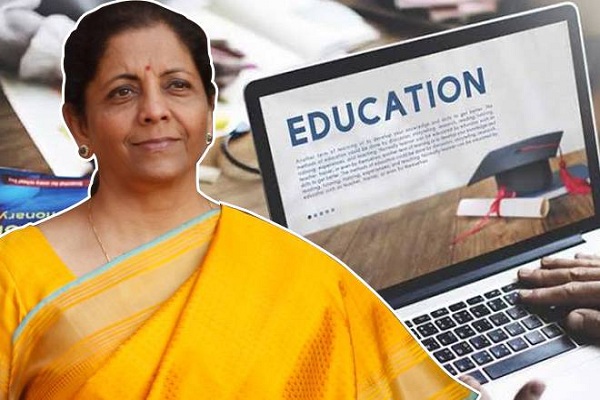 The Union Budget 2020 brings a new education policy, and along with it Rs 99,300 crore worth of funding for the Education sector in 2020-21, and about Rs 3,000 crore for skill development.  In comparison, the previous Union Budget saw an allocation of Rs 94,800 crore in the Education sector.
"The present Budget is aimed at both providing higher education and increasing employability. Several progressive moves suggested by the Finance Minister (FM) in her budget speech are fully online degrees, apprenticeship for engineering students, PPP model for medical education and FDI though limited to top 100 institutes. These are visionary moves bringing Indian higher education at par with global trends of fully online accredited degree courses. Hopefully this will be extended to top 500 Institutes in next phase to bring benefits to large number of poor students to enable them to work while studying", said Dr Vaneeta Agarwal, CEO, L'strategique LLP.
According to the FM, about 150 higher education institutions would have to start apprenticeship embedded degree/diploma courses by March 2021. Furthermore, urban local bodies across the country would have to provide up-to one-year long internship opportunities to fresh engineers.
Also read: Budget 2020: Govt allocates 99,300 cr for education sector

"We have been witnessing a steady increase in the budgetary allocation on Education in the last 3 years. From Rs. 85,000 crores in FY'19 to Rs. 95,000 crores in FY'20, this year (i.e. FY'21), Rs 99,300 crore was allocated for the education sector and another Rs. 3,000 crore for skill development. Initiatives around apprenticeship, internships, Ind-SAT, online education programs, attracting FDI, EQUIP, Bridge programs to make teachers, nurses, paramedical staff, caregivers "Outside Ready", need to be lauded. However in a young country like ours, with an all-time high unemployment rate, Rs. 3,000 crore for skilling is insufficient", said Aurobindo Saxena, Education Policy Specialist.
The FM also declared that steps would have to be taken to enable sourcing of External Commercial Borrowings (ECB) and Foreign Direct Investment (FDI) to create infrastructure in the education sector, and deliver higher quality education. Institutions that are ranked within top 100 in the National Institutional Ranking Framework (NIRF) will start degree level full-fledged online education programmes for students from deprived sections of the society.
"For India to have a $5 trillion economy, the youth have a key role to play in enabling this goal. The advantage of the youth dividend needs to be channelled and enabled to put the country on the map. There is a huge demand for individuals in various industries and in foreign countries. However, the skills do not match in accordance to demand by employers. So, by government proposing Rs 3,000 crore, it allows the government to create quality skill development which will be available at affordable cost, focusing on five key components that are Visual, Reading, Listening Speaking and Thinking among others are very important, especially via the use of emerging technologies such as Artificial Intelligence (AI), Augmented Reality (AR) / Virtual Reality (VR) and more. There have been many Ed-Tech companies in India like BYJUs, ELSA Speak and more who are at the forefront of this by engaging with both youth and adults in Tier 1 cities and beyond to empower and uplift them to have jobs and move away from ones which may soon become obsolete", said Manit P., Country Manager, ELSA Corp.
The budget also suggested under the 'Study in India' programme, Ind-SAT, to be held in Asian and African countries to benchmark foreign candidates who receive scholarships for studying in Indian higher education centres. A National Police University and a National Forensic Science University is another proposal in the budget.
"The Finance Minister has proposed conducting IND-SAT exam and a national forensic science university but these policies remains a data only on paper because of its bad implementation. A few measures to curb this blemish are – Use of modern tools that are available to aid conceptual learning in students; updating the course and the curriculum to reflect current market requirements; improving facilities in institutions across all levels; and counselling, as a key requirement for guiding the students in pursuit of higher education or vocational education as per their abilities. All policies drafted are Magnus opus as it takes promulgation of around 2 months, but they go in vain due to our disdain system", said Maqsood Ahmed, Founder, Nizamia Education Group.
"Education in India is one of the critical sectors, which demands to be revamped and taken care of in terms of its quality and structure. With an aim to ensure and make education accessible to everyone, irrespective of financial and social background, geographical boundaries, the government is planning degree-level full-fledged online education programs to be offered by institutes in top 100 in National Institutional Ranking Framework for both the rural and urban sectors. We welcome the intent in this budget of a New India that attempts to make the country as one of the leading destinations for higher studies in the world as well as the place for cutting edge innovation. Under the 20-2021 budget, the government is planning to initiate IND-SAT exam for Asian and African students for scholarships, to promote 'Study in India'. Being an educationist, we are welcoming the thoughts and the novel educational policy implemented by the government of India", said Rupal Dalal, Executive Director, JD Institute of Fashion Technology.
"The Union budget 2020 on Education and Skills under Aspirational India is a welcome move at this period of time where Unemployability of fresh graduates is of big concern for the country. Unemployability is on the rise since students just graduate but are not efficient as far as the required skillsets for employability in industries are concerned. The allocation of an abounding 99,300 crores for the education sector and 3000 crores for skill development is sure to pave the way for quality education in India. Emphasising on Special bridge courses, apprenticeship embedded degree/diploma courses, Internship after graduation at Urban local bodies all provide a great opportunity for the students to develop their most needed new age technology skills. The budget is also very promising for students from rural areas through the Online education programs that have been proposed. It's a budget that would inspire the youth to aspire", said Dr.B.Sendilkumar, Dean & Director – Allied Health Sciences, Vinayaka Missions Research Foundation, Salem.
"As higher education evolves in line with technology, formal education is increasingly replaced by specialised online programs. Allowing top 100 NIRF ranked institutes to award online degree is a step in the right direction to bestow students with skills and formal degree without the need to be on campus physically. Our institutions are woefully poor in infrastructure and the government's ability to invest for modern infrastructure has been crippled mainly due to heavily subsidised centrally run institutions. Therefore, it is a logical and welcome move that this budget proposes FDI and ECB would help accelerate investments and aid research and better academic delivery. Budgetary allocations at Rs 99,300 cr is marginally higher by 4.6% over 2019 as compared 10% rise in last year's budget. With overall fiscal crisis and economic downturn, one could not have expected better. This budget again talks about study in India initiatives and launching NEP which is almost a repetition of last year. Implementing NEP will require consensus building particularly with many states now ruled by the opposition. What is needed is a pragmatic approach and a need for dialogue with different stakeholders with a sense of urgency. To summarise, there is something to cheer in terms of allowing ECB/FDI and granting online degrees but reforms on education sector not adequately addressed in this budget." – P. N. Hariharan CFO, ITM Group of Institutions

br>