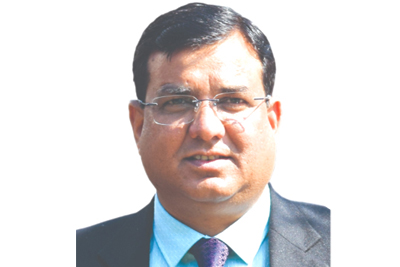 This sudden paradigm shift is set to disrupt the university functioning and creating lots of issues, challenges and conflicts, but at the same time it offers an opportunity to evolve ourselves and transform the Higher Education Sector across the globe, says Dr RD Patidar, Vice Chancellor, OP Jindal University, Raigarh in a conversation with Elets News Network (ENN).
COVID-19 pandemic has affected every sector of life across the globe, be it economy, businesses, manufacturing or education. The rapidly evolving situation around the pandemic poses a whole lot of challenges to the functioning of higher education institutes in India. Probably universities and regulatory bodies never thought of such a situation and we did not have a contingency plan in place. The Universities, under such unprecedented situations, don't have many options and are forced to go online. But the challenge is that all the Institutes and universities of India are not fully prepared to leverage digital tools and technologies. This sudden paradigm shift is set to disrupt the university functioning and creating lots of issues, challenges and conflicts, but at the same time it offers an opportunity to evolve ourselves and transform the Higher Education Sector across the globe.
After the declaration of closing the institution on 16th of March 2020 by government of India and further announcement of lockdown 1.0 on 24th March 2020, followed by lockdown 2.0 and lockdown 3.0, the OP Jindal University (OPJU), Raigarh quickly adapted to the situations and continued all its operation without any interruption.
Also read: Dr Praveen Kukreja, Shemford Futuristic School, Agra: School under huge financial crisis in COVID
OPJU is a multidisciplinary university offers Diploma, Under Graduate (UG), Post Graduate (PG) and Ph D programs across its three schools namely School of Engineering, School of Management and School of Science and have 65+ full time faculties, 10 visiting faculties and 1200+ students. During the lockdown period faculty have undergone the process of technology adoption and students are involved with various online modes of learning. There was lots of fear, anxiety, concern and consciousness among students and faculty regarding COVID-19.
The following major activities have been brought under the umbrella of new functional model for the university operations in order to come out unaffected and stronger during COVID-19 and lockdown:
1. Online Teaching and Learning: At the time when students were asked to leave the campus, the university session was running and the courses were in the middle of completion. It was really challenging to complete the syllabus and keep the students engaged meaningfully. Usually any change is resistive and changing the mindset is difficult, especially of the faculties. The tools used by faculty members during lockdown for teaching- learning online are – Zoom, Google Hangouts/ meet, Skype, Google classrooms, Moodle Learning Management System (LMS), Google forms, YouTube, etc. We conducted online Faculty development programs to gear up to adopt changing pedagogies and instill positivity among faculty during the crisis.
2. Examination and Evaluation: The conduct of examinations is now a major challenge for universities in India if the lockdown continues and/or universities remain closed for next few months. University Grant Commission (UGC) too recommended conducting online examinations if the university has the required resources and competencies. We at OPJU are having good IT infrastructure and competent people to conduct the end semester examination in online mode. A pilot project and Proof of Concept (PoC), we have already successfully conducted a mid-semester examination of some of our students in the last week of April 2020. This Pilot project was implemented across all the schools of the university for around 40 subjects from all years and the duration of the examination was 1 hour. Two types of questions were asked in the mid semester examination i.e. Objective type (Multiple choice, True False, Matching, One word) and subjective type (Short & Medium Answer).
3. Internship: At OPJU, an internship is a "Learning by Doing" experience that is aimed at enhancing a student's academics, career progression and personality development and is part of the curriculum. Every student undergoes minimum 02 internships and we have a provision for a semester long internship as well. COVID-19 situation and subsequent guidelines from UGC and All India Council of Technical education (AICTE) encouraged us to evolve our own model for internships, which is apt for the situation and changing scenario.
4. Campus Placement: We at OPJU could sense the campus recruitment problems during the pre-lockdown period itself and shifted our strategies accordingly. In the sudden change of scenario, we were forced to cancel few of the scheduled drives, but soon we started figuring out the companies whose business is on rise during COVID-19 and quickly adapted to the new online norms. We extended companies all the help and support for conducting virtual campus drives from arranging online tests over OPJU MOODLE to Group Discussions (GDs) and Personal Interviews (PIs) in a virtual online fashion. By the time lockdown started our approx 80% students had already been placed.
5. Research Activities: Working From Home (WFH) has given the university administration an opportunity to engage our faculty not only in online classes but also to sustain their continued interest in research and development. Ph D course work classes are being conducted online and progress of all the Ph D scholars is being discussed and supervised in an online manner. During this crisis, OPJU has been selected by NITI Aayog to establish ACIC under its flagship program Atal Innovation Mission (AIM).
6. Virtual Conferences, Workshops and FDPs: COVID-19 outbreak forced us to cancel scheduled Faculty Development programs (FDPs) and Workshops but at the same time offered us an opportunity to think out-of -the-box and come-up with new solutions, which works in the current scenario. OPJU was quick to shift from physical in- person sessions to virtual sessions. In the process, we researched many online platforms and learnt using these communications tools effectively and intelligently. We conducted many workshops and FDPs over Zoom and skype for faculty and students.
7. Webinar and Sessions: Our leadership team has made this time more interesting and meaningful by featuring webinars on different technical and career oriented topics. Leadership team along with the reputed experts from industries, corporate and academia leaders delivered many sessions to make students and faculties aware of the contemporary and future needs of the industry and market. During this period OPJU hosted around 50 webinars on different topics and our members delivered 10+ webinars as a panelist organized by reputed organizations and agencies.
8. Admission Process: Admissions is one of the most important activities for any university, which directly affects the financial health and growth plans of the university. The pandemic has forced people's movements and confined them to their homes. This drastic change in behavior of people affected badly the admission process everywhere and OPJU is not an exception. COVID-19 came as an absolute surprise for the admission team, which forced them to work from home and has a major effect on its working style. However, this impact is not just limited to the admission teams but thousands of prospective students and their parents as well.
As we are all witnessing that covid19 has shaken the economies and industries, we see a paradigm shift in skill set and manpower requirements in the recruitment market. In order to address the market demands and make our students' jobs ready for the post- covid scenario, we at OPJU are revamping our entire curriculum in consultation with industry and academic leaders.
The world after post-covid will be a different one and so the OP Jindal University- Different, Better, Brighter.
"Exciting news! Elets Education is now on WhatsApp Channels Subscribe today by clicking the link and stay updated with the latest insights!"
Click here!