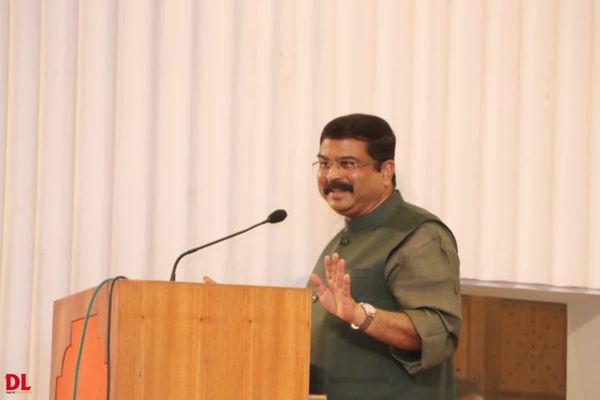 Dharmendra Pradhan, Union Education and Skill Development Minister held series of bilateral meetings with his counterparts from Mauritius, Tanzania, Zimbabwe and Ghana, in New Delhi.
During the meeting with the Vice PM and Minister of Tertiary Education, Science & Technology, Mauritius, HE Mrs. Leela Devi Dookun-Luchoomun, Shri Pradhan said that, "India and Mauritius enjoy a special relationship and are united by history, culture, language and the Indian Ocean."

He further emphasised that Prime Minister Narendra Modi has given further strengthening bilateral ties with Mauritius the utmost priority. He reaffirmed India's commitment to collaborating with Mauritius and offering support for capacity-building in all areas of education and skill development. Pradhan added that it will be an honour for India to collaborate with Mauritius to make it a knowledge and talent centre for South-east Asia and Africa. Both nations have committed to working together to strengthen our alliance and develop our intellectual engagements.
In the meeting with Minister for Education and Vocational Training, Zanzibar, HE Ms. Lela Muhamed Mussa, Pradhan said that India is happy to assist Tanzania with the IIT project. In addition to outlining the support needed for project implementation, he expressed India's commitment to open a center for 21st-century skills in Zanzibar. He added that NEP is opening up new educational opportunities in India. African and Tanzanian students were invited to study in India by Pradhan. HE Leela Muhamad Musa assured that Tanzania and Zanzibar will have all the necessary support to make collaboration in education and skills more lively. The two Ministers had in-depth discussions about enhancing our historically friendly and tight ties and making knowledge and skill partnerships a crucial tenet of our bilateral relations.

Also Read | Centre aiming for 50% GER in higher education By 2035
Also, Pradhan met with HE Raymore Machingura, Deputy Minister, Ministry of Higher and Tertiary Education, Innovation, Science & Technology Development, Zimbabwe today in his office. The discussion was fruitful and deepened the partnership in education and skill development.
In the last meeting of the day with HE John Ntim Fordjour, Deputy Minister of Education, Ghana proposed establishing institutional mechanisms and joint ventures between India and Ghana right from pre-school to research.