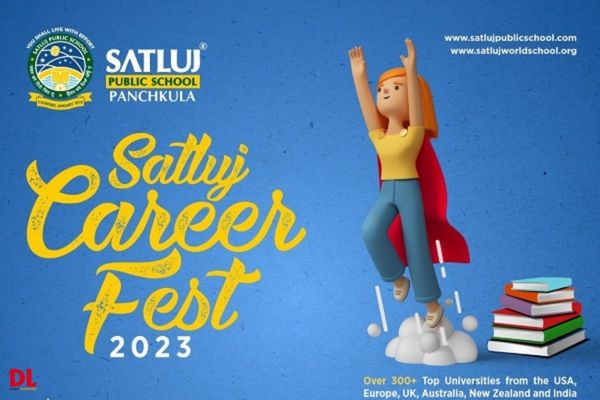 At the 4th Satluj Career Fest 2023 in Panchkula, academicians from over 300 Indian and foreign universities came together to debate and discuss a variety of obscure academic topics. These ranged from regional concerns, such as How Tricity is emerging as an invigorating ecosystem for Innovation, Entrepreneurship, and Cultural Legacy in North India, to global ones, such as undergraduate career opportunities in Canada. The conversations also covered topics including how great businesses are focusing on social entrepreneurship if teenagers today are dreaming of jobs that will still exist in 15 years, and more mundane future occupations and skills.
The Satluj Public School, Sector 4, Panchkula (a member of the Satluj Group of Schools—Satluj Public Schools, Little Satluj Pre-Schools), organised the largest career festival in the area, the 'Satluj Career Fest', with the goal of guiding students of grades 9 through 12 and their parents about various career opportunities. Since the event was virtual for the third consecutive year, it had a pan-Indian as well as a global audience (5,000+ kids from 300+ schools).

Also read: Reekrit Serai, MD, Satluj Group of Schools on School Franchising and Running Successful Schools
Reekrit Serai, Managing Director, Satluj Group of Schools, welcomed the distinguished visitors, parents, and students and reaffirmed, "This is the fourth time we are hosting the career fest. In contrast to career fairs, where only institutions engage with students, Satluj School has created this programme that benefits students. This event's inspiration came from a five-year-old desire to help and prepare our children for life beyond school by supporting them outside of our gates. Additionally, he emphasised how startups were altering the employment landscape in our nation and how entrepreneurship is the catalyst for global growth.

Other eminent speakers who attended the fest were, dignitaries such Harsuhinder Singh Brar, Director Secondary Education (Chandigarh UT); Dr. Parag Kalkar, Member of Senate of Savitribai Phule Pune University; Dr. PJ Singh, Founder & MD, Tynor Orthotics and Vice-President, CII Punjab; Manmohan (Mac) Sarin, Senior Advocate; and Dr. Dinesh Dua, Immediate Past Executive Director of Nectar Lifesciences and Past Chairman, CII Chandigarh.
Krit Serai, Co-Chairman, Satluj Group of Schools, said, a lot of hard work went into the planning of Career Fest, and it is one of the biggest career shows. "Career planning is very important in our lives and for a proper career choice planning must start at plus two stages or even Class X. We have a variety of jobs for the youth available now", he added.
Anurag Tripathi, Secretary, CBSE, emphasised on the need for inculcating life skills among students and stated that "The main objective of education was to develop your mind, body, and soul." Such students turn out to be responsible citizens of the country. The new education policy aims at introducing a different approach to education, from rote learning to knowledge-based. Are you making creative use of your studies in school, your overall learning in classes and your performance in exams? While there has been rote-learning, there were no skills, which come in handy when you enter the real world and cope with society, because of this such students have been facing difficulties with facing actual life situations, which were never told to them. "
Harsh Kumar, Former Secretary, NCERT, mentioned that "The main objective of education is that, we become good human beings. The Indian education system is unique. Indian traditions are distinct and our children are intelligent and progressing. We must show them the right guidance in senior classes as educators and parents. National Education Policy has come with a lot of changes and even during the pandemic, India handled the situation because we are educated. We have to convert knowledge into wisdom and become good citizens of the country and should do something to make our country proud of us."
Ratan Lal Kataria, MP, Ambala and Former Union Minister, in his inaugural message, emphasised how Satluj Public School was contributing towards providing quality education and by organising a career fest, it will help students to make India self-dependent.
Ranjeeta Mehta, Honorary General Secretary, Haryana State Council for Child Welfare, said, "Beauty business, the entertainment industry, and healthcare are the key sectors for employment opportunities, besides the e-commerce industry and social media which have also gained momentum, especially after the pandemic." She also discussed other industries, job opportunities, and how AI was developing and assisting many industries. Mehta added that rote learning should be abandoned for a successful future in the workforce.