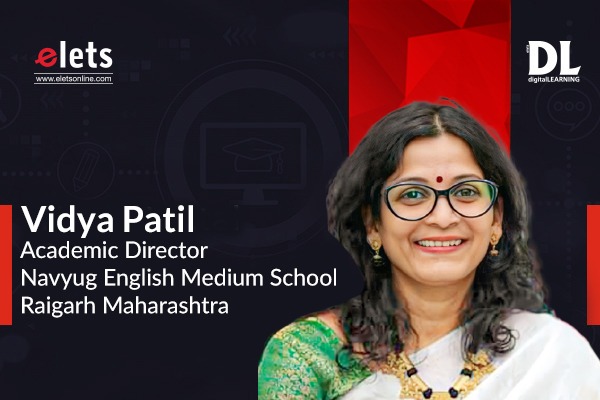 The education sector has always been evolving and has given rise to creating technology adaptable with the pace of the changing world, shares Vidya Patil, Academic Director, Navyug English Medium School, Raigarh, Maharashtra in an exclusive conversation with Sheeba Chauhan of Elets News Network (ENN). Edited excerpts:
Tell us about your achievements in terms of 'Innovation in Education' during the year 2022.

The past three years have greatly influenced my knowledge regarding tech developments in education society. Due to covid, I have learned to adapt to any situation in order to keep the school and learning keep going. The choice to adapt to available circumstances in order to fulfill the proper code to learn has been my biggest achievement in my past 13+ years in this field.
Also read: NEP helping students to come out as tech-enabled learners

How futuristic technologies are going to transform education in the year 2023?
The covid surge has already accelerated the use of technology in education. Schools to be held on zoom meetings was only a passing joke few years back. But we have managed to use and innovate technology useful for any kind of situation in school terms. Schools undergoing such changes, embracing their newest technology have shown better student involvement and eagerness to learn more. Instead of the daily monotonous classes, students look forward to the changing teaching methods with various teaching aids involved in these innovations.
What are the innovations that accelerated the transformation of growth in the education landscape in the year 2022?
The education sector has constantly. It has given a rise to create technology that is adaptable to the pace of the changing world. Virtual laboratories, virtual classrooms, 3D graphics showcasing various models have seen students grasp a better understanding of the said syllabus. Online zoom meetings have led students to have a chance to not miss their classes and be able to learn even if it isn't possible to attend school. NEP has proved to be a useful guide in implementing these innovations in school agendas. If the pace for using these technologies continues as such, it will take years, if not decades, to see development in the education system in pace with the technology.
What is your mission and vision to impact the paradigm shift of the education arena in the year 2023?
I have always been a firm believer of the idea that technology and education go hand in hand. If one develops, the other develops along with it. I strive for maximum usage of recent technological developments in education in order to adjust the student's need to learn with modern amenities. That gives students exposure to the developing world around them. Such kind of development has seen fast-paced learners being created at young ages. Hence, it has become my mission to intermingle and create a suitable Edtech platform where students are comfortable learning with the latest technology and improve performances from just monotonous everyday learning to create curiosity.