Blueprint for a Knowledge Society Dr A P J Abdul Kalam presents his  vision
The President of India, Dr A PJ Abdul Kalam, in his inaugural address at the recent Partnership Summit 2006, in Kolkata, presented his vision for India to become a knowledge society. Digital Learning shares extracts from his speech and more.
Knowledge society, role of education
"The whole purpose of education in a country is to develop and enhance the potential of our human resource and progressively transform it into a knowledge society." Addressing the Partnership Summit in Kolkata, India, in January this year, the president of India, Dr A P J Abdul Kalam, presented his vision for India to become a knowledge society.  The president envisioned the knowledge society to be a society producing products and services  that are rich in both explicit and tacit knowledge, thus creating value added products. The president emphasized – "Our education system should realign itself at the earliest to meet the needs of the present day challenges and be fully geared to participate in the societal transformation through innovation, which is the key to competitiveness. It should also  develop a global outlook." The real capital of this knowledge society will be its knowledge  components. Education in this respect has the most crucial role to play in the country's progression to a  knowledge society.
Building a networked society  on the foundation of connectivity and partnerships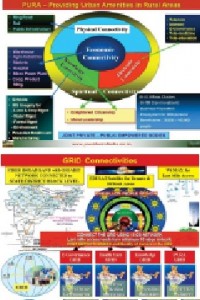 The president proposed two systems  of national development that will lead to rural development, the PURA  (Providing Urban Amenities in Rural Areas) system and the national  electronic GRID connectivity.   PURA facilitates creation of employment in the rural areas itself. PURA achieves this by providing physical, electronic and knowledge connectivities to a cluster of villages thereby leading to their economic  connectivity and prosperity. Knowledge creation and knowledge  utilization is the key to the success of a PURA programme.  The president further pointed out that integrated Village Knowledge Centres  will act as an inter-connected delivery mechanism for tele-education, telemedicine and e-Governance services apart from individual access by the people, within and between the  Village Knowledge Centres. This GRID will weave the people together in to a strong social fabric. Apart from economic prosperity it will bring  societal transformation. The president's vision entails this society to be highly  networked to be able to create knowledge intensive nvironment along with enabling process to efficiently create, share, use and protect knowledge. The networking should happen through an electronic connectivity, partnership between governmental and multiple institutions in the public and private domains and a synergy between various components of education, healthcare, e-Governance and rural development. With respect to connectivity, the president envisioned the importance of physical connectivity through quality roads and transport and electronic connectivity through telecommunication  with high bandwidth fiber optic cables reaching the rural  areas from urban cities and through Internet kiosks.  With respect to education, the president emphasised knowledge connectivity through education,   vocational training for farmers, artisans and craftsmen and entrepreneurship programmes. These three connectivities (physical, electronic and education) will lead to  economic connectivity through starting of enterprises with the  help of banks, micro credits and marketing of the products. In this respect, the president emphased a public-privatecivil society partnerships in development efforts. The strength of this partnership for collaborative growth and economic prosperity should be facilitated by free flow of knowledge and information in  a seamless manner cutting across levels and boundaries  embracing all walks of life in the three sectors of the economy such as agriculture,  manufacturing and the services sector He said "Two decades ago,  there had not been many international partnerships in India. Therefore, one could keep track of all the partnerships entered into by various business houses. In the recent past there is a trend of increased partnerships by India with many  countries". The president recomemded that CII create a directory of  existing partnerships and make this available to the development community. This will enable propagation of real
meaning of globalization and will stimulate more partnerships and draw our youth into partnership operations.  The president highlighted the importance establishing connectivities among the  various components of education, healthcare, e- Governance, rural  development. This could be achieved by establishing GRIDs namely knowledge  grid, healthcare grid, e- Governance grid and the PURA knowledge grid. These  connectivities through GRIDs will maximize the synergy  between these various components; bring seamless
access and information flow among the various domains  leading to maximization of GDP and productivity. This interconnecting grid will be  known as societal grid that will promote knowledge sharing,  knowledge utilization and knowledge  re-use which is very vital for faster economic growth and productivity. ❏ 

>