Amit Garg, Founder & Director of Upside Learning Solutions, shares with readers the journey so far and his views on the e-Learning industry in India.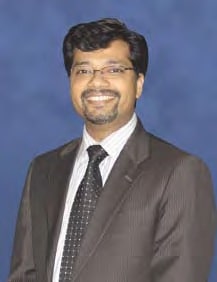 Please share with our readers the idea behind setting up of Upside Learning and the journey so far.

Upside Learning Solutions was set up in April 2004 to provide effective e-Learning solutions. Prior to this, me and my partner Amit Gautam worked for another e-Learning company for around four years. Having gathered a rich experience of the e-Learning industry in India and abroad, we had an innate desire to start out on our own.
The journey so far has been very enjoyable, rewarding and satisfying. With clients in nine countries we have grown considerably in the last five years and are now one of the major players in India. Upside Learning was declared a winner in the Red Herring 100 Asia 2008. We were also listed 16th on  the Deloitte Technology Fast 50 India 2008 and 125th on Deloitte Technology Fast 500 Asia Pacific 2008which makes us the fastest growinge-Learning company in the country over last three years. These have been a testimony to the kind of work that we have been doing and motivate us to keep moving. We are blessed to have a great team. What has been the focal change in the company's approach this year as compared to previous years? The focus of the company has changed on multiple fronts. Our focus has now shifted towards products as we see 50% of our revenues coming from products in three years time. This would involve launching of new products as well and new versions of existing products. Innovation will be the key in our solutions in future. We have set up an exclusive team to do 'marketable innovation' which helps our customers get the best of the technological and instructional advancements in this field. We are also focusing on social media, from both the learning and marketing perspectives. A relatively short-term focus would be on rapide-Learning too – primarily driven by the current economic situation around the world. What has been your client mix? Has there been a change in their approach, with the corporatemarket maturing towards adopting technology solutions? We have business linkages both with the overseas and domestic markets – US, UK, Australia being the  prominent ones. We currently work with prominent local partners in those markets, to serve several Fortune  00  lients. In terms of client mix, bulk of them are in telecom, banking & finance, construction, health & safety,
and manufacturing domains. Thanks to magazines in this domain and other expos and events around the world, customers do seem to be more knowledgeable and rational now. And thankfully their focus is gradually shifting from the 'cost' to the 'learning value' that a solution delivers. Has the market slowdown had any effect on the e-Learning industry? How prepared is Upside Learning to weather the storm? Despite the global slowdown, growth rates for Upside Learning have been strong in the last year. Amongst different markets UK seems to be worst affected, but we are hopeful it would bounce back in the second quarter of 2009. India is growing faster and would speed up on e-Learning adoption this year. Quite a few clients have taken a 'waitand- watch' stand last quarter, but we see signs of that easing up now. We remain optimistic that e-Learning stands to 'gain' from the economic downturn by inviting more companies to adopt e-Learning or to broaden their existing initiatives. What has been your experience over the years in the e-Learning sector and what is your prediction for its growth in the coming years? In our experience the markets worldwide have matured to some extent while the growth has been strong. Increasing bandwidths have been a big support as diverse audience can now access audio and video based e-Learning with relative ease. The
LMS market has seen consolidation at the top-end while the medium and low end is still fragmented. The SME customer market is more inclined towards Hosted LMS which delivers
all required features, is quick to roll out, and is cost effective. On content front, the prices have gone up for quality solutions as the clients have come to appreciate the true value of good. We expect India to grow at more than 75% while the world markets would grow at 20-30%. This
should result in good growth for India based e-Learning providers in 2009 and beyond. Upside Learning is targeting 100% growth for the next couple of years. Our focus on providing great solutions at great prices has helped us so far and we believe that would be the key to our continued success in future. here is a wave of collaborations in the IT education applications.
What is your view on this? Please tell us about the tie-ups of your company? As an industry grows, tie-ups are bound to happen. While some are purely for synergies, others are only for financial reasons. Both are good and welcome, if they help the customers with better products and services. Upside Learning is a full service provider of e-Learning solutions for the corporate market. Upside LMS – provided as hosted and behind-the-firewall options – is currently used by more than 150,000 learners worldwide. Our Custom Content Development service has won awards and helped our long term clients in achieving business success year after year. We would be tying up with a catalogue content provider of repute soon, to offer pre-packaged content bundled with our LMS to help clients start off their initiatives almost instantly .