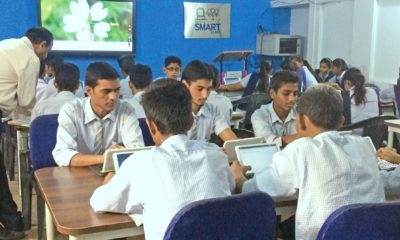 In the era of digitisation, technology and knowledge have taken centre stage in national and international debates. At the same time, ICT has become an integral part of nearly all sectors and segments especially linked to the education landscape. Be it teaching, learning and assessment, ICT is crafting the role of future education in India, writes Rashi Aditi Ghosh of Elets News Network (ENN).
Significance of ICT in Teaching-LearningAssessment
ICT has changed the education scenario in the last few decades by emerging as one of the most efficient tools used in the learning process, both by tutors and learners.
According to Vaibhav Kapoor, Principal, Ajanta Public School (Gurugram), ICT has changed the face of education over the last few decades. "It has proved to be a boon to both the teachers and the learners. Looking for matter beyond the textbooks is no longer a challenge with respect to time and resources anymore."
Assisting in the growth of ICT learning in the country, several brands are ensuring to create options for educational institutions.
Recognising the importance of digital literacy in rural India, in 2013 Samsung India launched a Smart Class initiative in collaboration with Navodaya Vidyalaya Samiti. The initiative is available across 500 Jawahar Navodaya Vidyalaya Schools, benefitting over 2.5 lakh students. The brand has imparted training to over 8,000 teachers on interacting technology.
Gopal Singh Tomar, Principal, Jawahar Navodaya Vidyalaya, Dadri (Uttar Pradesh) feels "60 per cent of the students in our school are the first time users of technology or Smart Class".
Stating that students are now confident and the use of technology is helping our teaching also to a great extent, he said: "Our results have improvement post-ICT."
"Smart Classes have helped one of our students Akash Karan in developing a mobile application. This app helps the user in calling his/her dear and near ones in case of any emergency just by using the app and that too by a single touch."
Lately, technology is playing a vital role to ensure effective and efficient assessment of learning. Modern technology is offering educators with a wide range of tools that can be used in the classroom.
Dr Bharti Swami, Principal, Vidhyashram International School (Jodhpur) feels teachers are able to prepare lessons, create courses and sequence classroom activities through LMS (Learning Management System) "which can be used and reused for various lectures with provision for editions as and when required to modify the content. Assessment has become easier and comprehensive".
"The assessment tools like assignments on Edmodo, quiz on kahoot or survey sheets through office forms and Microsoft forms have come a long way to assist the assessment process," said Jyoti Gupta, Principal, Delhi Public School, Ghaziabad (Meerut Road), while explaining the role of assessment tools.
ICT overpowering Traditional methods
Technology has brought in major changes in the way education is imparted. Teaching and learning process has evolved from being a one-sided activity to an active process involving exchange of ideas. Indulgence of various creative tools and techniques has made the process a collaborative initiative.
Students in today's classrooms are encouraged to participate actively in the learning process and become active producers of ideas and thoughts. "The students are equipped with the correct knowledge, skill and attitude to take full advantage of all the new opportunities that will be available for them in future," according to Dr Bharti Swami from Vidhyashram International School (Jodhpur).
Role of central Government Central Government in promoting ICT
The concept of ICT in schools was initially introduced in December 2004. The Central Government later revised it in 2010 to ensure opportunities for students enrolled at the secondary level of education.
Presently, the Central Government has subsumed ICT in schools under Rashtriya Madhyamik Shiksha Abhiyan, a national drive for secondary education.
"Various initiatives have been taken by the Government of India for boosting the use of ICT in Education education sector. All e-resources are made available through e-pathshala. Rashtriya Avishkar Abhiyan aims at nurturing the spirit of enquiry and creativity in young learners," said Dr Swami.
To achieve complete digitisation and smart education, the Ministry of Human Development has initiated several new initiatives.
The Central Government has answered the calls to the changing dynamics of education, especially to the importance of bringing ICT to the schools and colleges and improving the contour of classroom teaching and learning, says Vaibhav Kapoor, Principal, Ajanta Public School (Gurugram), adding: "Availability of technical advancements namely e-pathshala, Saransh, Shala Siddhi, Shaala Darpan, of NCERT books on mobile app etc. are commendable."
The Central Government initiatives are good in many ways as it permits online submission of data through web portals. "This is more transparent and bogus data can be avoided and Indian education sectors have to do education with quality only in future," said Dr S Sridhar, President, Dr K N Modi, Newai, Rajasthan.
Key Challenges in Integrating ICTs in Education
Though ICT holds the potential to transform the education system of a country to a great extent, its implementation in terms of developing countries remains a challenge to an extent.
"Training teachers for the use of ever evolving technologies, upgrading their skills continuously and keeping them abreast of the latest developments and best practices is a herculean task," said Dr Swami.
Availability of latest hardware and software facility determines the efficient usage of technology and maintaining it in schools involves a lot of financial investments. "The biggest challenge for effective implementation of ICT in the schools is the high expenditure in the installation and running of the tools," said Vaibhav Kapoor, Principal, Ajanta Public School (Gurugram).