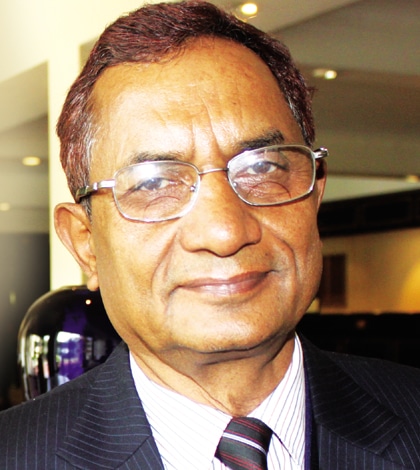 Nepal is trying to overhaul its traditional education by focusing more on technical and vocational education and hence ICT in education has bigger role to play, says Education Minister of Nepal, Dina Nath Sharma. In conversation with Mohd Ujaley
The Government of Nepal has initiated a pilot project for giving laptops to government school students. Is this programme directed towards implementation of ICT in school?
We have started a pilot project under which we have distributed 3,500 laptops to government school students and we are planning for one laptop per student in future. Our aim is to bring ICT in education. This can happen only if students and teachers have access to modern technology and gadgets. Today, ICT based learning is very important. It's not only helping a student to compete with the best, but it is also increasing their chances of getting good jobs. Even in our private schools, acceptance to ICT is very high. Both private and government schools are trying to use the ICT tools to garner maximum benefit of students. This project is also very important because we are trying to overhaul our traditional education system and focus little more on technical and vocational education.

The pilot projects of giving laptop to students is very encouraging, however, South Asian countries face the problem of low literacy and less electricity. Where does ICT in education stand when we are struggling to provide basic amenities?
The problem of low literacy and less electricity persists across South Asia. There are a few exceptions such as Sri Lanka, which has very good education system and has been very successful with many innovative endeavours. Even in other South Asian countries, ICT is popular in the cities and acceptance is high in urban areas. However, we still have a long way to go to bring ICT to the schools in rural areas. There are structural problems and to overcome these we need to introduce reform at various levels of the society. The project such as ours, is important because it catalyses the process of acceptance of new technology, innovation and ideas.
People are not happy with the work of Regional Directorates, who is supposed to implement the government policy across various regions. How do you look at it?
I do not disagree with you but it was the case earlier, now things have changed. In last two years, we have energised the entire Regional Directorates by giving them more autonomy and power. Earlier, they had to depend on various other  departments for taking a final call on important issues. Since, they were dependent on others, therefore there used to delay their work. Now they are doing good work and we are very happy with the performance.
None of the universities in Nepal is private. Is there any plan for private participation in universities?
Right now we have nine universities; our major central university is Tribhuvan University, they are offering many courses to study in science, social science and humanities. We have also established some autonomous and self-financing institutes where in government has given one time grant and they are allowed to raise fund for running the institute, but they all are governed by government regulations and report to government.
As far as private university is concerned, right now we don not have any. I am not able to comment on the future course of action at this moment but I must tell you, we are embarking on large scale overhaul of our education system and something may come forward in future.
---
[colored_box color="yellow"]"In Nepal we are focusing on quality education and the students who go out for studies eventually come back along with the quality elements with them and help us building a better and advanced education system for our country"[/colored_box]
---
Do you agree that your students have fewer universities to choose from, a majority of them opt for overseas studies?
I am not saying that our students do not go out of the country to study. In fact, we are ranked 11th among countries whose students go to USA for studies, but it is not that these students are going because they do not have enough options in Nepal. Majority of our students go to other countries for quality education. Large numbers of students chose India because we have very good and historical relations with India. We understand each other's culture very well. In case of the US, UK and Australia, apart from studies, their working interests in these countries make these students transfer. In Nepal we are focusing on quality education and the students who go out for studies eventually come back along with the quality elements with them and help us building a better and advanced education system for our country. So, we consider them as the assets to us though we do not see them from business or revenue perspective.