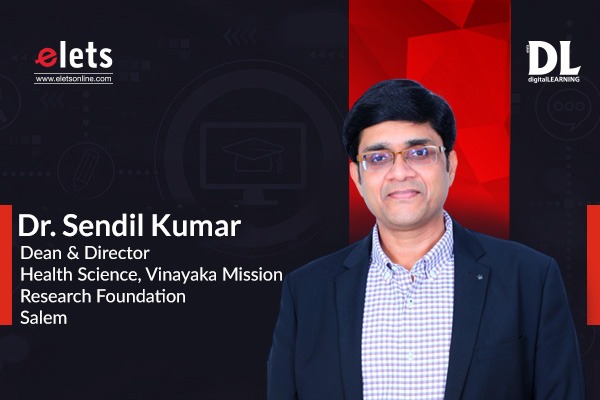 The education has been on a turbulent ride ever since the introduction of the National Education Policy, 2020. The segment that is facing the storming waves of changes and challenges is higher education.Improving education scenario will automatically direct a nation towards the growth and development. The digital revolution has also tangented the paths for novel opportunities and a place where majority of populace can enhance and connect with educational paradigm with easy access. Change is the only constant and now, we are heading bullishly towards it. The major objective is transforming the higher education with digital revolution. To explore the same, Sheeba Chauhan of Elets News Network interacted with Dr. Sendil Kumar, Dean & Director, Health Science, Vinayaka Mission Research Foundation, Salem. Edited excerpts:
UGC plans to merge university entrance exams into one single exam i.e CUET. What are your take on the "one nation, one entrance exam" criteria?
The idea sounds great and in the long run, can lead to uniformity and equity among all students. However, in the current scenario, where there is no uniformity in curriculum and even accessibility to education between different sectors like the rural and the Urban, The rich and the poor, and even between genders it will be fair to implement the "one nation, one entrance exam".
All the school teachers should also be well trained and of equal calibre to mentor students to take up the common exam without stress.

Once the NEP is well in place, which would take at least another 5 years and equality starts prevailing then we can consider CUET. If not it will lead to demotivation of students, and will develop a lack of confidence in the students.
Recently, IITs announced to introduce of medical courses. Can multi directional courses degrade the education standards of such premium institutes?
In my view, multi directional courses can never degrade the education standards but instead paves way for multidisciplinary research and more innovative ideas.
The point is that whatever courses any esteemed institution starts, they plan a curriculum that incorporates a multidisciplinary approach, and these premium institutes like IIT are ideal for multi directional courses as they have the needed infrastructure, Funds, and manpower resources. UGC is emphasising Universities to start multidisciplinary courses and IIT can pave the path for other Universities to follow them.
It is witnessed that there is a huge gap in learning practices for fresh graduates to perform well in the industry. How could we bridge the gap between colleges and cubicles?
Industry-Academia collaboration is the key to developing the technical and discipline-specific skill sets and helps in creating better employables. The theoretical knowledge that our students gain from lectures and books will not suffice for them to excel once in the job. The academic environment like the colleges might not completely represent the real-world scenario of where the students would be employed. Hence, competency-based education where the required sets of technical skills are imparted in a structured way should be in place and the Industry academia collaborations play a vital role in exposing the students to real-life situations and also making them understand what is expected of them once they become employees.
For example, in our college, we have Industry designed and Industry specific courses i.e.the curriculum is prepared by industry experts, and the sessions are taken either by them or our faculty, and certification is also given. These kind of courses make them job ready.
India is getting applause for its New Education Policy globally. Please elaborate on the pros and cons of NEP 2020
New Education Policy is definitely a welcome move in the education sector. This is bound to bring a transformation in the way of teaching and learning for the betterment of society. Emphasis on critical thinking and more holistic, learning is the need of the hour in our education system and we would be achieving it by this Policy. The Major reforms of flexibility will turn students to be very skilled and employable. As stated in the vision of the policy an education system rooted in Indian ethos is sure to transform India into a global knowledge superpower. Universal Access, school education in the mother tongue or regional language, Non- commercialisation are definitely the Highlights of NEP but the only concern could be in the Implementation of the whole process.
Online assessment is a new approach for assessments after COVID. Do you think depending on technology even for higher education students is reliable?
Creating a technology-enabled learning ecosystem in our universities is a must for upscaling our universities to global standards.
Online assessments are a welcome move and a flexible option preferred by faculty as it is less time-consuming and by students, because it is easy to score. When it comes to reliability,its definitely a doubt, currently a lot of software and apps are available for conducting Online exams like Kahoot, Quizzit, etc, but cannot be adopted for a blueprint question paper that we follow in our schools or colleges.
With technological advancements, it's definitely possible to make conduct online exams similar to offline exams both in terms of reliability and authenticity.

br>