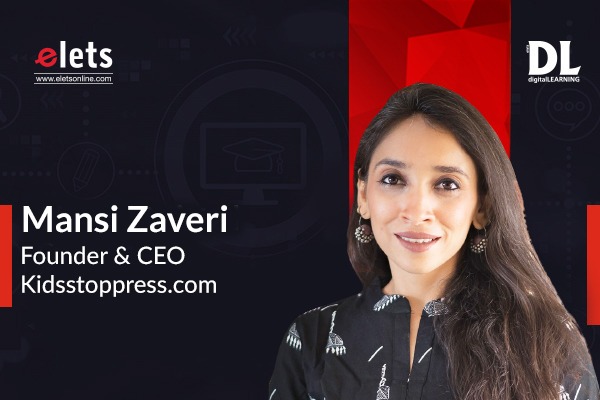 "The last couple of years has prepared us as a generation of parents and children, like never before. From adapting to online classes (not without the initial hiccups) and learning new concepts on a 15-inch screen, today's children have risen up to the occasion" shared Mansi Zaveri, Founder & CEO, Kidsstoppress.com in an interactive conversation with Sheeba Chauhan of Elets News Network. Edited excerpts:
According to a report by NYTimes, kids are using screens more than ever. How do you see to guide parenting tips when it comes to technology and kids?
I have always believed that technology, when used right, is a very handy parenting tool and not all screen time is bad. It becomes a matter of concern when screen time is used as a passive babysitter than something that we co-consume with the kids.
Setting clear rules on screen time when they are much younger and talking to kids about the evils, rather than just imposing on them, would help them understand better.

Also, it is essential we follow the rules as much as the kids. When we scroll Instagram while they battle it out with their assignments or check emails during playtime with the kids, they are not going to take our rules seriously. We need to show the kids that we are in this with them and that starts with us, parents.
With online setup increasing in both professional and personal environments. How can a child's social skills be improved, which happens through physical interactions earlier?
The last couple of years has prepared us as a generation of parents and children, like never before. From adapting to online classes (not without the initial hiccups) and learning new concepts on a 15-inch screen, today's children have risen to the occasion. They have taken it well and transitioned smoothly, thanks to help from educators and parents. And it is now up to us, as parents, to help them adjust to the pre-pandemic era where there were more physical interactions.
Plan some kid-friendly outings where they see new places and learn new things. After being stuck indoors for 2 years, children need some extra dose of Vitamin T- Travel!
Parents can plan playdates with their classmates or apartment friends. So, children learn and play together and pick up essential social skills. It could just be a couple of times a week, but that way they will look forward to it.
Ensure screen time is co-consumed with the kids and not just used as a distraction mechanism; speak to the kids about the shows they watch, the books they read, and the games they play. There's so much we can learn from those simple conversations.
Can experiential learning happen at home? Why is it important to learn about inclusivity and experiential learning?
The days of learning by rote are gone now. With numerous learning apps and even the latest ChatGPT, there is so much more our children can learn than just from textbooks. Before I download and hand over an app to my children, I ensure I try them out with them. So, we know exactly how we are going to use it. Yes, you need to take out some time from your schedule, but children learn so much better when they see you involved in the process with them.
Inclusive learning happens through practises such as cultural competency training, inclusive language, and inclusive curricula. Experiential learning meanwhile, prepares our children for a more direct hands-on learning experience. With schools focussing more on experiential learning that is integrated into their curriculum, it becomes easier for today's parents to help their children get a holistic approach to topics they learn.
70 percent of a child's mind grows in the first seven to eight years of a child's age. How can a parent do the best of activities to develop the same?
With every generation, there is a tectonic shift in their understanding and perception of things around them. What we as parents learned at about 11-12 years of age, our children are rattling off by 8! It is imperative that we guide and motivate our children in the right direction, while not being too protective or over-parenting at the same time. Some tips that I try with my kids:
Reading more books with my daughters. This is one skill that will set them apart from their peers in the future. So why not invest in the right resources and time early on?
Don't compromise on outdoor time. With weather changes and exam stress, there are many days when we tend to cut down on outdoor playtime, which we need to avoid. Get them onto a sport- anything of their choice. There is so much to learn in the process than just from the results.
Sticking to a routine is a non-negotiable in my house. Right from wake-up time to bedtime, when there is consistency and familiarity in routines, it helps children save a lot of time in managing their time, tasks, and efforts. This one habit is what helps me, as an adult, be more productive in what I do.
Early childhood is the foundation of a child's learning. Do you think technology is serving as a curse for early childhood? If yes, how can I keep a check on the child's technology usage?
Definitely not. We are raising our children in an era where there are abundant sources of knowledge around them. It is all about being able to pick and choose the right ones from the numerous available. Technology is a great teacher, as long as we are clear on how we want to use it, for our kids.
Over 85 percent of Indian kids have reported being cyberbullied- and this statistic shocks me to my inner core, as a parent. Thankfully, there are enough tools and options floating around that we need to be aware of, as parents, to help kids stay safe online.
Parental Supervision Tools launched by Instagram that give parents more insights into their child's activity on Instagram
There is a world of apps and extensions that offer Safe Search, encryption, and secure and relevant search results that should be every parent's non-negotiable criteria.
Installing the right antivirus software application on your child's laptop helps protect from viruses, and malware with HTTPS scanning and firewalls installed.
Instal site blockers and timers on your child's gadgets so they automatically become out of reach/inaccessible when they cross the stipulated time.
Most apps and OTT platforms come with a clear kids mode to help parents keep a check on the content they want to expose their children to. Use them wisely.

br>