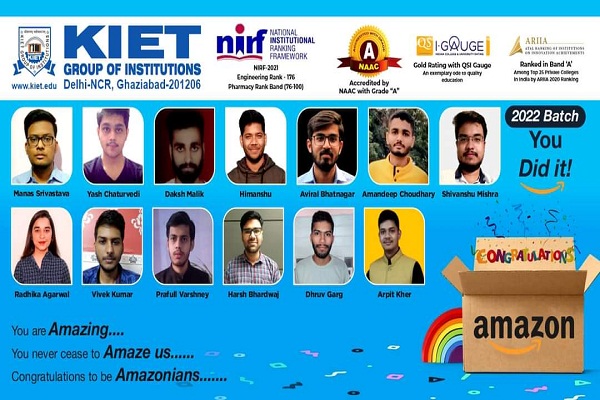 Thirteen students of Batch 2022 of KIET Group of Institutions have amazed all by getting hired by AMAZON at a whooping compensation of INR 44.14 LPA and emoluments.
It turned out to be really fruitful for KIET as 13 students got placed in one of the Big Five companies in the U.S. information technology industry, Amazon, during an online drive by the company.
Nine students from the department of Computer Science Engineering, one from the department of Computer Science, two from the department of Computer Science and Information Technology and one from the department of Electronics & Communications.

Manas Shrivastava, Yash Chaturvedi, Himanshu, Aviral Bhatnagar, Prafful Varshney, Harsh Bhardwaj, Daksh Malik, Dhruv Garg, Arpit Kher, Amandeep Choudhary, Shivanshu Mishra, Vivek Kumar and Radhika Agarwal are the KIETians who are going to become AMAZONians soon.
The students confessed that the mantra behind their extraordinary success is the efforts put in by the exclusive initiatives taken by the institute as Koders Korner, Competitive Coding Improvement Program (CCIP) and Competitive Coding Culture among the students.
"The handsome package grabbed by so many meritorious students fills me with a sense of pride and contentment", said the director of KIET Group of Institutions, Dr. Amik Garg. "I am exhilarated to congratulate all the thirteen students for contributing to such a thrilling & momentous achievement. I even feel delighted to appraise our placement head and his team for their efforts." he said.
The Joint Director of KIET, Dr. Manoj Goel also appreciated the efforts of these students along with the placement head and their coordinators and motivated the students to prove their mettle in the professional world & make KIET proud of them.
Moreover, the institute takes this platform to extend their gratitude to the Product based companies as Flipkart, Walmart labs, Adobe, CISCO that offer great packages to its students along with Tata Consultancy Services (TCS), Infosys, HCL, Tech Mahindra, Capgemini, Accenture, Cognizant, who are among their top recruiters.
Arvind Kumar Sharma, Head of the Placement Cell (CRPC) congratulated the students saying, "Our students are Amazing. They never seize to Amaze us. We congratulate these thirteen KIETians for becoming AMAZONians with such a whooping compensation and emoluments. It seems as if it's a Double Diwali Year…It's 20Twenty1." He wished them a bright future.
KIET Group of Institutions is one of the premier destinations for young minds, providing courses in Engineering, Management and Pharmacy. It continuously makes efforts for the betterment of its students providing them with best opportunities both on the national and international platforms.
Follow and connect with us on Facebook, Twitter, LinkedIn, Elets video
>