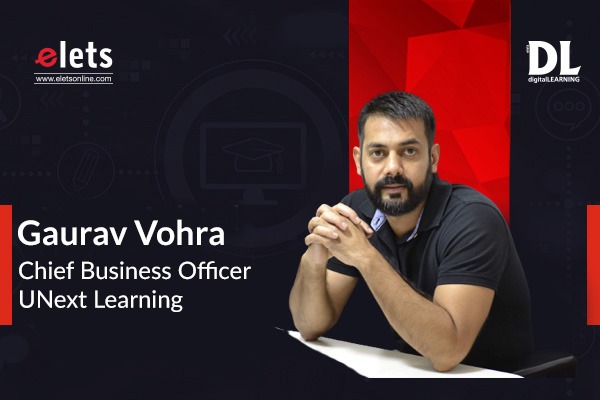 Educational institutions around the world with good quality education are booming with the emergence of technology. Time and technology are proven to be a big game changers nowadays. Technology is playing its cards well in the education landscape. Edtech is also one such platform that is transforming the world of education with multimedia innovation. The privilege that got delivered with edtech is that it makes education possible for even people who can't think of learning be it differently-abled people, homemakers, people of older age, or kids during the pandemic. Edtech is opening an entirely new edge of learning for every age group and every professional.
With the growing spectrum of online learning and the massive ecosystem of e-learning, Elets News Network interacted with Gaurav Vohra – Chief Business Officer, UNext Learning. Edited excerpts:
How is EdTech redefining education for differently-abled people?
The education system in India has been trying to accommodate differently-abled students with several policies and programmes. Lack of accessibility, flexibility and equity are a few problems they face in traditional education. A 2019 report by UNESCO suggests that three-fourths of the differently-abled children in the country aged five years don't attend school. Additionally, the number of dropouts among students with disabilities is high in India.
Here's where EdTech comes as a blessing for differently-abled children. The advent of cutting-edge technologies has led the EdTech sector to offer a slew of solutions to give accessible education to differently-abled children. By introducing innovative solutions, EdTech players are trying to improve the accessibility of education to empower these children. Children with special needs can attend classes from the comfort of their homes and do not have to travel or relocate. Inclusivity is one of the pivotal factors that comes along with online education. When children with disabilities attend classes with other children, they feel included, and it bridges the psychological gap between them.
What are the important measures to guarantee accessible technology for all students?
For sustainable growth, it is pertinent to bridge the digital divide in countries like India, where a huge population is yet to access the internet. This is crucial for the expansion of online education too. A 2021 study by Azim Premji University found that 60 per cent of school children in India do not have internet access, especially when the Covid-19 pandemic led to a forced shutdown of schools. The pandemic also contributed to school dropouts.
Here are some measures that ensure that there is no digital divide-
Fast internet service – The government initiatives to expand the internet services will help students from interior parts of the country to access online education without trouble.
Digital literacy programs – Some students today lack technological skills. Teachers and educators can initiate digital literacy programs to help them catch up on pivotal tech skills.
Mobile first learning – Nowadays, all that a student needs is a smartphone to attend classes. Online education involves mobile-first learning, which consists of short, bit-sized micro lessons that students can easily access through their smartphones.
Create downloadable content – Making notes available on a platform where students can download or view them offline helps with round-the-clock access to material.
These features and measures will guarantee accessible technology to students from all backgrounds and ensure a seamless online education experience.
Also read: Online learning trends to keep an eye on as the education landscape changes
Why is online learning gaining popularity?
Thanks to the internet, online learning has enabled access to education from any part of the world. As long as one has access to a laptop or smartphone connected to the internet, it is possible to access learning as desired. Here are some of the reasons why online learning is gaining popularity.
1. Flexible learning – Online learning enables flexibility for teachers and students. Students can attend classes at any given time and study at their own pace.
2. Accessibility – Online learning has predominantly broken the barrier of distance. Students can attend classes from the comfort of their homes. Not only that, the cost-effective nature of online education makes it more desirable for learners these days.
3. Customised learning experience – Students can get access to various learning materials such as photos, videos and e-books to refer from. The customisation option allows students to continue target-based learning rather than finishing a complete program to earn a relevant certificate.
4. Adaptive learning – The EdTech platforms are using technology to accomplish adaptive learning in order to address the cognitive diversity of learners. The intellectual capacity of learners varies from individual to individual. Traditional learning compels students from all cognitive levels to learn the same content. Using cutting-edge technologies such as AI, machine learning, neural networks, and deep learning, EdTech solutions can identify the cognitive capacity of students, and recommend tailor-made content and learning paths.
How is online learning becoming more cutting-edge and improving this experience?
Educational institutions across the world are providing quality education with the help of cutting-edge technology.
Augmented reality is a technology that superimposes learning materials over real-world views. These virtual elements can be in the form of text, audio, video, photos, 2D illustrations or virtual 3D clips.
Virtual reality technologies allow students to experience destinations from across the world. It helps students understand complex subjects effectively and boosts their creativity.
Artificial intelligence and machine learning are widely being used in digital learning platforms. It helps provide students with personalised learning and automates the routine tasks of teachers. However, it is still early days for AI in online learning, and its adoption will only increase in the coming days.
Gamification is another emerging model in online education. Students can pursue their courses and compete with others like they do when they play other games. It gives the learners real-time updates on their learning progress and encourages them to learn more.