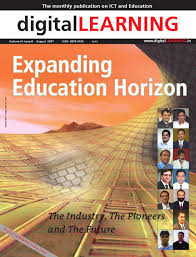 The largest ICT and Education annual conference and exhibition is preparing ground for a take off! Preludes…
The third in the series Digital Learning India conference and exhibition on ICT in Education is scheduled to take place in the Hotel Taj Palace in the Indian capital city, New Delhi from 31 July to 3 August 2007. It is expected to be graced by over 1500 delegates from countries all around the globe.

The meeting with the conference programme advisory board on 7 May, 2007 at the India International Centre, New Delhi, was a curtain raiser of the conference that is being organised by the Centre for Science, Development and Media Studies, in collaboration with the Ministry of Communication and Information Technology, Govt of India and UNDP.
Only 120.59 thousand schools imparting elementary education in India have computers in place, out of one million plus schools. Only 5.14 per cent Government schools have computers, while it is 30.52 per cent in case of Private managements schools. There is significant difference in percentage of schools having computer in rural areas (8.05 percent) and urban areas (30.07 percent). A significant difference is still noticed in the availability of teachers in rural  areas (3.76 teachers) and in urban areas (7.40 teachers) and also in schools managed by government (3.62 teachers) and private managements  (7.10 teachers).

Envisioned upon these backdrops, the conference has been scheduled with some discussion themes like ICT in Education policy, Content Development and instructional design, Teachers' capacity building in ICT-enabled education, School management with ICT, e-Readiness of Higher Education, Online courses and Mentoring in higher education, Showcasing new tools and technologies in education, amongst other strategies and discussion points.
The Advisory Board met to discuss and deliberate on the agenda for the 'coming soon' conference- Digital Learning India 2007. The Meeting saw participation from the Programme Advisory Board members and other key resource persons from Government, Private sector and civil society organisations. The meeting was chaired by R Chandrasekhar, Additional Secretary, Department of IT, Government of India, and Co-Chaired by Subhash Khuntia, Jt Secretary, Department of Secondary and Higher Education, Ministry of Humans Resource Development.
The Jt Secretary pointed out that while the country is moving towards connecting all secondary schools with broadband, it is extremely important to keep the focus on making the teaching-learning process more effective. He said, the conference is happening in the right time and the conference participation and discussion will be even better than last year.
Ravi Gupta, Executive Director, CSDMS and the convener of the conference, while explaining the the main objective of the event said, it is to bring policy makers, leading private sector players, social investors in ICTs, academia, and civil society organisations to confer, consult and share knowledge on good practices of ICT4D for policy action and effective planning and implementation of programmes.
The members' comments, feedback and suggestions on the conference agenda was quite encouraging.
Members' suggestion on conference agenda
IT implementation in primary education should also be given due care;

To not reinvent the wheel and learn from Britian and Malaysia who have made huge investment in IT at school and smart school projects;

Central Board of Secondary Education should be called to justify the IT curriculum for school;

Need to discuss the certification procedure in the higher education process, need to understand the need of these students who do not feel confident with the present certification process;

There is a need for guiding principles for ICT enabled learning at the state level;

Questions were raised as to whether a policy of ICT in education that may define a framework will be welcome by the states- as education being a concurrent subject, the states are not under obligation to follow the framework- it was also pointed out that the states may find it useful to follow such a framework as in many cases the states are not aware and often look for guidance for ICT-enabled education processes;

Outcome of the conference should reflect on the policy of the government.
As the Jt Secretary said in his concluding remarks, lessons and inputs can be taken form the conference on key issues of ICT-enabled education, which will add to the knowledge sharing for effective ICT-enabled education in India