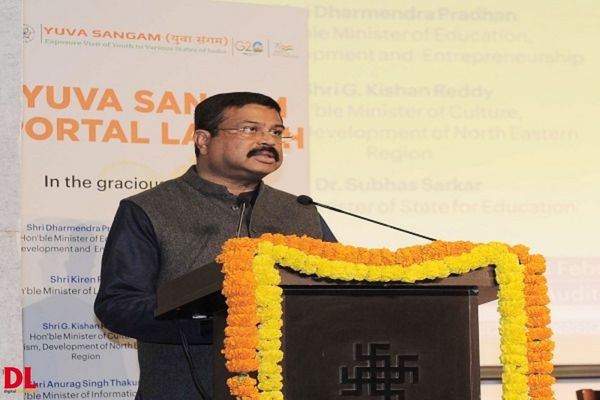 Dharmendra Pradhan, the Union Minister of Education, Skill Development, and Entrepreneurship, launched the Yuva Sangam portal on Monday. The Yuva Sangam will concentrate on organising youth-exposure tours for students and young adults from North Eastern States to other states and vice versa.
Under the four overarching categories of Paryatan (Tourism), Parampara (Traditions), Pragati (Development), and Paraspar Sampark, it would offer an immersive, multidimensional experience of numerous elements (People-to-people connect).
Also read: Dharmendra Pradhan responded to students' demand on 75% criteria for JEE Advanced
Pradhan said, "In line with the spirit of `Ek Bharat, Shrestha Bharat`, Yuva Sangam will strengthen people-to-people bonds, mainstream the vibrant culture of our north-eastern states and bring immense exposure and opportunities for knowledge exchanges, especially for our youth in the north-east."

According to Union Minister Anurag Thakur, participants in this programme will be young people between the ages of 18 and 30.
According to Dharmendra Pradhan, Prime Minister Narendra Modi is taking yet another initiative to strengthen the ties between the northeast and the rest of India. As envisioned by Prime Minister Modi, Yuva Sangam will emphasise the power of India's democracy, celebrate the diversity of India, and reinvigorate the nation's sense of unity.
He further said, "A unique initiative, Yuva Sangam will further strengthen the `Spirit of India` in Amrit Kaal." The Minister urged the young people to come up, sign up, and offer ideas for the Yuva Sangam.

br>